How color analysis can help you figure out which clothes will flatter you the most
Color analysis can be a useful tool to help you create a staple wardrobe full of pieces you love, and that flatter your natural skin tone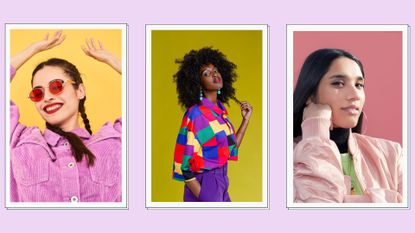 (Image credit: Getty Images)
Never quite sure how to know what colors look good on you? You could benefit from the steer of color analysis.
For those unfamiliar with the concept, this is essentially a method of finding the colors that are the most flattering for your complexion, eye color, and hair color. So if you've ever wondered what colors look best on you, wonder no more! Color analysis is the way to find out—and it can be a great way to help you build a capsule wardrobe and a staple set of go-to outfits that make you look and feel good.
Not only does color analysis reveal the most flattering shades for you to wear, it also highlights hues that you should avoid. Never again will you worry whether that yellow dress washes you out—you'll have a definitive answer.
But figuring out the colors that best suit you doesn't require the help of an expensive stylist. Whether you prefer a cottagecore vibe or 90s minimalist style for your closet, here's how to find your perfect palette from the comfort of your own home, with just a few clever tricks.
Meet the expert on color analysis
Rebecca Ffrancon is a London-based qualified personal stylist and color consultant who has been in the industry since 2018. Here she explains to My Imperfect Life readers some of the benefits of conducting a color analysis, before we get into an in-depth how-to.
What is color analysis and why should you use it?
The color analysis technique finds shades that match or complement your hair, eyes, and overall complexion.
"Working with a color swatch makes your wardrobe work seamlessly, as all the colors will work together," says personal stylist and color consultant Rebecca Ffrancon. "It takes time to get there, but a well-coordinated wardrobe is achievable."
Essentially, color analysis takes some of the guesswork out of finding staple pieces, be it a bright winter sweater or the best summer dresses for the warmer months.
"It's a great place to start when trying to get to grips with your style, as it's something really tangible to work with," Ffrancon continues. She adds that, if you feel like the outfits you own don't quite reflect your personality, identifying colors that suit you "will really make you glow, as the colors harmonize with your natural coloring and make you the focus (rather than the clothes)."
But how do I know what colors suit me? Even if you've already mastered your makeup bag by buying best eyeshadow palettes in complementary colors, you might not know where to start when it comes to your clothes. So if you're wondering how to find out what colors look best on you, below is our step-by-step guide to identifying the right shades, and building a closet that suits you down to the ground.
How to do a color analysis
1. Figure out your skin tone
The basics of any color analysis starts with your skin tone, which is the surface color determined by the amount of pigment in your skin.
Skin tones generally fall into one of the following four major categories:
light
fair (though fair and light are often used the other way around, too)
medium
dark
Your skin tone is mostly dependent on your genetic makeup, but it can change depending on the season, becoming warmer in the summer for example.
So to find your true skin tone, it's best to check it somewhere that doesn't have harsh sunlight or low lighting—a clean jaw without makeup in natural daylight will give you the most realistic indication.
2. Work out your undertone
Have you heard these words when shopping for makeup—cool, warm, or neutral? These words describe the underlying hue of your skin color. While your skin's tone can change, your undertone remains the same, and sets the foundation for your choice of a color palette.
We don't have a 'what color clothes look best on me quiz' to hand, but here are some very easy ways to check both your tone and your undertone:
Check your veins—if your skin tone is light enough, check the color of your veins. If your veins appear blue or purple under the skin, you have a cool undertone—but if they appear green, you have a warm undertone.
Think about what jewelry flatters you best—silver works best for cool undertones, while gold sparkles on warm undertones. If both work, you have a neutral undertone. Take it as a chance to treat yourself to pieces from some of the best sustainable jewelry brands.
Check your skin against a white paper for contrast—if your skin appears pink, rosy, or blue, it's cool. If you appear yellow, greenish, or light brown, you likely have warm skin. However, if your skin appears greyish or olive, you're most likely neutral.
What kind of colors do you already know suit your skin?—Consider how you have felt about how colors look on you before. Do cool grays and blues suit your skin? You're likely a cool-tone person. However, if yellows, oranges, and off-whites look better on you, you likely to have a warm undertone.
What to wear after your color analysis
After deducing your skin tone and undertone, it's time to get testing—this is when the real results begin to show.
For the most successful results, try on everything—from dresses to T-shirts and jumpers—in natural light, ideally with someone else nearby for feedback. Put on a variety of colors and take pictures of yourself (or have a pal take them for you) so you can quickly look through different results afterward.
For example, quickly alternate a red top with a light blue one to compare which complements you more. You don't even necessarily need to try them on if you're tight on time; holding them up to your body can suffice.
You can then try other warm or cool colors depending on the outcome. Good indications that a color compliments you include the following:
If your skin appears greenish, yellowish, or olive, wear warm colors. Bright, vibrant colors such as yellows, reds, peach, orange, gold, and amber inspired by the sun are your friends, so accessories like straw bags for summer will be a solid choice. Olive and moss greens are also super complimentary, and you can rely on neutrals such as cream and cappuccino. It's best to avoid cooler colors, such as icy blues and sapphires, because they could wash you out.
If your skin is cool-toned, the cooler end of the color spectrum will make you pop. Blue, emerald, purple, lavender, and icy blues are great picks. Think of the ocean and matching colors as you select your outfits. If you like bright colors, go for pink, ruby, rosy reds—and for the neutrals, try white, navy blues, and cool grays.
If you're neutral, you can play around with all colors. That said, going with muted versions of each color, rather than saturated colors that work with warm skin tones, is a failsafe move. Mid-blues and jade green are your friends here. You can always count on bright red, white, and black to suit you, too, so you have a lot of choice when it comes to deciding on complimentary palettes.
Now you know how to find out what colors look best on you, it's time to get planning your wardrobe, full of colors that flatter and inspire you!
While color analysis can help you find outfits that boost your confidence, don't let it control every aspect of your style—it's intended as a guiding tool, not a hard or fast rule. It's important to still have fun and experiment with your wardrobe, whether that's working on new styles, recreating Maya Jama's Love Island outfits, or trying some dopamine dressing. Don't discount a color (or colors) you love just because it's not the perfect fit on paper.
As Ffrancon says, "Personality is always the most important thing about your style, so don't be afraid to break the rules and wear the colors that make you happy!".
Sunil Makan is the digital editor of Marie Claire UK. With over 12 years of publishing experience, working on print publications and their digital counterparts, national newspapers, and digital pure plays he is an Editor, Strategist, Content Producer, and Creative Director. In his most recent role, Sunil was deputy editor of My Imperfect Life and before that, he was the Associate Editor of British Marie Claire. Prior to that he worked at ELLE, InStyle, Shortlist Media and freelanced at titles such as Mr Porter, Saks Fifth Avenue, Floral Street fragrance, and The Times.
Sunil's specialisms include Fashion, Beauty and Grooming, Lifestyle, and Culture. He has reported and covered fashion trends at International fashion weeks in London, Milan, and Paris, smelled and tested countless fragrances, beauty treatments, slathered on more serums, moisturizers, and masks than he cares to mention plus reviewed some of the best hotels in the world—and the worst.
Sunil has appeared on and led workshops and panels like the All-Party Parliamentary Group (APPG) for Creative Diversity roundtable, the British Fashion Council's Diversity and Inclusion Board, and Fujifilm reader events. A lover of—in no particular order—fragrance, fine wine, champagne, Dior, food, and chicken wings.