Color analysis: here's how to find out what colors suit you
Use color analysis to update your wardrobe and find pieces that truly flatter you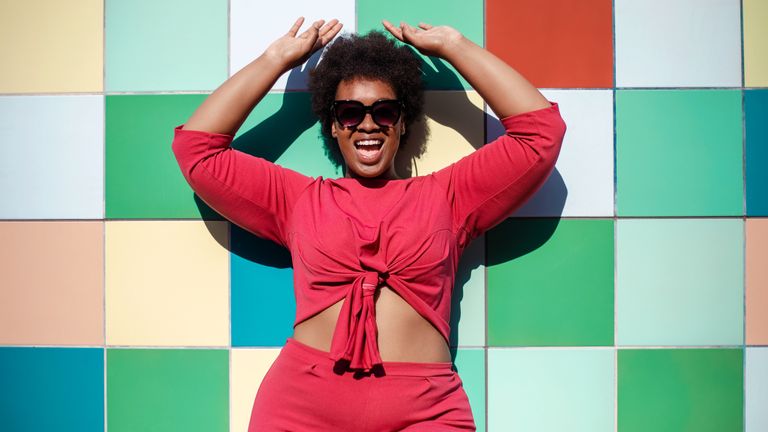 (Image credit: Getty Images)
Contributions from
Conducting a color analysis is essentially a way of finding the colors that work best—and look the most flattering—with your complexion, eye color and hair color. It can be a great way of finding those capsule wardrobe essentials that will make you look and feel good whatever you wear.
By bearing in mind the colors that suit you most when planning your wardrobe or going shopping, you can almost guarantee you'll find pieces that feel the most 'you'—without the need for an expensive stylist. Never again will you worry whether that yellow dress washes you out, if that lime green sweater is a bit too much for you...
What is color analysis and what are the benefits?
A color analysis is a technique of finding the colors that match your skin, hair, eyes, and overall complexion. With the right color selection, you can create a wardrobe full of items you love and that suit you perfectly. Rebecca Ffrancon, a personal stylist and color consultant, explained, "Working with a colour swatch makes your wardrobe work seamlessly, as all the colours will work together—it takes time to get there, but a well-coordinated wardrobe is achievable."
Wearing colors that specifically match your features can also help hugely if you're feeling lost over what you actually like to wear. "A colour analysis is a great place to start when trying to get to grips with your style, as it's something really tangible to work with," Ffrancon explained. "Wearing colours that suit you will really make you glow, as the colours harmonise with your natural colouring and make you the focus (rather than the clothes).
So does this mean that there are colors you shouldn't wear? How do you work out which color suits you best? Let your color analysis help you decide...
How to conduct a color analysis
1. First, figure out your skin tone
It's important to start with the basics of any color analysis, by asking what skin tone am I? The skin tone is the upper color of your skin, determined by the pigment amount on the skin. Generally skin tones fall into these four major categories:
Your skin tone is of course mostly dependent on your genetic makeup but may vary depending on exposure to the sun too. It's wise to check the skin tone in areas less exposed to harsh sunlight. A clean jaw without makeup under natural daylight is an excellent way to check your skin tone.
Fortunately, many makeup brands now produce several hues for varying skin tones to help you find the right makeup products. Don't shy away from research and swatches in the makeup store.
---
---
2. Then, work out your skin undertone
Have you heard these words when shopping for makeup—cool, warm, or neutral? These words describe the color of the skin beyond the surface. While your skin's tone can change, your undertone remains the same and sets the foundation for your choice of a color palette. So how can you check your undertone?
Check your veins—if your skin tone is light enough, check the color of your veins. If your veins appear blue or purple under the skin, you have a cool undertone—but if they appear green, you have a warm undertone.
Look through your jewelry to check what flatters you—silver works best for cool undertones, while gold sparkles on warm undertones. If both work, you have a neutral undertone. Take it as a chance to treat yourself to pieces from some of the best sustainable jewelry brands...
Try a sun test—if your skin tans easily, you likely have a warm undertone. However, if your skin burns on exposure to the sun, you may have a cool undertone.
Check your skin against a white paper for contrast—if your skin appears pink, rosy, or blue, it's cool. If you appear yellow, greenish, or light brown, you likely have warm skin. However, if your skin appears greyish or olive, you're most likely neutral.
What kind of colors suit your skin?—Do cool grays and blues suit your skin? You're likely a cool-tone person. However, if yellows, oranges, and off-whites look better on you, you likely to have a warm undertone.
So what should I wear according to my color analysis?
Now you know your skin tone and undertone, what should you wear in order to compliment it and put together flattering outfits? For the best results, try on everything—from your best summer dresses to your best bralettes—under the natural sunlight, with someone else nearby for feedback.
If your skin appears greenish, yellowish, or olive, wear warm colors. Bright colors such as yellows, reds, peach, orange, gold, and amber inspired by the sun and vibrancy are your friends. Olive and moss greens are also great for cooler colors. You can also stick to neutrals such as cream and cappuccino. It's best to avoid cool colors such as icy blues and sapphires, because they'll likely wash you out.
If your skin is cool-toned, it's best to stick to the color palette's cool side. Blue, emerald, purple, lavender, and icy blues are a good fit. Think of the ocean and matching colors as you select your outfits. If you'd like bright color, go for pink, ruby, rosy reds, and for the neutrals, try white, navy blues, and cool grays.
If you're neutral, you can play around with all colors. However, it's best to go with muted versions of each color instead of saturated colors that work with warm skin tones. A medium blue and jade green are your friends. Fortunately, you can always count on bright red, white, and black to suit you, too.
Mostly though, it's important to have fun with your wardrobe—and don't discount a color you love just because it's not necessarily the right fit. Ffrancon said, "Personality is always the most important thing about your style, so don't be afraid to break the rules and wear the colours that make you happy!"
Sunil Makan is the Deputy Editor of My Imperfect Life. With over 12 years of publishing experience, working on print publications and their digital counterparts, national newspapers, and digital pure plays he is an Editor, Strategist, Content Producer, and Creative Director. In his most recent role, Sunil was the Associate Editor of British Marie Claire and prior to that he worked at ELLE, InStyle, Shortlist Media and freelanced at titles such as Mr Porter, Saks Fifth Avenue, Floral Street fragrance, and The Times.
Sunil's specialisms include Fashion, Beauty and Grooming, Lifestyle, and Culture. He has reported and covered fashion trends at International fashion weeks in London, Milan, and Paris, smelled and tested countless fragrances, beauty treatments, slathered on more serums, moisturizers, and masks than he cares to mention plus reviewed some of the best hotels in the world—and the worst.
Sunil has appeared on and led workshops and panels like the All-Party Parliamentary Group (APPG) for Creative Diversity roundtable, the British Fashion Council's Diversity and Inclusion Board, and Fujifilm reader events. A lover of—in no particular order—fragrance, fine wine, champagne, Dior, food, and chicken wings.
With contributions from