13 of the best eyeshadow palettes for every look, eye color and occasion
These are the best eyeshadow palettes to help you elevate your makeup look—whether you want simple, sparkle or something to complement your eye color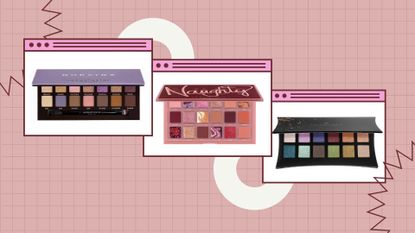 (Image credit: Future)
The best eyeshadow palettes will help you elevate your makeup look by complementing your eye color and natural features, adding a touch of sparkle by following the latest eye trend or simply adding a polished finish to your face.
So if you've nailed the basis of how to apply your makeup and are looking to add to your look, a trusty eyeshadow palette is the perfect tool. We'd recommend looking for a palette with enough versatility to give you a few different looks out of it—but there are other factors to think about too, such as what kind of look you're going for, how many shades come in the palette, what the texture and pigment of the formula is like and how long the eyeshadow lasts for once applied.
On our search, we found and tested several great eyeshadow palettes on the market, including picks for all budgets, be it luxury or affordable. We found Charlotte Tilbury's Instant Eye Palette in Pillow Talk to be the perfect all-rounder that suits any eye color and ticks all the boxes with its diverse range of dreamy pink shades—while Sleek MakeUP I-Divine Palette defies all expectations for a budget palette.
How we tested the best eyeshadow palettes
When testing the best eyeshadow palettes, I used each palette a few times to try out all of the different color combinations that each one offered and test how versatile each one really was. I also made sure to test each palette with a similar face of makeup on—including a contoured base, a touch of blush and highlighter, a light tightline, a small slick of liquid eyeliner and mascara—to make sure that my perspective of my finished look wasn't skewed at all.
As I have quite oily skin, I wore each eyeshadow over a thin layer of primer to help each look last as long as possible and try and minimise the risk of creasing.
I also took the following criteria into consideration:
Shade range—both number of shades and the versatility of the color palette
Texture of product
Pigment
How loose the shadow was
Staying power
Packaging—should be sturdy enough to protect the eyeshadows but light enough to carry around
When deciding which eyeshadow palettes to test, I went for a range of popular and bestselling products as well as palettes from brands that I like or that are renowned to be good. I also tested palettes that I had been recommended by friends and other beauty experts in the industry—including makeup artists and well-known beauty journalists.
Meet the tester
Meet the tester
Aleesha Badkar
While eyeshadow is something that I've often just stuck to the same one or two combinations with or eschewed for a sweep of highlighter at the end of my makeup application routine, I also like to create color-coordinated looks and make sure that they last the day whenever I do wear it.
So when testing these one of the most important factors for me was staying power, especially as I'm prone to oily skin so I often find that eyeshadows can gather in the crease of my eyelid after just a couple of hours. Being of South Asian origin, I'm also very aware of pigment—as no matter how bright a shade might look in the palette, if the pigment is weak it often doesn't show up well on my skin.
The best eyeshadow palettes as reviewed by our in-house beauty expert
1. Charlotte Tilbury Pillow Talk Instant Eye Palette
The best eyeshadow palette for subtle looks that suit most people
Specifications
No of shades: 12
Mirror inside?: Yes
Brush included?: No
Reasons to buy
+
Pretty shades that suit all eye colors
+
Gorgeous packaging
+
Good pigment
Reasons to avoid
-
Can gather in the eyelid crease a little
-
Smoky shades not very impactful on darker skin tones
Charlotte Tilbury is known for its beautifully packaged make-up products and high-quality formulations—and this palette doesn't disappoint. It's just what you need for a soft, romantic, and dreamy look.
The colors in the palette—a range of pink and nude shades—suit pretty much every eye color (I think), and it has the right balance of mattes and shimmers to take you seamlessly from day to night and everything in between. And while the four different trios make it a great option for beginners or for those who prefer a more simple make-up routine, the selection of shades can also be mixed and matched for more exciting looks that still blend beautifully together.
When testing, I loved the texture of the powder, which allowed for the perfect amount of product to be collected on the brush for an impactful hit of pigment without going overboard. My only niggle with pigment was that the smoky options didn't quite pack the punch that I was looking for when it came to using on my slightly darker skin tone. I did also find that the product collected slightly in the eyelid crease after a long day of wear—even with a primer underneath. That being said, it did last for most of the day without fading, so a spritz of setting spray over the top might be the fix you need if you find the same occurring.
And I can't talk about a Charlotte Tilbury product without mentioning the aesthetics—the signature rose gold case gives you a hint of how special this palette is and would look fabulous on any dressing table. J'adore!
See our full Charlotte Tilbury Pillow Talk Instant Eye Palette review to learn more about how it works with different eye colors
2. Suqqu Designing color eyes palette
The best premium eyeshadow palette for taking on the go
Specifications
No of shades: 4
Mirror inside?: Yes
Brush included?: Yes
Reasons to buy
+
Pretty shades
+
Strong pigment
+
Comfortable and buildable texture
+
Striking and high-quality packaging
Reasons to avoid
-
Limited shades
-
On the more pricey side
Sometimes a splurge is necessary, and if you're all about self-care days and want to perk up your spirits a bit, then this is the one to snap up now. It may feel like a bit of a steep investment for less than a handful of shades, but it's worth it for the brilliant payback you get.
I love the delicate and flattering shades in this luxury offering, which hails from the results-driven Japanese brand Suqqu. I found that the soft texture was really easy to work with and impactful but powdery enough to build for a more bold color. And while this palette offers my favorite color combination from the line, there are also a number of different shades to choose from that all offer the same high quality. Plus the compact size and included mirror and brush made it a super convenient option for popping in my handbag to apply later on in the day for after-work events.
3. Sleek MakeUP I-Divine Palette All Night Long
The best drugstore eyeshadow palette for neutrals
Specifications
No of shades: 12
Mirror inside?: Yes
Brush included?: Yes
Reasons to buy
+
Harmonious shades
+
Well pigmented
Reasons to avoid
-
Doesn't last all day
-
Hollow plastic packaging
Here to prove that an eyeshadow palette doesn't have to cost you more than your actual evening out, the Sleek All Night Long was love at first sight for me. The striking neutral shades made me truly excited to dip in and start mixing and matching to find the best look for me, with a balance of mattes and shimmers that make it a lot more versatile than it might seem at first glance.
I love the pop of red that you can match with a sparkly chocolate, pretty muted mauve or glamorous gold, and I found that the pigment was surprisingly high-quality, meaning that each shade really did stand out even on my darker skin tone—making it one of the best eyeshadows for dark skin on my list. One gripe I did have was that the formula only properly stayed put for a few hours, so a spritz of a good setting spray could be worthwhile with this one.