15 of the best eyeshadow palettes for every look, eye color and occasion
Finding the best eyeshadow palettes is not the easiest job, but we've done all the hard work for you...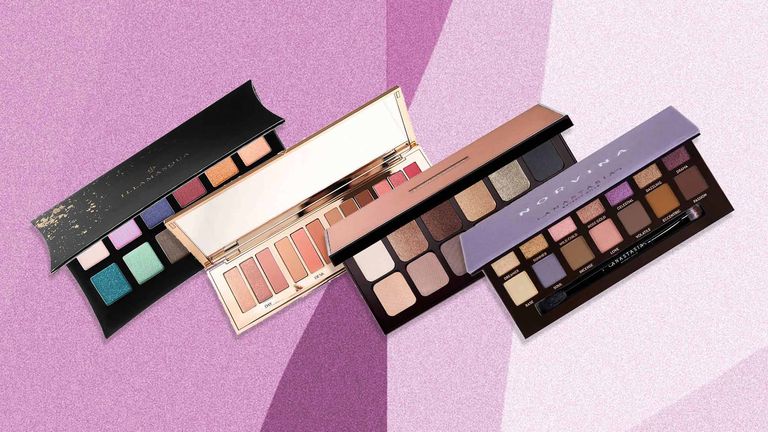 (Image credit: Illamasqua / Charlotte Tilbury / Laura Mercier / Norvina)
Whilst choosing one of the best eyeshadow palettes may seem like a fun thing to do—who doesn't love swatching and experimenting with colors—it's actually harder than it looks. With so many colorways, finishes, and brands to choose from, the options are endless.
It's time for the annual, let's reassess what's inside our wardrobes—a.k.a. the perfect opportunity to revamp our capsule wardrobe—and our make-up bags too.
Dipping into a well-chosen eyeshadow palette can do more than just prompt flashbacks of those pre-coronavirus, brushed-up-next-to-a-stranger-at-the-bar evening jaunts—it can bring out both your eye color and skin tone, and elevate your look to make five minutes' work look like you've had a private session with Charlotte Tillbury herself.
On our search, we found several great eyeshadow palettes on the market (you can see them all below), and some that deserve a special shout out too. Charlotte Tilbury's Instant Eye Palette in Pillow Talk is the perfect all-rounder that suits any eye color and ticks all the boxes with its diverse range of dreamy pink shades, while we think Sleek MakeUP I-Divine Palette defies all expectations for a budget palette.
Best eyeshadow palettes
1. Charlotte Tilbury Pillow Talk Instant Eye Palette
The best eyeshadow palette for most people, includes all of the wonder of the famous Pillow Talk range
Specifications
No of shades: 12
Mirror inside?: Yes
Brush included?: No
Reasons to buy
+Pretty shades that suit all eye colors+Gorgeous packaging+Good pigment
Reasons to avoid
-Can gather in your eyelid crease a little -Smoky shades not very impactful on darker skin tones
Charlotte Tilbury is known for its beautifully packaged make-up products and high-quality formulations—and this palette doesn't disappoint. It's just what you need for a soft, romantic, and dreamy look.
The colors in the palette—a range of pink and nude shades—suit every eye color and there is the right balance of mattes and shimmers to take you seamlessly from day to night and everything in between. And while the four different trios make it a great option for beginners or for those who prefer a more simple make-up routine, the selection of shades can also be mixed and matched for more exciting looks that still blend beautifully together.
We also love the texture of the powder, which allows for the perfect amount of product to be collected on the brush for an impactful hit of pigment without going overboard. Our only niggle was that the smoky options didn't quite pack the punch that we were looking for when it came to using on darker skin tones, and we also found that the product collected slightly in the eyelid crease after a long day of wear—even with a primer underneath. That being said, it did last for most of the day without fading, so a spritz of setting spray over the top might be the fix you need.
We couldn't talk about a Charlotte Tillbury product without mentioning the aesthetics—the signature rose gold case gives you a hint of how special this palette is. J'adore!
Read our full Charlotte Tilbury Pillow Talk Instant Eye Palette review.
2. Suqqu Yuushakuyaku Designing Color Eyes
The best premium eyeshadow palette offers a high-quality formulation that's easy to apply from anywhere
Specifications
No of shades: 4
Mirror inside?: Yes
Brush included?: Yes
Reasons to buy
+Pretty shades+Strong pigment+Comfortable and buildable texture+Striking and high-quality packaging
Reasons to avoid
-Limited shades-On the more pricey side
Sometimes a splurge is necessary, and if you're all about self-care days and want to perk up your spirits a bit, then this is the one to snap up now. It may feel like a bit of a steep investment for less than a handful of shades, but it's worth it for the brilliant payback you get.
We love the delicate and flattering shades in this luxury offering, which hails from the results-driven Japanese brand Suqqu. The soft texture is really easy to work with and impactful but powdery enough to build for a more bold color. And while this palette offers our favorite color combination from the line, there are also a number of different shades to choose from that all offer the same high quality. Plus the compact size and included mirror and brush make it convenient to pop in your handbag for any quick top-ups you might need.
3. Sleek MakeUP I-Divine Palette All Night Long
The best drugstore eyeshadow palette offers beautiful neutrals for a budget price
Specifications
No of shades: 12
Mirror inside?: Yes
Brush included?: Yes
Reasons to buy
+Harmonious shades+Well pigmented
Reasons to avoid
-Doesn't last all day-Hollow plastic packaging
Here to prove that an eyeshadow palette doesn't have to cost you more than your actual evening out, the Sleek All Night Long was love at first sight for us. The striking neutral shades make us truly excited to dip in and start mixing and matching to find the best look for us, with a balance of mattes and shimmers that make it a lot more versatile than it might seem at first glance.
We love the pop of red that you can match with a sparkly chocolate, pretty muted mauve or glamorous gold, and the high-quality pigment means that each shade really does stand out, even on darker skin tones. One gripe we did have was that the formula only properly stays put for a few hours, so a spray of a good setting spray could be worthwhile with this one.
4. IT Cosmetics Superhero Eyeshadow Palette
The best eyeshadow palette for beginners does all the hard work for you
Specifications
No of shades: 12
Mirror inside?: Yes
Brush included?: No
Reasons to buy
+Pigmented shadows+Versatile shades for different looks+Guidance on application+Anti-ageing formula
Reasons to avoid
-Low-quality packaging
We get it, venturing into a new eyeshadow palette can be pretty daunting and overwhelming as choosing one in the first place. But this well-put-together selection makes an Instagram influencer look achievable for even the wobbliest of rookies. The palette features three Eye Foundations to create a base for whatever look you're going for, with a selection of muted nudes, striking neutrals, and impactful liners to enhance your eyes.
The formula is also packed with skin-loving ingredients that work in the background to prevent dehydration and aging as well as helping the pigment to last all day long. And it even comes with a handy guide that explains exactly how to create different looks—ideal for beginners!
5. Urban Decay Stoned Vibes eyeshadow palette
The best glitter eyeshadow palette is like jewels for your eyelids
Specifications
No of shades: 12
Mirror inside?: Yes
Brush included?: Yes
Reasons to buy
+Super pigmented+Gorgeous, glittery shades+Matte and shimmer options to layer+Diverse colors+Luxe but playful packaging
Reasons to avoid
-Not one for those who don't like glitter!
WOW! Is the only way to describe this palette. Urban Decay has built up a cult following with their iconic range of Naked palettes, but this diversion from the Naked line might actually be our favorite to date. We love the luxe packaging—it makes us feel kind of like we've just discovered a trove of glimmering treasure with its cracked stone background and jewel-encrusted lid.
And then comes the product itself, a little definitely goes a long way. The display of sparkle-laden shades is nothing other than truly entrancing, with an array of greens, blues, purples, and a couple of warmer options packed full of glittery pigment. Tap the powder more softly than you would your iPhone screen and you're left with enough glitter for a Coachella Pinterest board. Pair with the four diverse matte and shimmer shades included in the palette or layer on top of one of your other favourites.
6. Too Faced Born This Way The Natural Nudes
The best neutral eyeshadow palette with every nude you could think of, this is one for all eye colors and skin tones
Specifications
No of shades: 16
Mirror inside?: Yes
Brush included?: No
Reasons to buy
+Beautiful shades to suit every eye color+Strong pigment, even on darker skin tones+Color groupings for different looks
Reasons to avoid
-Doesn't last all day, especially if you have oily eyelids
Too Faced's Born This Way range of foundations and concealers is designed to suit the natural hues of all skin tones and this eyeshadow palette definitely fits in with the gang. With four different groupings of gorgeous neutral shades, ranging from champagne through to a rosy nude combination, a caramel gold option, and a silky chocolate look, you can create a range of neutral looks to suit whatever your skin tone.
Both the mattes and shimmers blend with a satin-like feel and the addition of coconut water and hyaluronic acid in the formula leave lids feeling on the softer side, even after you've had a heavy make-up day.
7. KVD Vegan Beauty Edge of Reality
The best colorful eyeshadow palette that is bright, sparkly and definitely makes a statement
Specifications
No of shades: 14
Mirror inside?: No
Brush included?: No
Reasons to buy
+Pigmented formula+Bright and diverse shades+Fully recyclable packaging+Vegan
Reasons to avoid
-Packaging feels a bit cheap-No color groupings
This palette is the ideal option for when you feel like getting more creative with your look. The colors are perfect with a range of beautiful brights alongside some neutral hues. The matte options add a solid base of color to your look which is enhanced by the sparkly shadows that create a spectacularly eye-catching finish. A bold, blendable and balanced palette that would make a solid and dependable investment for any make-up fan.
Top tip: apply the sparkly shadows wet for a deep hue.
8. Illamasqua Beyond Artistry Palette
The best cool-toned eyeshadow palette and is percection for those winter evenings
Specifications
No of shades: 12
Mirror inside?: Yes
Brush included?: No
Reasons to buy
+Strong pigmented metallic colors+Diverse tones for different looks+No matte shades+Vegan
Reasons to avoid
-Not all shades go together-Beginners may struggle to match colors
A make-up artist favorite, this diverse selection mixes both cool-toned hues and slightly warmer shades to create almost a winter Pick & Mix. We're obsessed with the icy finish of the two blue shades that blend cleverly with the warmer but lighter peachy colors.
And while this could be a gripe for some, we also secretly love how there are no mattes in this one, as it just makes it a fabulous option to add a bit of glam to this time of year.
9. MAC Semi Sweet Times Nine
The best matte eyeshadow palette where smokey and rosy shades come together for a romantic look
Specifications
No of shades: 9
Mirror inside?: No
Brush included?: No
Reasons to buy
+Soft and powdery feel+Pigmented but subtle+Easily blendable
Reasons to avoid
-No metallics
From all metallics to all mattes, if you're as opposed to sparkle as a certain Whoville resident then this one is for you. 'Dreamy' is the only word that comes to mind when surveying the shades in this all-matte palette, with rich smokey hues to shape the eye and add a muted hit of impact, and peachy mattes to highlight the brow bone. But our favorite section has to be the row of rosy mattes that sweep on a layer of romance for a soft but sultry finish.
10. Kevyn Aucoin Something Nude
The best eyeshadow palette for blue eyes is the subtle option for those who prefer to stay under the radar
Specifications
No of shades: 12
Mirror inside?: Yes
Brush included?: No
Reasons to buy
+Good for subtle looks+Lasts well+Blends easily
Reasons to avoid
-Need a lot of product to make an impact
When it comes to making blue eyes pop, nothing does it more so than a touch of gold blended with some pink sparkle. And this palette will give you that and more. This selection of shades on offer here will work with blue eyes in two ways—to create an impactful glow or to create an understated elegance. As the powders are quite fine, we would say that these shadows are best used together rather than alone, as the matte options work well to add a base of color to the eyelid before adding on the shimmer.
11. NARS Quad Eyeshadow – Silver Screen and Bayadère
The best eyeshadow palette for grey eyes for those times when you can't be bothered to mess around with extra colors
Specifications
No of shades: 4
Mirror inside?: Yes
Brush included?: No
Reasons to buy
+Small color groupings for individual looks+Perfect for taking on-the-go+Well-pigmented+Easy to use for beginners
Reasons to avoid
-Expensive for just four colors-Not one for if you want a choice of shades
There are so many beautiful things you can do with this rare eye color, which is why we couldn't just settle on one palette. We love the NARS Quad eyeshadow palettes for their brilliantly matched shades that come together to create one impactful look—and the compact size makes them easy to pop in your bag for a top-up whenever you need.
With a pearly white, two silver variations, and a powdery smokey black, Silver Screen was basically made to live in unity with grey eyes. But if you want to opt for something more striking, the warm golds with a touch of red in the Bayadère will make grey eyes pop for a dramatic look.
12. Bobbi Brown Modern Symphony
The best eyeshadow palette for green eyes, this offers a modern take on the smokey eye
Specifications
No of shades: 8
Mirror inside?: Yes
Brush included?: No
Reasons to buy
+Pretty shades that go well together+Lasts all day+Gorgeous packaging+Comes with instructions to create different looks
Reasons to avoid
-Smokey shades may be too harsh for lighter eyes and skin tones-Darker skin tones may need to layer extra product
Bobbi Brown is known for its professional-grade formulas and this palette definitely lives up to the hype. These silky mauve and plum shades will look fabulous on any eye color, but they'll do something extra special when met with green eyes. The deep mattes do a wonderful job of providing a subtle base for any eye look, while the metallics blend softly to add a pop of sparkly charm.
13. Laura Mercier Parisian Nudes
The best eyeshadow palette for hazel eyes is sophisticated from start to finish
Specifications
No of shades: 12
Mirror inside?: Yes
Brush included?: No
Reasons to buy
+Harmonious colors+Blends well+Elegant packaging
Reasons to avoid
-Subtle pigment that needs to be layered for impact-Doesn't last the whole day
This palette oozes elegance from the moment you set eyes on it with its sleek copper packaging and tidy but inviting colors. Both the mattes and shimmers are quite subtly pigmented so you may need more product than you think, but each shadow builds and blends smoothly for a polished finish.
Hazel eyes will benefit from the dusky pink shades that blend harmoniously with the golds and coppers and the touch of green sparkle that layers beautifully with its fellow metallics. It doesn't quite last the whole day, especially if you're prone to oilier eyelids, but perhaps a spritz of setting spray could remedy this.
14. HUDA Beauty Naughty Nude
The best eyeshadow palette for brown eyes is set to be the new IT girl on the palette scene
Specifications
No of shades: 18
Mirror inside?: Yes
Brush included?: No
Reasons to buy
+Fun but neutral shades+Well pigmented+Super sparkly metallics+Unique hues+Glamourous packaging
Reasons to avoid
-Slightly overwhelming to color-match if you're a beginner
It's fair to say HUDA Beauty knows what they're doing when it comes to eyeshadow palettes. The brand has built up a stellar reputation in the beauty industry for delivering some of the highest quality eye make-up products around—many of which come with striking individual qualities. And this brand new drop is no different.
Now we've said this is best for brown eyes simply because of its velvety brown shades, but with pinks, purples and golds are also thrown in there for good measure it could really suit any eye color. The seamless selection of eye-catching colors each pair perfectly with each other with unique reflective marble creams alongside the usual mattes and metallics allowing you to create texture in your look—and there's even a never-before-seen gloss shade that contains bronze and berry pearls inside to create an exclusive holographic color that will make for a stunning modern eyeshadow hue.
15. Anastasia Beverley Hills Norvina
The best eyeshadow palette for black eyes, everything about this palette is pure magic
Specifications
No of shades: 14
Mirror inside?: Yes
Brush included?: Yes
Reasons to buy
+Very pigmented+Gorgeous and complementary color choices+Equal matte and metallic shades+Light-reflective shimmer on metallics+Luxe velvet packaging
Though black eyes are actually just VERY dark brown eyes, they do suit slightly different shades to lighter brown eyes. This celestial-looking palette just screams deep, dark, and enigmatic eyes. The depth and intensity of this eye color means that it can handle more shadowy hues without looking like you've sustained an injury, so the dramatic purple with a touch of sparkle will pair beautifully.
We also love the delicate pink shades that complement the more powerful violet shades, while the golds and coppers lend themselves to a sparkly look that will add a touch of luxury and sophistication to the eyes.
How to choose the best eyeshadow palette for you
Eyeshadow palettes are one of those make-up bag stars that have become a bit of a status symbol in the last couple of years, with big names like Urban Decay and HUDA Beauty usually taking the crown as everyone's go-to best eyeshadow palettes—but for good reason. The two brands have mastered what it means to be a good eyeshadow palette with their versatile shades and textures. But that's not all to take into consideration when picking the best eyeshadow palette for you...
"The first thing to consider when choosing an eyeshadow palette is the versatility of the colors and how you would use each of them," advises Morag Ross, celebrity make-up artist and UK spokesperson for SUQQU. "Always look for something that contains lots of colors that appeal to you, rather than being dazzled by two shades and never touching the rest."
"I always recommend looking for neutral shades first, but also something that will enhance your eye make-up and is multi-purpose," explains Morag. "You want to be able to create an easy day look that is neutral and soft, but also be able to dip into the same palette to pump up the make-up for a party look."
How to choose an eyeshadow palette for your eye color
"If you're after a subtle look, look for analogous shades," says Bobbi Brown senior pro artist Warren Dowdall. "These are shades that are grouped beside each other on the color wheel. These colors are similar to your natural eye color. For example, if you have brown eyes, muted browns will look pretty and soft.
"The other option is to go for contrasting shades," he adds. "These are shades that are opposite to your natural eye color on the color wheel. These shades will add vibrancy and really pop the eyes."
Aleesha is a digital writer at woman&home and has contributed to Stylist, Women's Health and Healthy. Specialising in beauty and lifestyle, she loves learning about the benefits of different skincare ingredients and never leaves the house without a slick of lip balm and a good slathering of SPF. She's a collector of both niche and mainstream perfumes (Gypsy Water we're looking at you), cannot live without an eyelash curler by her side and is always on the hunt for any new lipsticks to add to her colour-coordinated collection.