Get ready for 'Conversations with Friends,' Hulu's new Sally Rooney adaptation
It's almost time for 'Conversations with Friends.' Hulu brings the steamy, bestselling novel to the small screen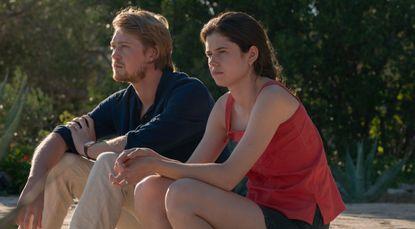 (Image credit: Enda Bowe/Hulu)
Romance is at its most complicated in Conversations With Friends. Hulu and the BBC have adapted Sally Rooney's bestselling book for our viewing pleasure, and emotions run high.
From secret hookups to getting back with an ex, the story focuses on four creative types who find themselves in many a passionate predicament. It's steamy, it's messy and it makes for a great read—and marathon.
This isn't the first time the young Irish novelist had her work adapted for TV. Rooney's sophomore story, Normal People, starring the lovable Paul Mescal and Daisy Edgar-Jones, earned an impressive following (and even an Instagram page dedicated to Connell's chain).
Now, we're working backward and seeing her first novel come to life. Here's everything you need to know about the Conversations with Friends cast, episodes and more.
'Conversations with Friends' Hulu: what to know
What is 'Conversations with Friends' about?
The book and its subsequent TV adaptation center on the interwoven relationships of four friends: 21-year-old university student Frances, who serves as our protagonist; her best friend and former girlfriend Bobbi Connolly; an older, sophisticated photographer and writer named Melissa Conway, and her handsome actor husband Nick.
Without giving away any spoilers, this quartet gets tangled up quite quickly, and not always with their respective partners. There's plenty of infidelity and secrets, and you'll start to wonder who exactly is trustworthy. Interestingly enough, you'll start questioning who's to blame for the drama, and you might not necessarily be able to find just one culprit.
Meet the 'Conversations with Friends' cast
Our main foursome is a mix of newcomers and familiar faces. (Taylor Swift's boyfriend steps into the steamy role as Nick!) They are:
Alison Oliver as Frances
Sasha Lane as Bobbi Connolly
Joe Alwyn as Nick Conway
Jemima Kirke as Melissa Conway
Jemima Kirke is fresh off of Sex Education season 3, while you may recognize Sasha Lane from her work in American Honey and Joe Alwyn from The Favourite, or you know, for being Swiftie's muse.
Conversations with Friends is the first professional role for Alison Oliver, who recently graduated from The Lir National Academy of Dramatic Art at Trinity College, the same school Mescal attended.
Watch the 'Conversations with Friends' trailer:
We're in for some excitement and passion, but not without a massive dose of complication. Just try to keep up with everything that's about to unravel between this toxic group.
How many 'Conversation with Friends' episodes will there be?
The happenings of the novel, adapted for TV by executive producer Lenny Abrahamson and the same creative team behind Normal People, will be split into 12 half-hour episodes.
This time around, however, those scripts will not be co-penned by the author herself, as Rooney was only involved in the initial planning stages of Conversations with Friends, according to Vanity Fair.
Conversations with Friends was initially meant to be a feature film with Element Pictures, but the success of Normal People changed the title's trajectory as a streaming series instead.
"[The story was] better told in a longer form that allows you to properly live with the characters and understand their choices," Element co-founder Ed Guiney told Vanity Fair.
Is 'Conversations with Friends' related to 'Normal People'?
Despite sharing a similar creative team and a Northern Ireland setting, Conversations with Friends does not follow the plotlines or any of the characters from Normal People. Rather, "what we've ended up with is something that has a kind of aesthetic family resemblance to the other series but is definitely its own thing," Abrahamson said in a Vanity Fair interview.
Rooney, however, definitely sticks to particular elements: she loves a complicated romance (obviously) but she always chooses characters who are well versed in the arts: novelists, poets, actors and so on. If Marianne and Connell could meet this foursome, they'd most likely fit right in.
When is the 'Conversations with Friends' release date?
Good news: mark your calendars for Sunday, May 15, 2022—the series in its entirety will be released on Hulu. If you ask us, it's bound to be the perfect springtime TV indulgence.
Those across the pond will also want to circle May 15 in their planners, as the series will become available on BBC One, BBC Three and BBC iPlayer.
Sally Rooney books to add to your reading list: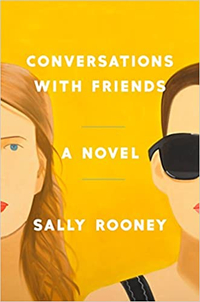 Conversations with Friends by Sally Rooney
RRP: $17.99, £4.50
"Frances is twenty-one years old, cool-headed and observant. A student in Dublin and an aspiring writer, at night she performs spoken word with her best friend Bobbi, who used to be her girlfriend. When they are interviewed and then befriended by Melissa, a well-known journalist who is married to Nick, an actor, they enter a world of beautiful houses, raucous dinner parties and holidays in Provence, beginning a complex ménage-à-quatre. But when Frances and Nick get unexpectedly closer, the sharply witty and emotion-averse Frances is forced to honestly confront her own vulnerabilities for the first time," reads the publisher's synopsis for Rooney's 2017 debut.
---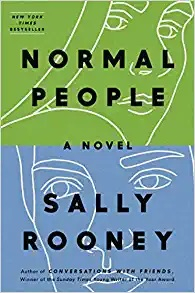 Normal People by Sally Rooney
RRP: $13.67, £3.18
"Connell and Marianne grow up in the same small town in the west of Ireland, but the similarities end there. In school, Connell is popular and well-liked, while Marianne is a loner. But when the two strike up a conversation – awkward but electrifying – something life-changing begins," reads the book's official synopsis. "Normal People is a story of mutual fascination, friendship and love. It takes us from that first conversation to the years beyond, in the company of two people who try to stay apart but find they can't."
---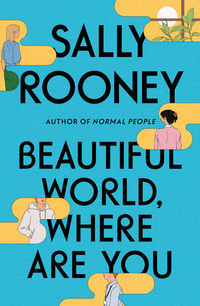 Beautiful World, Where Are You by Sally Rooney
RRP: $16.80, £4.23
"Alice, Felix, Eileen, and Simon are still young—but life is catching up with them. They desire each other, they delude each other, they get together, they break apart. They have sex, they worry about sex, they worry about their friendships and the world they live in. Are they standing in the last lighted room before the darkness, bearing witness to something? Will they find a way to believe in a beautiful world?" reads the official synopsis of Rooney's third novel.
---
It's too soon to tell, but we're hopeful that Beautiful World, Where Are You will also get the streaming treatment. Fingers crossed! Until then, we're anxious to get caught up in Frances' complicated world.
Christina Izzo is the Deputy Editor of My Imperfect Life.
More generally, she is a writer-editor covering food and drink, travel, lifestyle and culture in New York City. She was previously the Features Editor at Rachael Ray In Season and Reveal, as well as the Food & Drink Editor and chief restaurant critic at Time Out New York.
When she's not doing all that, she can probably be found eating cheese somewhere.