Facts about Simone Biles: everything you need to know about the gymnastics queen
Following another jaw-dropping gymnastics performance, facts about Simone Biles are swirling all over the internet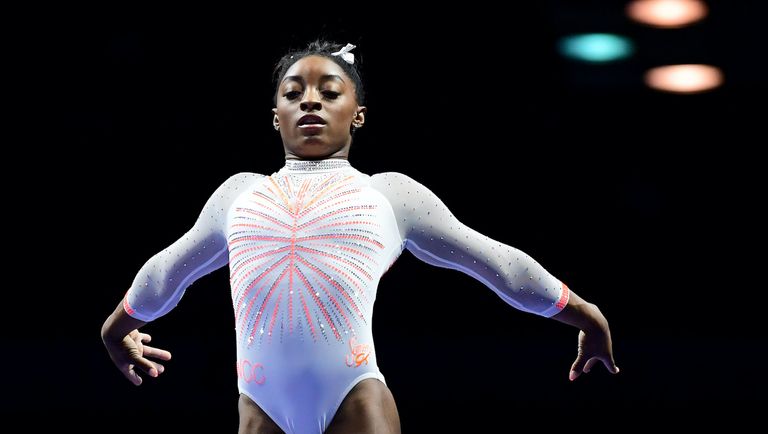 (Image credit: Getty Images)
She's made history, again—gymnastics fans are craving more facts about Simone Biles after the Olympic gold medalist became the first woman ever to nail the  Yurchenko double pike, a mind-boggling vault previously only been attempted by men. 
She conquered the revered vault move at the 2021 GK U.S. Classic this past weekend, but Simone Biles has been wowing us from the very beginning of her career with her impressive skills. We'll fill you in on facts about Simone Biles and everything you need to know about the girl with springs in her steps. 
Simone Biles latest vault: Yurchenko double pike
The first woman in history to land a Yurchenko double pike in competition.Our jaws are on the floor. @Simone_Biles is still in the air. #USClassic pic.twitter.com/CmJYRidtfoMay 23, 2021
See more

The 24-year-old gymnast's latest accomplishment as the first woman to land the Yurchenko double pike has garnered quite a bit of attention, and for good reason. The move is a roundoff onto the springboard, a back handspring onto the vaulting table, and a piked double backflip. (We're exhausted just typing it!)
Watch Simone Biles floor routine
A gymnast since she was six years old, Biles is well-versed in all areas of gymnastics—vaults, beams, floor routines, etc. Need proof? She took first place at this weekend's 2021 GK U.S. Classic in the floor, balance beam, and vault competitions and won the all-around by more than a full point. Her most recent floor exercise at the U.S. Classic, like the double pike, has blown viewers' minds.
Simone Biles rhinestone GOAT leotard
During the competition, Biles won some style points as well for her white GK Elite leotard, which featured mesh sleeves, bedazzled pink-and-orange detailing, and a silver rhinestone goat's head emblazoned on the back, for the GOAT, of course. (That's Greatest of All Time!)
Simone Biles medals: how many has she won?
What can't Simone Biles do? Her records speak for themselves, but 2016 is truly the year the world took notice of the sports superstar. It was during the Summer Olympics in Rio de Janeiro that she became the first female U.S. gymnast to win four gold medals at a single Games, and the first gymnast to win three consecutive world all-around titles.
She has earned 14 world championship medals, the most in history from any gymnast, male or female. Additionally, her 10 world championship gold medals are the most won by a female gymnast in the history of the sport. With a combined total of 30 medals across the Olympics and World Championships, Biles is the most decorated American gymnast of all time and the world's third most decorated, behind Vitaly Scherbo of Belarus (who has 33) and Larisa Latynina (who has 32). Color us impressed!
Where did Simone Biles go to college?
Biles studied at the University of the People, an online, tuition-free school that enabled her to pursue her gymnastics career and study business administration simultaneously. Originally, she intended to study at UCLA. She was appointed the global ambassador of her university, according to Forbes. 
Simone Biles book: Read about her life
Courage to Soar: A Body in Motion, A Life in Balance by Simone Biles | $11
Learn all about the athlete from her autobiography, which examines her life, faith, and, of course, monumental role in the gymnastics world.View Deal
What is Simone Biles height?
The iconic gymnast is only 4 foot 9! However, she's able to soar to some pretty impressive heights.
Is Simone Biles adopted?
Simone and her sister Adria were adopted by their grandparents, Ronald and Nellie Biles in 2000. At a young age, she was placed in foster care after her mother suffered from addiction problems and stints in jail. Simone credits her grandparents for being the ones who "saved" her.
Who is Simone Biles boyfriend?
Biles is dating 25-year-old NFL player Jonathan Owens. He acknowledged her impressive new victory at this weekend's U.S. Classic by writing "No comparison" on an Instagram story, followed by a shot of the athlete performing the shocking pike move. 
What happened to Simone Biles brother?
In addition to a difficult upbringing with her biological mother, Simone Biles has also experienced some traumatic events throughout the course of her life. She sadly announced that she was a victim of Larry Nassar's abuse; the former U.S. gymnastics team's doctor had been accused of multiple sexual assault charges. And in 2019, her brother was involved in legal trouble and had a connection to a triple murder that took place in Ohio.