Who is Simone Biles dating? Meet the NFL player who stole the gold medalist's heart
Wondering who is Simone Biles dating? The Olympian has stolen records and this footballer's heart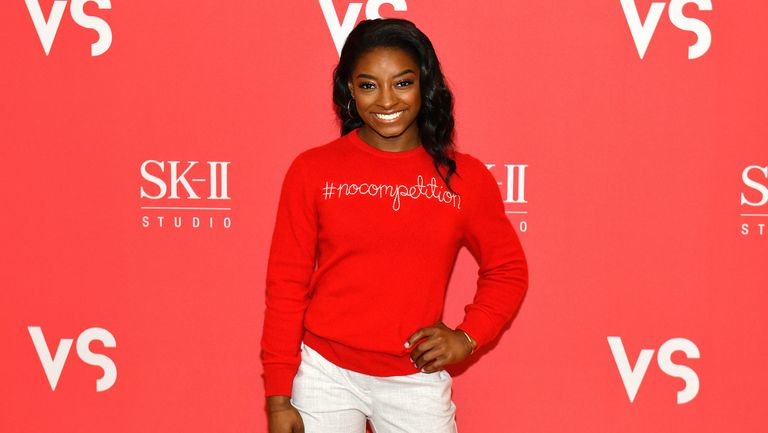 (Image credit: Getty Images)
Who is Simone Biles dating? The unstoppable gymnast has snagged—and continues to snag—record-breaking stats, as well as the heart of a Houston Texans player. Meet Jonathan Owens, the NFL star who makes the Olympian flip. 
• Facts about Simone Biles: everything you need to know about the gymnastics queen

Who is Simone Biles dating?
The gymnastics sensation has been linked to Jonathan Owens, a 25-year-old football safety player for the Houston Texans. It's not uncommon to see Simone in the stadium cheering for her beau and sporting his jersey number, 36. (D'aww!)
Although it's unclear when the two officially became an item, photos of the couple began surfacing on social media in 2020. Now, their love story is posted all over one another's accounts, and fans are swooning over their sentimental snaps and captions. 
Jonathan, a St. Louis native, studied at Missouri Western State and has been playing football since college. At 5'11, he towers over Simone, who is only 4'8"!
Simone and Jonathan have similar interests
When it comes to their lifestyle and careers, it seems the two are on the same page. Plus, they're both crazy for canines. (We can certainly relate.)  
"He's an athlete too, so we really understand each other, and I think that's why our relationship has been seamless," Simone revealed to Hoda Kotb earlier this year. "And he also has a bulldog, so I feel like, besides him being a cherry on top, that was really amazing. And our dogs get along well."
You can catch tidbits of their tropical vacations, date nights (like axe throwing!), and holidays online. 
Simone and Jonathan are supportive of one another
It's not uncommon to find congratulations and well wishes for their S.O. on social media. Simone always donning his jersey and showing her support. Meanwhile, it seems like every time you turn around, Jonathan is acknowledging his lady's new record-breaking win. Most recently, Simone won a record seventh national women's all-around title, and Jonathan was there to witness it firsthand. 
"What an amazing experience 👏🏽 First time getting to watch you compete in person and you didn't disappoint," he captioned on Instagram. "It's so cool that i get to watch you do what you love, and be the best at that ‼️ I'm so proud of you my lil champ 🥰❤️ Trials up next and you already know I'm there!! Love you baby."
She responded and concluded her thanks with, "You a real one."
Simone continues to blow our minds every time she steps foot on the mat, vault, or beams. In 2021, the Olympic gold medalist became the first woman ever to nail the Yurchenko double pike, a mind-boggling vault previously only been attempted by men. The move is a roundoff onto the springboard, a back handspring onto the vaulting table, and a piked double backflip. (Can you keep up?) 
Although she is making headlines for her recent success, 2016 is the year people really began to take notice of the gymnast. During the Summer Olympics in Rio de Janeiro, Simone became the first female U.S. gymnast to win four gold medals at a single Games, and the first gymnast to win three consecutive world all-around titles.
We're so happy to follow along with her amazing career and get sneak peeks at her sweet relationship with Jonathan. We're cheering for you all around, Simone!