This is how friendships are changing because of the pandemic
Coronavirus has effected everything this year, including our friendships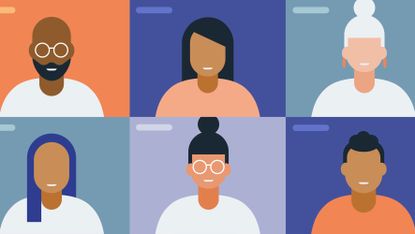 (Image credit: Getty Images)
This year's pandemic has made us all kiss goodbye to life as we knew it and enter a new, more cautious way of living. But how has coronavirus impacted our friendships?
With social distancing as the new norm, it's no secret that our relationships with the people nearest and dearest to us have changed. Months of lockdown have meant that most of us haven't seen or maybe even spoken to our friends as often as usual, which may have led to a strain in some of our connections. In fact, Snapchat's new 2020 Friendship Report has revealed exactly that.
The popular social media app has released a number of statistics reaffirming what many of us have been feeling - that the pandemic has taken a major toll on some of our friendships due to the lack of face to face time we've had over the past few months, with a number of them drifting altogether.
Delving deeper into just how much COVID-19 had impacted friendships, Snapchat conducted a global survey with Alter Agents polling 40,000 nationally representative people ages 13-40 in Australia, France, Germany, India, Indonesia, Italy, Japan, Malaysia, Mexico, Netherlands, Norway, Kingdom of Saudi Arabia, Spain, the United Arab Emirates, the United Kingdom, and the United States.
They found that while the majority (67%) of respondents said that their close friendships remained unchanged, 33% did notice a shift. What's more? 53% of those who stated that their friendships had shifted felt their bonds had deteriorated.
Out of the entire group, 45% agreed that they felt distant from their friends due to the decrease of face-to-face, in-person interactions. But luckily, social media has been a huge help, with almost everyone (93%) saying that apps like Snapchat, Instagram, Twitter, Facebook and TikTok have been a lifeline for their friendships.
The research also found that the isolation of working from home (and trying hard to be productive) as well as the redundancies and financial hardship that many people experienced during the pandemic were a big factor. In fact, they were seen as the most harmful to relationships, with 51% saying that losing their jobs and struggling with cash weakened their bonds.
We know what you're thinking. The relationships must have been fragile to begin with to be lost so fast, especially for reasons such as job loss and financial struggles. But if you're no longer working with a friend and you're having to be stricter with your spending, spending time with that friend may require a lot more effort than you were used to. And with social distancing to consider too, it may not be the biggest priority for many people. But of course, this depends on how close the bond is.
The good news is that these drifting friendships may be a temporary thing as the research found that overall, 66% of those surveyed said they were willing to reconnect with their friends.
Bring on 2021...
Sagal is a journalist, specialising in lifestyle, pop culture, fashion and beauty. She has written for a number of publications including Vogue, Glamour, Stylist, Evening Standard, Bustle, You Magazine, Dazed and Wonderland to name a few.