14 Things to do in lockdown: how to keep yourself entertained during lockdown
Here are all the fun things to do in lockdown (again...)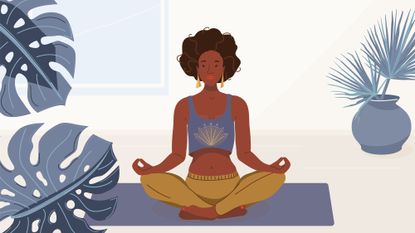 (Image credit: Getty Images)
Looking for things to do in lockdown... again? We're right here with you. After the long rumoured and incredibly dreaded third national lockdown (yes, third) was officially announced in the UK this week, we knew exactly what that meant: It's once again time to find ways to entertain ourselves at home.
Luckily, there are plenty of things to do as we discovered the first two times around - whether it's becoming a pro baker (we seriously need to find a new alternative for banana bread), picking up a new language or simply taking the time to relax and wind down - the pandemic has been tough!
While it may just be England that is currently back in a national lockdown, many people around the world are choosing to stay home due to the rising number of COVID-19 cases, as well as the spreading variant which has now reached New York City.
So, to help you all stay sane in the comfort of your homes, here are some things to keep you occupied throughout the winter 2021 lockdown. You can thank us later...
Things to do in lockdown
1. Catch up on all the latest Netflix shows
Many of us have been making the most of the eased restrictions over the past couple of months, spending as much time as possibly seeing friends and family for socially-distanced catch ups and providing a much-needed boost for the struggling hospitality industry by indulging in lunches, brunches and dinners at our favourite spots again.
However, this means you may not have had a chance to keep up with all the latest binge-worthy shows Netflix has been dropping. From everyone's latest obsession Bridgerton (we're totally rewatching) to Emily in Paris (or the array of shows like Emily in Paris and shows like Bridgerton), the list is endless.
2. Throw yourself into home workouts
The gyms may be closed but one thing we did learn in the previous lockdown is that online workout communities are strong.
Whether you're joining a regular Instagram live with a qualified personal trainer (@CiaraLondon and @Wozldn got us through it last time), signing up for a Peloton membership or turning to YouTube for your at-home workouts, staying fit during lockdown is a lot more doable then you may have thought. Just make sure you invest in some of the best dumbbells for women and of course, some stylish sustainable activewear and you're good to go.
3. Keep yourself calm with mindful meditation
In her latest Ivy Park x Adidas campaign, Beyoncé revealed the five minute self-care ritual she practised every day during lockdown. For her, a nice and relaxing bath was essential for taking care of her mind, body and soul, so why not try the same?
It's no secret that a second lockdown will be yet another testing time for us all, which is why self care and mindfulness is crucial for our wellbeing. To make sure you maintain a strong and healthy mindset, try out one of the best meditation apps for guidance or follow whatever ritual works best for you.
4. Get creative with your cooking
Life can get really busy when we're stuck in our day to day routines, flying in and out of the house because of our hectic schedules. This often means that we don't get as much time to experiment with cooking, especially when we've got all the best meal prep services at our finger tips.
However, this lockdown, why not put your cooking to the test? As we all saw on social media last time around, many people surprised themselves with their newly developed cooking skills, especially with the likes of Chrissy Teigen and Queer Eye's Antoni Porowski hosting quarantine cooking tutorials on YouTube and Instagram.
5. Teach yourself a new language
If you're struggling with what to do with all the extra spare time, one of the most productive ways to spend it is by learning something new, like a foreign language perhaps? If you've dreamt of spending a summer in France or touring through Italy, then now is the time to do your homework and study their native tongues.
While picking up a new language may seem daunting at first, using helpful apps like Duolingo and Rosetta Stone could make the experience both easier and more fun. And why not get some friends together for a Zoom class? You could even make a drinking game out of it.
6. Bake something other than banana bread
You'll agree when we say we've seen enough banana breads to last us a lifetime by now, so why not challenge yourself to baking something else? Now that Christmas is around the corner, get in the festive spirit by trying out delicious recipes for a gingerbread man, Christmas cookies and anything else that tickles your fancy. Maybe even a TikTok famous hot chocolate bomb drink?
7. Organise your beauty cabinet
If your beauty cabinet is in dire need of a Marie Kondo treatment then why not use this time to finally sort it out? Tidying can be extremely therapeutic for some of us and anyone who has watched Kondo's hit Netflix series will know why. From lining up your best retinol serums and making sure you have the best moisturisers for dry skin at the forefront of your beauty shelf now that winter is approaching, to carefully selecting which of your best non-comedogenic foundations get to stay, get organizing!
8. Listen to podcasts
Once you've completed all the new things on Netflix, delve into the world of podcasts. Whether you're after some inspiration, dating advice, a good laugh or a gripping true crime story to follow, there's a podcast for everything - and we mean, everything.
From cult classics like Serial and the heartwarming (and sometimes tearjerking) stories on New York Times podcast Modern Love, to weekly drops of The Receipts Podcast, all you have to do is take your pick and get ready for the ultimate escapism.
9. Read all the books you've been saving for a rainy day
With the constant speed of life and technology - social media in particular - many of us find it hard to actually sit down and read a book longer than five minutes. Lockdown is the perfect time to build up your attention span again by committing to actually finishing all the books you've started reading but never quite got around to because life got in the way.
And while you're at it, why not challenge yourself to exploring new authors and even educating yourself on issues or topics you want to know more about? 2020 has been a year for reflection for a number of reasons, be the pandemic or the fight for racial equality and social justice, so arming yourself with knowledge is more important than ever.
10. Experiment with new vibrators
During the last lockdown, sales for sex toys went through the roof as social distancing meant we couldn't mingle with our partners or potential love interests unless we lived together. And with it all happening again, we've come better prepared.
Long-distance relationships is tough on our emotions, that we know. But it can be even tougher on our sex lives, so why not try some of the best app-controlled vibrators on the market? With all the extra time, you can really get to know your body in new ways.
11. Host a virtual games night
Now that wild weekends in the city are a thing of the past, many of us have been connecting with friends and making new memories virtually. It's not the same, we know. But it can still be super fun, depending on how much effort you put into it. Go all out as the host with the most for your next zoom games night by making it a themed one. A Bridgerton-inspired regency quiz, perhaps? Sign us up, your grace!
12. Look into your ancestry
Ever wondered how far your family tree really reaches? Why not spend lockdown exploring your heritage and start your journey to discovering your family history with Ancestry.com? All you have to do is add your family's name, dates of birth and any other additional information you have and you could unlock endless records about your ancestors, who they were and where they came from. The website has everything from censuses, wills, birth records and even ancient records of people's jobs. Plus, new visitors get a free trial to start, so what are you waiting for?
13. Learn to paint
Painting is not only one of the most artistic things you could do but it is also incredibly therapeutic. There are plenty of painting sets on Amazon and Etsy to get you started. Plus, Brush & Bubbles has an incredible art kit including 3 canvases (8x10), 1 x mini canvas and easel, 2 sets of paintbrushes, 1 paint palette, 2 packs of 12ml acrylic paints, 1 pack of 21ml acrylic paints, 1 can of bubbly, 1 artsy postcard, and a Brush & Bubbles keepsake box.
14. Try virtual travelling
Travelling for leisure may be on hold at the moment but that doesn't mean you can explore the world virtually. Thanks to amazing technology like Google Earth, you can take a virtual tour of pretty much any corner of the world by simply typing it into the search bar. If Japan is on your bucket list, then you'll also be pleased to know that the Japan National Tourism Organization has a 360-degree VR movie that takes you on a vivid tour of the country.
Sagal is a journalist, specialising in lifestyle, pop culture, fashion and beauty. She has written for a number of publications including Vogue, Glamour, Stylist, Evening Standard, Bustle, You Magazine, Dazed and Wonderland to name a few.