Five tips for coping with redundancy
It's never easy but these practical coping mechanism can help...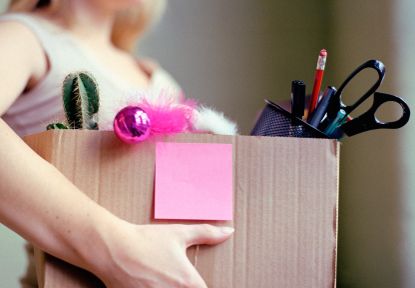 (Image credit: Getty Images)
There are few words that have become a frequent part of our daily vocabulary this year thanks to COVID-19. Aside from the obvious ones, 'pandemic', 'quarantine' and 'social-distancing', you may have heard 'redundancy' a lot more than you'd like.
The dreaded 'R' word is one many of us have had to accept over the past few months as companies and businesses across the world have been forced to make staffing cuts and reduce budgets due to the financial impact of the pandemic. One minute you were enjoying your time on furlough with Netflix marathons of Selling Sunset and an unnecessary amount of Asos orders, and the next you're left entirely jobless. It's a hard pill to swallow.
Whether you've got a hefty payout package to ease the wound, or you're left with nothing but your paycheck, redundancies are never fun. In fact, they can take a huge toll on your mental health.
And now, with one in three of us in the UK set to go through it this Autumn, we spoke to wellbeing charity CABA to find out the best ways of coping with redundancies. So whether you're struggling mentally, emotionally or financially, here are five great tips to take note of...
1. Talk about your situation
For many people, work is more than just an income. It offers status, a daily routine and a sense of purpose, as well as creating an interesting and challenging activity. Some of us even have our social lives intertwined with our work, with our colleagues being our closest friends and people we spend not only working hours but most of our social time with too. This is a lot to lose.
If you're stressed or in despair, it's so important to talk about how you feel with other people, such as your colleagues, family and friends. Sharing your thoughts and feelings with others will allow you to process your emotions and come to terms with what's happened. Let yourself lean on your support system and those around you who you trust and you're bound to feel a lot lighter. As research professor Dr Brené Brown says, 'shame cannot survive empathy.'
2. Establish a new routine
According to CABA, people who've been made redundant often say they find it helpful to establish a regular daily routine. This includes getting up as if you're going to work, getting dressed and focusing on finding your next paid job. Having some structure to your day will help keep you positive and enable you to keep track of what you've done today and what you need to do tomorrow.
If you need some more ideas on how to maintain structure in your day, check out CABA's coping with redundancy guide.
3. Don't take it personally
Redundancies are rarely, if ever, personal. But sometimes it's hard not to take it that way. The whole thing will probably make you feel undervalued and overlooked (that's very normal), which can then affect the way you view yourself as a professional. It can diminish your sense of self-worth which is inevitably impact the way you move forward as you may feel like you're not good or skilled enough to apply for positions at a similar or higher level.
This is why it's so important to practice self-compassion as this will help you to re-build your confidence. Reminding yourself of all you've achieved so far and remembering that you've got plenty of moves left to play.
4. Re-invent yourself
Remember when you were a kid and it really felt like the world was your oyster? Well it still is. The older we get, we tend to abandon this idea that the whole world is open to us and we can be anything we like to due financial and personal responsibilities. However, it's never too late to re-invent yourself.
No matter what age you are, redundancy can actually be an opportunity for you to take a positive step forwards in your career, whether it means applying for a similar role but for a company that better aligns with your values, or going down a completely different path and exploring an entirely new sector. Now's the time to do it!
Tend to your financial wellbeing
It's no secret that losing a job can do terrible things to our financial wellbeing. You might be worried about how you're going to pay your bills this month or if you'll have enough money to look after you family. These feelings often weight heavy on us, making us feel caged in and like we are running out of options.
It can also feel like you don't have any ownership of your future because ultimately, financial wellbeing is about control - control over your day-to-day decisions and long-term goals. So while you may feel lost with minimal options after having been made redundant, there are ways of regaining a sense of agency.
The first thing you should do is create a budget. Once you've got a better idea of what's coming in and going out of your account, it's easier to make rational decisions that will positively impact your situation.
You should also look into what help there is on offer for you as there are plenty of support services for those going through financial hardship. However, make sure you pick the right method for you and your individual situation.
Sagal is a journalist, specialising in lifestyle, pop culture, fashion and beauty. She has written for a number of publications including Vogue, Glamour, Stylist, Evening Standard, Bustle, You Magazine, Dazed and Wonderland to name a few.