Good Trouble theme song and soundtrack: all the songs featured in season 3
Can't get enough of the Good Trouble theme song and soundtrack? We're with you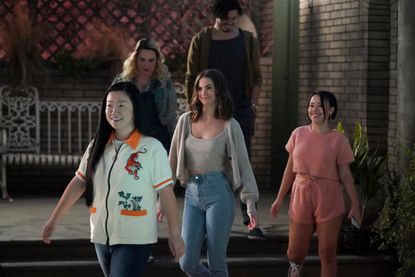 (Image credit: Photo by Eric McCandless via Getty Images)
The Good Trouble theme song is just one of many favorite things about the show—we can't get enough of it. But not just that, the entire soundtrack is incredible, especially for season 3.
It's like every single song fits the moment it has been selected for perfectly. We saw it on the soundtrack for Ginny & Georgia, and Good Trouble is no different in that department, hence why we're so excited to watch season 4.
But first, here's a quick reminder of the hits we heard on the previous season. And if you haven't figured out how to watch Good Trouble where you are, then now is the time to do it.
Good Trouble theme song
The theme song itself, which we hear at the beginning of each episode, is by Canadian singer Kim Bingham. It's titled 'Bel Ami' which means 'dear friend' in French, summing the premise of the show. Who wouldn't want to live in The Coterie?
A spin-off from ABC's the Fosters, Good Trouble follows adopted sisters Mariana and Callie Adams Foster as they embark on an exciting new life in Los Angeles. As we saw in the first season, the girls moved into the co-living space they share with a group of strangers that quickly became family (and love interests). Since then, they've been navigating their careers—Callie as a clerk at a law firm fighting against injustice and Mariana dismantling the overtly patriarchal nature in a male-dominated tech start-up—while also forming new relationships and dealing with sisterly drama.
It's safe to say that the Adams Foster girls have been through a lot in the past three seasons of the show and for every high or hurdle, there's been a great soundtrack. So as we prepare for what we can only expect to be even better music moments in season 4, here are all the great songs we heard on season 3...
Good Trouble soundtrack: all the songs featured in the episodes
Episode 1: 'Capoeira'
In A Spiral - Phantogram
Hands up Like This - ZOA
Low - Robyn Sherwell
Passinho Battant (feat. Flavia Coelho) - Tambour Battant
It All Comes Down To This - Hael
Easy Lovin' - Jessame
Loyal - Jacquie
Lovable - Blaue Blume
Gold Touch - Red Red Lips
We'll Fight - Wilder Banks
Pa-pa-pa pa-pa pa-pa-paPa-pa-pa pa-pa pa-pa-paIf you know this theme song, you understand my fandom!#GoodTrouble #TheFostersJanuary 30, 2019
See more
Episode 2: 'Arraignment Day'
Before I Die - Eamon
When I Turn It On - MATS
Battlecry - Jordan Mackampa
It's Gonna Be Alright - Crush Effect
if you got a problem - Joy Oladokun
Here Together - Rezar
Doin' My Thing - Dream Tingz
Give You Power (feat. Mavis Staples) - Arcade Fire
Episode 3: 'Whoosh, Pow, Bang'
Happy Birthday - Cast
Moving (feat. Iris Reid) - 73 Keys
Future Now - MOONZz
Water Polo - Blookah
Porto Cristo - BROTHER
The Thing We Do - MOONZz
Whittle - Texture Like Sun
On me dit tu - Fishbach
Either Way - Justina Shandler
Episode 4: 'Klompendansen'
Super Duper Party People - Allie X
Horlepiep - The Dutch National Folk and Dance Orchestra
Morning Wood - Various Artists
Back to You - Farrah
Hopfa Harvest (Vox) - Michl Eberwein & Sepp Kiefer
Hand in Glove - HOLT
Hidden Shelters - Lovelier Other
Day In Day Out - Bootstraps
i really do love the theme song and opening credits of #GoodTroubleFebruary 24, 2020
See more
Episode 5: 'Because, Men'
Mezcalight - DOPAMOON
Better Day - Famous To Silence
Nothin Bout Me - Alex Beaumont
Wanna Be Me - Ellen Once Again
Close 2 U - Raveena
Heartbeat - Raveena
Gift of Lies - Model Zero
Dame Like - Octopvs To The Party
Fat Bitches - Good Trouble Cast
Episode 6: 'Help'
Light It Up - Peter Verdell
climbing the walls - This Coast Bias
Sentimental Trick - Future Jr.
Eventually - MAAD
iLy (feat. Ivy Hollivana) - LoneMoon
Drive - T R U V O N N E
T.E.A.R.S - Spring Summer
Episode 7: 'New Moon'
Chattra Chakkra Varti - White Sun
Miles Away - Ron Esposito
Floating Horizon - Ron Esposito
Radiance - Ron Esposito
White Sun Drums - White Sun
Back to the Basics - BLOU
Get Through - rum.gold
Forever - Dead Heart Bloom
I'd Rather Be Blue - Bootstraps
The Right - Marlan
Episode 8: 'Trust'
Jehoshaphat's Song - Sharon Irving
Meateater - ALASKALASKA
Gang (feat. Saeah Maison) - Anoraak
Lucky Charm - Heartstreets
Odd Mistake - Konradsen
Keep Your Eyes On Me - Whyte Tygers
Boom - Ngaiire
Like a City - Khushi
That Sinking Feeling - Fairmont
Control (String Version) - Zoe Wees, 2WEI & Abbott
Episode 9: 'Driver's Seat'
Everything I Want - Mist u
Heat Waves - Glass Animals
Gloom - Cina Polada
Nag Champa Bong (feat. Natalia M. King) - DOPAMOON
Follow My Heart - Kwamie Liv
Make it Look Easy - Wutfur
Falling Again - Amy Stroup
I Am the Night - Citrine
Hunter - La Rochelle Band
Gravity (From Good Trouble) - Josh Pence
Alewife - Clairo
Sagal is a journalist, specialising in lifestyle, pop culture, fashion and beauty. She has written for a number of publications including Vogue, Glamour, Stylist, Evening Standard, Bustle, You Magazine, Dazed and Wonderland to name a few.