Good Trouble season 3: everything that happened throughout the season
Need a refresher on Good Trouble season 3? Here's what you need to know...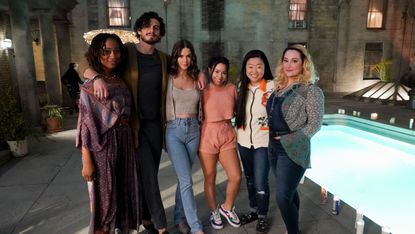 (Image credit: Freeform/Eric McCandless)
Good Trouble season 3 dropped on Freeform and Hulu back in February 2021 and let's just say things got, err, interesting...
When did Good Trouble season 3 return in 2021?
Good Trouble season 3 officially debuted on February 2021 and returned to Freeform on Wednesday, July 14th after a midseason break. We finally got back to living vicariously through sisters—Callie and Mariana—and their exciting, yet often complicated, lives in Los Angeles.
Similar to how the show—which is a spin-off from The Fosters—left fans with questions at the end of season 2 (back in March 2020), the mid-season finale had twists and turns (wait, who's pregnant?!) that will kept viewers guessing until Good Trouble new episodes aired again. Luckily, we soon got all the answers to all of those burning questions.
Good trouble season 3 UK: how can you watch it?
While the show has been airing in the US since February, Good Trouble fans can now watch season 3 on BBC iPlayer (seasons 1 and 2 are also available to watch now).
The entire season is available on BBC iPlayer—so if you can't wait to binge-watch the whole thing, then you can head there or watch Good Trouble season 3 by using a VPN.
How to get started
1. First off, you need to make sure you have a Freeform account so you can log in once your VPN is set up.
2. Then, download ExpressVPN, using the easy-to-follow instructions (you can get 49% off, 3 months free and there's a 100% risk-free 30-day money-back guarantee).
3. Once you've installed your VPN, open the app and select your server location as anywhere in the United States.
4. With your ExpressVPN installed and your location set to the United States, head to Freeform, log in and follow the instructions to stream Good Trouble Season 3.
What happened in Good Trouble season 3?
A lot of things went down in the first half of the third season, from Callie and Jamie's on/off romance to the complexities of Mariana and Evan's situation and of course, the budding romance between Davia and Dennis.
There's also plenty more from the gang at The Coterie, as well as new storylines to get stuck into—after all, the girls always end up in some sort of drama, whether it's at work, their love lives, or friendships as they navigate adult life in the glamorous city.
Unlike other shows like This Is Us, Johnson announced at the time that Good Trouble would not be addressing the pandemic. "The stories that we were already shooting and that we'd already broken were happening pre-COVID," she explained. "So for the first half of the season, we're going to stay in that pre-COVID world."
At first, season three picks up as Callie moves back into the Coterie following her break-up with Jamie. Throughout the season she reconnects with Gael but the two ultimately break up when it is revealed that he is the father of his ex-fling's baby.
In the final episode, Callie has a fantasy courtroom scene where she is questioned by her former boss Judge Wilson. He pushes her to an emotional epiphany about her insecurities and what she wants for her future. "I'm leaving?" Callie announces. But does that mean she's quitting her job as a defense attorney? Or is she referring to something else? And what about her love life, following her and Gael's breakup? Will she rekindle her romance with Jamie? The season ends on a cliffhanger about her fate.
Elsewhere, Mariana who has spent the season feeling torn between Raj and Evan, is on a mission with the Fight Club girls to bring down a beauty app after learning they stole their idea from Bulk Beauty, another start-up. She lands a job there, after Evan's glowing recommendation and begins plotting from the inside.
Meanwhile, Davia made a choice between Dennis and Matt, though we didn't find out in the season finale what it was. As for Malika, she spent the first half of the season preparing for her hearing after breaking Judge Wilson's restraining order but towards the end, she lands a job working for a city councilwoman. She also gets a surprise visit from her ex Isaac.
Who is in Good Trouble season 3?
Maia Mitchell (who plays Callie) and Cierra Ramirez (who plays Mariana) will be back in their roles as the Adams-Fosters sisters, as well as the rest of the cast including The Coterie family, and some other familiar faces.

Unfortunately, Noah Centineo—who plays the girls' brother Jesus and has made appearances in the past, including the recent Christmas special—hasn't yet made a reappearance in Good Trouble season 3, and we're not confident we can expect him to.

Talking to TVLine, Johnson discussed potentially bringing back the To All the Boys hunk to the series: "It's really hard. Noah's career has exploded, and I'm so excited for him. But it's very hard for him to find time for us right now. Hopefully, we can get him back." Fingers crossed!
Good Trouble season 4 has now wrapped up and we're patiently waiting for Good Trouble season 5...
Sagal is a journalist, specialising in lifestyle, pop culture, fashion and beauty. She has written for a number of publications including Vogue, Glamour, Stylist, Evening Standard, Bustle, You Magazine, Dazed and Wonderland to name a few.