Good Trouble season 3: when is the show coming back in July 2021?
The mid-season finale of Good Trouble season 3 has dropped—but when does the show come back to finish things off?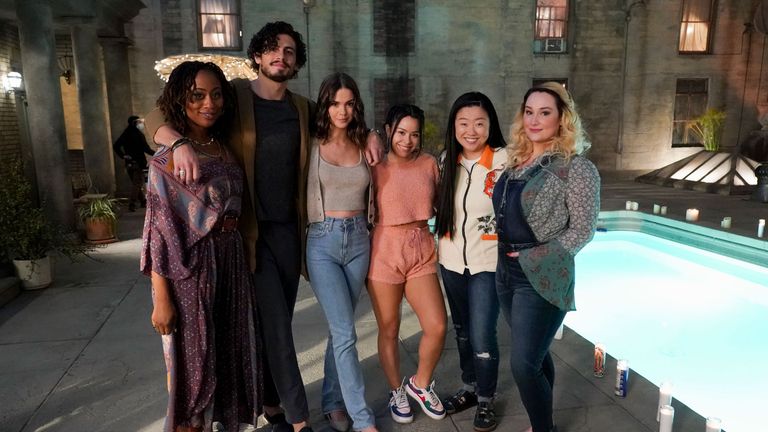 (Image credit: Freeform/Eric McCandless)
Good Trouble season 3 dropped on Freeform and Hulu back in February and aired 10 consecutive episodes every Wednesday at 10 pm ET until the mid-season finale dropped on April 26th. But now the series is going on a break and many fans are asking—when will Good Trouble return? 
When does Good Trouble season 3 return in 2021?
Good Trouble season 3 is officially returning to Freeform on Wednesday, July 14th. Meaning, we could finally go back to living vicariously through sisters—Callie and Mariana—and their exciting, yet often complicated, lives in Los Angeles.
Similar to how the show—which is a spin-off from The Fosters—left fans with questions at the end of season 2 (back in March 2020), the mid-season finale had twists and turns (wait, who's pregnant?!) that will keep viewers guessing until Good Trouble new episodes air again. But rest assured, we will get the answers to all of those burning questions when Good Trouble comes back to cap off its third season. Bring on July!
Good trouble season 3 UK: how to watch
While the show has been airing in the US since February, Good Trouble fans in the UK still have no air date for season 3 (seasons 1 and 2 are available to watch now on BBC iPlayer).
The second season arrived in the UK about a year after it premiered in the US, but if you can't wait that long, then the best way to watch Good Trouble season 3 is by using a VPN. 
VPN services change your IP address on your computer, or smart device, allowing you to continue to keep up with your favorite shows. The VPN service we like is ExpressVPN, rated as the best in the world by our colleagues at TechRadar. It's simple to use, it's super secure, there's a no-quibble 30-day money-back guarantee and, if you sign up for an annual plan you'll get an extra three months absolutely free...
How to get started
1. First off, you need to make sure you have a Freeform account so you can log in once your VPN is set up.
2. Then, download ExpressVPN, using the easy-to-follow instructions (you can get 49% off, 3 months free and there's a 100% risk-free 30-day money-back guarantee).
3. Once you've installed your VPN, open the app and select your server location as anywhere in the United States.
4. With your ExpressVPN installed and your location set to the United States, head to Freeform, log in and follow the instructions to stream Good Trouble Season 3.
What can we expect from Good Trouble season 3? 
The third season picked up where we left off in season 2, with Callie's relationship with boyfriend Jamie in the air after she moved out of his apartment. The show's executive producer, Joanna Johnson, told TVLine: "The question for the premiere of Season 3 is: Are they really broken up? It's definitely pending. I don't think it's clear yet." 
Meanwhile, Mariana is in a sticky situation after sleeping with her boss Evan, which by the sounds of things she immediately regrets. "I think she wasn't really thinking soberly in that moment," Johnson said, "which is something we'll pick up on in Season 3 — the morning after, and you're like, 'Oh, what did I just do?'"
There's also plenty more from the gang at The Coterie, as well as new storylines to get stuck into—after all, the girls always end up in some sort of drama, whether it's at work, their love lives, or friendships as they navigate adult life in the glamorous city. 
Unlike other shows like This Is Us, Johnson announced that Good Trouble would not be addressing the pandemic. "The stories that we were already shooting and that we'd already broken were happening pre-COVID," she explained. "So for the first half of the season, we're going to stay in that pre-COVID world." 
Who's to say the show doesn't tackle the topic in the second half, though. 
Who is in Good Trouble season 3? 
Maia Mitchell (who plays Callie) and Cierra Ramirez (who plays Mariana) will be back in their roles as the Adams-Fosters sisters, as well as the rest of the cast including The Coterie family, and some other familiar faces.

Unfortunately, Noah Centineo—who plays the girls' brother Jesus and has made appearances in the past, including the recent Christmas special—hasn't yet made a reappearance in Good Trouble season 3, and we're not confident we can expect him to.

Talking to TVLine, Johnson discussed potentially bringing back the To All the Boys hunk to the series: "It's really hard. Noah's career has exploded, and I'm so excited for him. But it's very hard for him to find time for us right now. Hopefully, we can get him back." Fingers crossed!
Sagal is a journalist, specialising in lifestyle, pop culture, fashion and beauty.  She has written for a number of publications including Vogue, Glamour, Stylist, Evening Standard, Bustle, You Magazine, Dazed and Wonderland to name a few.