Who is Haley Lu Richardson from 'The White Lotus'?
She's been in teen movies and indie films—now meet Haley Lu Richardson, 'The White Lotus' breakout star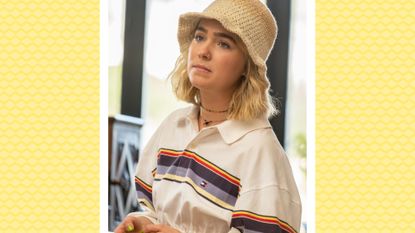 (Image credit: Fabio Lovino/HBO)
Haley Lu Richardson has checked into The White Lotus! The 27-year-old actress joined familiar faces Jennifer Coolidge, Aubrey Plaza, Theo James and Adam DiMarco as part of the cast of The White Lotus season 2—but Richardson herself is a recognizable addition to the HBO hit.
Over the past decade, Haley made a name for herself in Disney shows, high school movies and critically acclaimed indie films, but now she has an entirely new audience thanks to The White Lotus season 2, which premiered on HBO and HBO Max on Sunday, October 30.
But who is Haley Lu Richardson, the actress behind the polarizing Portia? Let's get to know the rising star.
*Warning: spoilers ahead for The White Lotus season 2*
Who is Haley Lu Richardson, 'White Lotus' star?
Haley Lu Richardson is a 27-year-old American actress hailing from Phoenix, Arizona, who has been working in film and television since 2012.
In The White Lotus, Richardson plays Portia, the personal assistant to the returning character Tanya McQuoid, played by the iconic Jennifer Coolidge, who joins Tanya and, begrudgingly, her husband Greg (Jon Gries), on their vacation to a luxurious Sicilian resort. "Portia is a deeply unsatisfied person," she told The Cut (opens in new tab) about her character. "She's deeply searching for life to present something that will fulfill her."
"I feel like she's in that place that I think a lot of young people honestly are in where they think they know everything, but really they just have this kind of expectation and judgment on all the things around them," Richardson said in a Vanity Fair (opens in new tab) interview. "This hyperawareness for everybody around them, and also this intense expectation from everything else and everybody else. I don't think [Portia] is capable at this point in her life so far to look inward and actually see that she is her own problem in so many ways. So yeah, I think she has this fake self-awareness. And I can say this because I relate."
Fun fact: Richardson actually auditioned to play Olivia Mossbacher, a part that eventually went to Sydney Sweeney, in season one of The White Lotus but had to pull out due to scheduling conflicts. "Sydney Sweeney was so perfect for that role. She was so deadpan. I don't think I could've said some of those lines. I don't think it would've worked coming out of my face," Richardson said to The Cut. "I'm so glad it worked out the way it did, because I do feel like Portia's a little bit more of an adult character."
If you're not caught up, you might also be wondering who dies in The White Lotus season two—but rest assured, it isn't Portia.
Haley Lu Richardson age: how old is she?
Born on March 7, 1995, Haley Lu Richardson is currently 27 years old. She is a Pisces.
Haley Lu Richardson Instagram: what's her handle?
Haley Lu Richardson can be found on Instagram at the handle @haleyluhoo (opens in new tab), where she has an impressive audience of 1.7 million followers.
Her page is filled with behind-the-scenes photos from her various projects, shots of her adorable cat Darbin, and peeks at her cute crochet creations, which you can actually purchase on Etsy at Hooked by Haley Lu (opens in new tab).
Haley Lu Richardson movies and TV shows
Haley Lu Richardson started acting as a teen in shows like ABC Family's Ravenswood, Disney Channel's Shake It Up and Freeform's Recovery Road.
She featured in 2016 films like The Edge of Seventeen opposite Hailee Steinfeld and Woody Harrelson and Split with James McAvoy and Anya Taylor-Joy, but her big break was the following year in the Kogonada-directed drama Columbus with John Cho. She was nominated for a Gotham Award for her performance, which she called her favorite experience she'd ever had creatively to The Cut.
"I'm saying this in the least narcissistic, self-indulgent way possible, but it's actually one of my favorite movies I've ever seen," Richardson said to The Daily Beast (opens in new tab). "That was the first time I was ever like, 'Oh my god, I was invited to be a part of art.'"
Richardson's other film titles include 2018's Support the Girls, 2019's Five Feet Apart, 2020's Unpregnant and 2021's After Yang. She also acted in and executive produced the upcoming romance, The Statistical Probability of Love at First Sight, which is set to drop on Netflix.
Are Haley Lu Richardson and Brett Dier still together?
Richardson began dating 32-year-old Jane the Virgin actor Brett Dier in 2012 and popped the question herself to her longtime beau seven years later.
"I just asked," Richardson said during an appearance on Busy Tonight in March 2019. "Neither of us are like crazy romantic people, so nothing was planned. He was sitting there eating a pizza and he was telling me a joke that Shia LaBeouf had said in an interview, and he was like pretending to be Shia LaBeouf explaining this joke and for some reason, I just cut him off and was like, 'Wanna marry me?'"
However, on Tuesday, November 1, Richardson and Dier gave the public an update about their relationship, announcing on social media that the couple had actually privately split up back in 2020. "Hey guys. This is me and Brett. We actually separated two years ago," the actress wrote in an Instagram Story, alongside a photo of herself and Dier giving a thumbs up.
The post continued: "But life goes on and we are both existing and doing pretty well turns out. We shared a deeply special chunk of our lives together. I'm so glad to have had the last couple years to heal and grow without the internet knowing but we kinda just wanted to share it and move on now. Love yourselves! Life is life babies!"
Are Haley Lu Richardson and Zoey Deutch related?
Despite both being talented young actresses and bearing an uncanny resemblance thanks to their bright smiles and bold brows, Haley Lu Richardson and actress Zoey Deutch (Set It Up, The Politician) are not actually related. But we can totally see them playing sisters onscreen!
Who are Haley Lu Richardson's parents?
Unlike doppelgänger Zoey Deutch (who is the daughter of director Howard Deutch and actress-director Lea Thompson), Haley Lu Richardson's parents aren't in the entertainment industry.
Her mother, Valerie M. Richardson, is a marketing and branding professional, and her father, Forrest L. Richardson, is a golf course architect. Haley is their only child.
"We're very much a creative family. It's just the three of us, and I think our minds get bored of doing something that's not stimulating and creative," she told Under the Radar (opens in new tab).
Is Haley Lu Richardson a gymnast?
It appears that the breakout star of The White Lotus is multi-talented.
Richardson explained to Under the Radar (opens in new tab) magazine: "I did gymnastics when I was younger, up until the competitive level. Once you commit to the competitive level of gymnastics, you are really sucked into that world. I just wasn't that much in love with it to keep doing it. So then I started dancing. Then that was pretty much history." The actress trained in competitive dancing for eight years afterward.
It's easy to see why fans may be confused about her IRL credentials though—Haley played a gymnast in the 2015 film The Bronze, which she starred in alongside Sebastian Stan (Pam & Tommy) and Melissa Rauch (The Big Bang Theory).
You can see Haley Lu Richardson in The White Lotus season 2, available on HBO and HBO Max.
Christina Izzo is the Deputy Editor of My Imperfect Life.
More generally, she is a writer-editor covering food and drink, travel, lifestyle and culture in New York City. She was previously the Features Editor at Rachael Ray In Season and Reveal, as well as the Food & Drink Editor and chief restaurant critic at Time Out New York.
When she's not doing all that, she can probably be found eating cheese somewhere.