How to explore homemade sex toys safely
Sex toys can be expensive but homemade sex toys are an affordable and creative option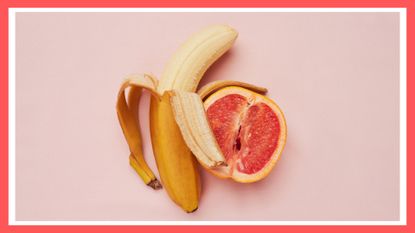 (Image credit: Getty)
Exploring pleasure is a natural process for the average masturbator but sometimes the price tag attached to sex toys subdues an orgasm before it truly peaks.
In 2020, the global sex toy market was valued at $33.64 billion and even though sex positivity and accompanying pleasure gadgets are seemingly taking over the world, homemade options are popping up in bedrooms, too.
As young people, making sex toys and enhancements is like a rite of passage, especially for vagina owners because our fingers—or our partners—are rarely enough to satisfy our burgeoning sexual desires.
Whether it's the end of an electric toothbrush or a warm pie to sink into, homemade sex toys are more common than you might think. In countries where some of the best sex toys are illegal, such as dildos in Saudi Arabia, homemade devices provide access to pleasure otherwise left shrouded in shame.
"Homemade sex toys can be quick to get your hands on and can be obtained as erotic implements when standard sex toys may be illegal or the individual's home environment doesn't allow them to store sex tech safely," explains sexologist Ness Cooper. "You can freeze water into a tied-up condom to make a homemade ice dildo, use pegs for nipple clamps, ropes, ties and stockings for tying up and teasing, or a book for spanking."
How to explore homemade sex toys safely
Choosing a sneakier and more budget-friendly approach to pleasure and experimentation is absolutely an economical option; however, safety should always come first.
For starters, if you have a vagina, maintaining a healthy pH balance is a necessity. No matter how good an object feels penetrating you, the orgasm is not worth a vicious yeast or urinary tract infection.
"If inserting anything inside your body, cleanliness is incredibly important," said Dr. Naomi Sutton, a consultant physician in sexual health and HIV. "Introducing foreign bacteria inside the vagina—or the rectum—is not advisable. I would recommend any object is covered with a condom as a simple and easy solution. This will protect vaginal and anal mucosa from direct contact with the DIY toy."
Just because homemade penetrative sex toys can be made out of almost anything does not mean they should. Anything made out of wood, for example, could result in internal splinters and the oils they are treated with could trigger a reaction. Condom-less fruit or vegetables will wreak havoc within your vagina's sensitive home thanks to the pesticides used by farmers, and citrus fruits should be avoided by penis owners looking to avoid paying out for a fleshlight.
If American Pie-style sexual fantasies are more your speed, it's important to make sure that the heat of anything touching the genitals does not burn you. To test anything heated, rub a small amount of the substance directly onto the inside of your wrist. As this area is very sensitive to temperature changes—just like your genitals—it will let you know if it's safe to travel south with your homemade delights.
Selecting items that are secure needs to be made a priority before desire erodes logic. Anything inserted into the anus needs to have a flared base and a handle to ensure it does not get sucked inside the body cavity. For vaginas, the item needs to have a handle, have no sharp edges and no caps that can be humped loose.
While fetishizing everyday objects is thrilling, no one wants to be their doctor's latest horror story at the dinner table, so make sure every toy is safe before giving it a place in your pleasure palace.
"I had a patient who had the top of a roll-on deodorant bottle lodged firmly in her cervix after it had become detached from the bottle during use as a sex toy," explains Dr. Sutton. "This needed careful removal in the clinic using forceps. The second was a case of a missing King Edward Potato in the rectum, which resulted in a trip to survey to have this removed, fortunately with no long-term damage."
Careful consideration of the dangers must play a role when crafting a homemade pleasure gadget—even sex needs a risk assessment sometimes. However, the act of turning everyday objects into toys to fulfill sexual fantasies encourages play and exploration in a world where it's far too easy to flip on the autopilot switch in the bedroom.
We should all enjoy a little creativity in our approach to solo or shared pleasure and homemade sex toys and accompaniments are a saucy way to try new things without breaking the bank on the best app-controlled vibrators and hands-free vibrators. But remember, compromising our health for an orgasm is the most unsexy thing anyone can do, so always put safety before carnal pleasures!
Hannah Shewan Stevens is an NCTJ-accredited journalist based in Birmingham, England. Her work—which primarily focuses on opinion articles, physical and mental health, disability and sex—has been published in outlets like Bustle, Huffington Post UK, Telegraph, Metro UK and Restless Magazines.