How to avoid a romance scammer, according to a cyber security pro
Romance scammers are one more thing you have to worry about when navigating the dating landscape. Here's what to know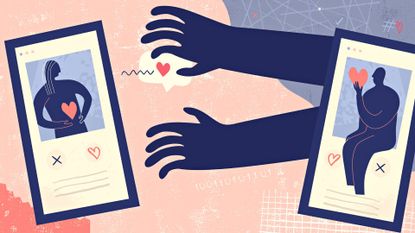 (Image credit: Getty)
There are plenty of dating green flags, but romance scammers—a type of catfishing in which individuals create fake profiles on the best dating apps and social media platforms with the goal of trying to trick targets into sending money or revealing sensitive personal information—surely aren't one of them.
Like love bombing and other dating dealbreakers, romance scams are a toxic dating trend that can strike when you least expect it. But we've gone straight to a pro—former FBI special agent Mike Steinbach, who is now the Global Head of Fraud Prevention at Citigroup—to get expert tips on how to spot tell-tale signs of such romance scammers, how to effectively avoid them and what to do if it happens to you. Here's what to know.
Mike Steinbach is the Global Head of Fraud Prevention for Personal Banking and Wealth Management at Citi and a former FBI special agent.
What are the signs of a romance scammer?
"Romance scammers take advantage of the human desire to feel a connection, and then they use that blossoming connection to manipulate and steal from you," says Mike Steinbach. Here are some tried-and-true signs that you're being scammed by an online dating match:
1. They ask for personal information too soon
"When searching for love, opening up is part of the process. However, be mindful of sharing identifying information (e.g., your location, job, etc.) that fraudsters can use to target you," Steinbach says.
2. They take the conversation offline
"Keep your conversations to trusted dating websites and apps rather than texting, as sharing your phone number before you've verified the relationship can lead to trouble," he says.
3. They're too good to be true
If your online fling seems almost too attractive or attentive, your relationship might be too good to be true. Also, "be suspicious of anyone who's always giving reasons for why they can't video chat or meet 'right now,' Steinbach advises.
4. Their story doesn't add up
Nobody's perfect—not even fraudsters. "Be on alert for holes in their stories and inconsistencies in their profile," says Steinbach. "If things aren't adding up, there's probably a reason."
5. They ask for financial assistance
"Never send money or gifts to someone you haven't met in person. Asking you to share your feelings and your finances is a major red flag," he adds.
What can a romance scammer do with your information?
Depending on the information a scammer has collected from you, they may be able to do a lot of financial damage­—stealing more than just your heart, Steinbach says. That can include:
Account takeover, a.k.a. accessing your bank accounts and initiating wire transfers or Zelle deposits
Withdrawing cash from an ATM
Applying for credit cards or opening lines of credit in your name
What are examples of common romance scams?
Romance scams can vary widely. "In general, if your connection is asking for financial assistance, that's a major red flag," Steinbach says. "If they're living abroad, they might ask you to help them pay for a flight 'just this one time' because their money is 'tied up' in other investments. Or they may ask for money for emergency surgery while they 'work things out' with their insurance company."
What do you do when you realize you're being scammed?
"If you suspect your online relationship may be a scam, end all contact immediately and file a complaint with the FBI's Internet Crime Complaint Center," Steinbach says. "Don't let shame or embarrassment stop you from reporting the crime—speaking up might stop the scammer from targeting someone else. Contact your relevant financial institution(s) if you are concerned that the scammer may steal money from you."
What are ways to protect yourself from romance scams?
To sum it all up, if something seems off, listen to your head—not your heart. Stick to chatting on trusted dating websites, rather than texting. Verify the relationship before exchanging personal information (even minor details!). And finally, never send gifts or money to someone you haven't met in person.
Christina Izzo is the Deputy Editor of My Imperfect Life.
More generally, she is a writer-editor covering food and drink, travel, lifestyle and culture in New York City. She was previously the Features Editor at Rachael Ray In Season and Reveal, as well as the Food & Drink Editor and chief restaurant critic at Time Out New York.
When she's not doing all that, she can probably be found eating cheese somewhere.