How to watch Eurovision 2021 final wherever you are in the world
Everything you need to know about Eurovision 2021 and how to watch it live...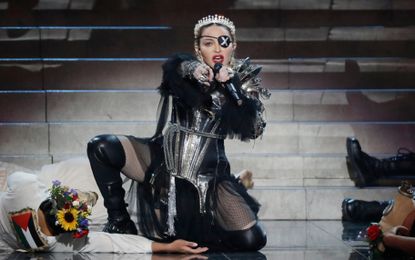 (Image credit: Photo by Michael Campanella/Getty Images)
Can't wait for Eurovision 2021? You're not alone. We too are buzzing for this year's instalment of our biggest guilty pleasure. The multinational music competition is back on our screens this week and we've got all the details, including how you can watch it live from the US, UK, or anywhere else in the world.
This year's Eurovision Song Contest marks the 65th edition of the music extravaganza and will see 39 countries battle it out on stage to bring home the winning trophy for their country. The show was canceled last year due to the coronavirus pandemic but has now been green-lit to go ahead with a live audience.
The show is made up of two semi-finals (the first of which took place on Tuesday) featuring 33 countries in total before the Eurovision 2021 grand-final, which will highlight the countries with the top votes from the semi-finals and the Big Five: Germany, France, the UK, Italy and Spain.
Here's everything you need to know...
When is the Eurovision 2021 final?
The first semi-final of the Eurovision Song Contest 2021 took place on Tuesday, May 18, while the second will air tonight, Thursday May 20 (8pm BST / 3pm EST). The grand-final will then air live on Saturday, May 22 (8pm BST / 3pm EST).
Where is Eurovision 2021 taking place?
Eurovision 2021 will be held in Rotterdam, the Netherlands—where it was supposed to be held in 2020. This is because the country won the 2019 show—with Arcade by Duncan Laurence—as Eurovision stans will know, winning the contest automatically makes them the next host.
While there'll be a live audience on the night, it'll be a significantly smaller crowd due to COVID restrictions. The Dutch government approved an audience 80% less than the usual size. "The safety of our artists, employees, and performers is paramount at all times. We will do everything in our power to organize an unforgettable Eurovision Song Contest," organizers said in a statement.
How to watch Eurovision 2021 from anywhere in the world
How to watch Eurovision 2021 in the UK
If you're in the UK then you can watch Eurovision live on TV or stream it for free. The grand-final will be airing on BBC One, or on iPlayer, at 8pm Saturday, May 22.
As always, Eurovision king Graham Norton will be on hand as the commentator, which you'll agree is definitely the best part of the show.
You can also watch the semi-finals on Tuesday and Thursday at 8pm on BBC Four, or stream it iPlayer.
How to watch Eurovision 2021 in the US
Great news for US folks—Eurovision 2021 will be broadcast on Peacock TV! Make sure you have an account before you tune in, and then you're all set.
How to watch Eurovision 2021 online
If you're currently somewhere where Eurovision is not being broadcast on TV, you can still tune in online. All you have to do is get a VPN.
A VPN is a handy piece of software that allows you to browse anonymously, and to change your IP address so your mobile, computer, or laptop thinks it's in another location. Meaning, you can watch your favorite show, film, or event - even if you're away from home. Our favorite VPN service is ExpressVPN—rated the best VPN in the world right now, by our colleagues at TechRadar.
Platform rules often mean you'll be blocked from using your streaming service if you're outside the country. But by using a VPN to change your IP address, you can continue to watch wherever you are.
In this instance, change your IP address to the UK and you'll be able to stream the show on BBC iPlayer.
What countries are competing in Eurovision 2021 and with what songs?
So, there's a total of 39 countries in the competition. This includes the Big Five, who will be competing with the following songs:
- UK: James Newman, "Embers"
- Spain: Blas Cantó, "Voy a quedarme"
- France: Barbara Pravi, "Voilà"
- Germany: Jendrik, "I Don't Feel Hate"
- Italy: Måneskin, "Zitti e buoni"
- Netherlands: Jeangu Macrooy "Birth of a New Age"
The remaining sixteen all competed against one another in the first semi-final on Tuesday for ten spots in the grand final. The following ten ended up qualifying:
- Lithuania: The Roop, "Discoteque"
- Russia: Manizha, "Russian Woman"
- Sweden: Tusse, "Voices"
- Cyprus: Elena Tsagrinou, "El diablo"
- Norway: Tix, "Fallen Angel"
- Belgium: Hooverphonic, "The Wrong Place"
- Israel: Eden Alene, "Set Me Free"
- Azerbaijan: Efendi, "Mata Hari"
- Ukraine: Go_A, "Shum" (Шум)
- Malta: Destiny, "Je me casse"
In the second semi-final, the last ten spots in the grand-final went to
- San Marino: Senhit, "Adrenalina"
- Greece: Stefania, "Last Dance"
- Moldova: Natalia Gordienko, Sugar"
- Iceland: Daði og Gagnamagnið, "10 Years"
- Serbia: Hurricane, "Loco Loco"
- Albania: Anxhela Peristeri, "Karma"
- Portugal: The Black Mamba, "Love Is on My Side"
- Bulgaria: Victoria, "Growing Up Is Getting Old"
- Finland: Blind Channel, "Dark Side"
- Switzerland: Gjon's Tears, "Tout l'Univers"
Even though Iceland's entrant for Eurovision, Daði og Gagnamagnið, didn't perform live in this year's shows after a band member tested positive for coronavirus, they still secured a spot in the final. The member, Jóhann Sigurður Jóhannsson was "shocked and disappointed" at finding out he had tested positive.
"I'm generally very sad about the whole situation," he said in a video posted on the band's Instagram story. "I'm healthy. It's difficult because we've worked so hard and I really wanted this and it's been so long in the making."
Previous rehearsal footage was used as their official performance on Thursday and the same will be done for the grand-final on Saturday.
Who will win Eurovision 2021?
According to bookies, Italy is this year's favourite to win Eurovision. The polls on OddsChecker suggest that the country is currently favourite to take home the champion title, with odds of around 14/5 from most bookmakers.
Meanwhile other countries who aren't too far off are France (18/5), Malta (26/5), Ukraine (11/1), and Iceland (14/1), though this may drop since they can no longer perform live.
We'll have to tune it to see!
Sagal is a journalist, specialising in lifestyle, pop culture, fashion and beauty. She has written for a number of publications including Vogue, Glamour, Stylist, Evening Standard, Bustle, You Magazine, Dazed and Wonderland to name a few.