How to watch It's a Sin online: stream every episode from anywhere
Here's how to watch It's a Sin - Russell T Davies' exuberant 1980s AIDS drama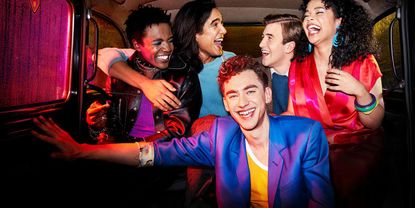 (Image credit: Channel 4)
It's a Sin: what to know
The five-part drama follows a group of young gay men who leave their homes and move to London, in the 1980s, in the hopes of building an exciting new life. But their plans and lives are shattered by the beginning of the Aids epidemic.
The series is both painfully devastating and hilarious. A moving and beautiful representation of the LGBTQ+ community, their friends and allies, is brought to life by a skilled cast led by Years & Years frontman (and Skins actor) Olly Alexander, who plays Ritchie. It's a Sin also stars British TV veterans Stephen Fry and Keeley Hawes, multi-talented actor Neil Patrick Harris, as well as a host of raw new talent.
While the story is fictional, creator Russell T Davies drew on his own experiences as a gay man growing up during the 80s, where homophobic attitudes were entrenched in British society. He depicts the shameful way that the gay community was treated following the Aids epidemic, with those suffering and dying from the (then new) disease, relentlessly ostracised and alienated. At times, the show highlights parallels with the coronavirus pandemic, showing how easily skepticism about the disease tips into conspiracies and complacency.
But despite the dark shadow of the looming HIV/Aids crisis and the painful events that ushers in, It's a Sin is also a celebration of friendship, and a funny, joyful ride through the '80s gay scene with a stomping '80s soundtrack to match. It's a heady, if ultimately heart-wrenching, experience.
How to watch It's a Sin free online in the UK
It's a Sin is currently airing Friday nights at 9pm on Channel 4. But if you're impatient and want to binge-watch the whole series, all five episodes are available to view on All4, Channel 4's streaming service.
How to watch It's a Sin online in the US
In the US you can watch It's a Sin on HBO Max, which co-produced the drama with Channel 4.
A monthly subscription costs $14.99, allowing you to watch more than 10,000 hours of films, documentaries and TV shows from any connected device. And you get even better value for money if you sign up for six months, at $69.99 it's a 20% saving on the regular monthly subscription cost.
How to watch It's a Sin online in Australia
Lucky Aussies can start watching It's a Sin right away. Subscribe to Australian streaming platform Stan for weekly instalments from Jan 23. Monthly subscriptions start from AUS$10.
Streaming platform rules usually mean you'll be blocked from using your subscription service if you're outside the country. But a simple solution is to use a VPN service, which changes your IP address allowing you to continue to use your subscription even when you're away from home.
Reactions to It's A Sin
It's a Sin has received rave reviews from the TV-watching public as well as from critics and celebs, with people praising its moving storyline and stellar cast. Despite launching just two weeks ago, it has become Channel 4's most-binged new show to date breaking all its streaming records.
In addition to making headlines, It's a Sin has also prompted widespread conversations about the continuing stigma of HIV/AIDS in our (supposedly) more enlightened times. A love-letter to those whose lives were ravaged by the disease, the show has had a real-world impact, inspiring record numbers to get HIV tests. The cast reunited in a recent appearance on the BBC's Breakfast show, and were told the news that people taking HIV tests have quadrupled. As Omari Douglas, who plays Roscoe Babatunde, says: "It's so rare that telly can have that effect".
"It's rare for TV to have such a impact on public health" The number of people getting tested for HIV has risen following drama It's A Sin airing. The cast and those who inspired the show unite to share the news. pic.twitter.com/nnryJdBxs8February 5, 2021
See more
Celebrities, including RuPaul's Drag Race star Michelle Visage and Nigella Lawson are taking to social media to praise it.
Graham Norton, who recently had Olly Alexander on The Graham Norton show (BBC), is another fan of the series. He tweeted, warning followers to brace themselves for the genius:

"The best five hours of television I've seen in years. Your heart will be broken, warmed and lifted. Cast amazing. Soundtrack epic but most of all it's about the genius and compassion of @russelldavies63"
We couldn't agree more!
Poleaxed by #ItsASin. It's a masterpiece. I'm lost for words. So many friends remembered. Thank you @russelldavies63. I need to watch it again straightaway. So beautiful and true. (I'll stop now. When I said I was lost for words, I wasn't kidding!)January 24, 2021
See more
Sagal is a journalist, specialising in lifestyle, pop culture, fashion and beauty. She has written for a number of publications including Vogue, Glamour, Stylist, Evening Standard, Bustle, You Magazine, Dazed and Wonderland to name a few.