How to watch The Great no matter where you are in the world
Want to know how to watch The Great? Here's how...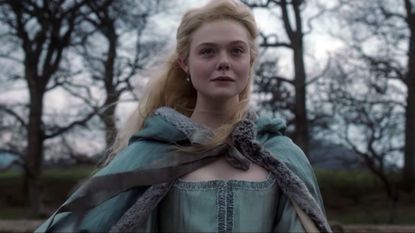 (Image credit: TCD/Prod.DB / Alamy Stock Photo)
We've got the lowdown on how to watch The Great - the mostly fictional historical satire about the early days of Catherine the Great.
The Great, which stars Elle Fanning (Maleficent, The Beguiled) and Nicholas Hoult (X-Men, The Favourite, Skins), first debuted on US network Hulu before popping up in the UK in Channel 4, where it's currently airing on Sunday nights at 9pm. There a few different ways you can watch but, first, what's it about?
The Great: what to know
A slyly funny, comedy-drama set in a 'reimagined' 18th century Russia, The Great follows a young, idealistic girl (played by Elle Fanning) who arrives, from Germany, for an arranged marriage to the cruel, mercurial, boorish, Emperor Peter (played to fine effect by Nicholas Hoult).
Catherine naively believes she's heading for true love and a happy life full of sunshine and roses, but quickly discovers how wrong she is - as she finds herself in a dark and dangerous world. Alternately bullied and neglected by her husband, eventually Catherine decides to fight back and take charge of her world, transforming herself in the process into the famed figure Catherine the Great - Russia's longest-ruling female leader.
Come for the drama and the performances, not for historical accuracy - because you won't find much of it in this "occasionally true story". Creator Tony McNamara, who adapted the TV show from his 2008 play, described it to Vulture (opens in new tab) as "a bit made up", melding details of Catherine's life that he felt worked for the show with "things that we wanted because they were amazing". Most of the characters are invented, there's a vibrant mix of eighteenth-century and modern language, and a soundtrack packed full of rebel rock and female-led punk anthems.
The Great Season 2
The Great season 2 is coming to our TV screens in November 2021. Despite delays in production last year due to the pandemic, the show completed filming for the new season over the summer and there's a lot to look forward to.
As the new trailer shows, Catherine and her husband Peter III are expecting their first child, with Elle Fanning sporting a giant baby bump. There's also a new arrival in town as Catherine's mother, Joanne, played by Gillian Anderson, joins the cast.
"Catherine finally takes the Russian throne for her own -- but if she thought coup-ing her husband was difficult, it's nothing compared to the realities of liberating a country that doesn't want to be. She'll battle her court, her team, even her own mother (played by guest star Gillian Anderson) in a bid to bring the Enlightenment to Russia, " read the official synopsis by Entertainment Tonight (opens in new tab). "Meanwhile, she'll also battle her heart as Peter slowly transitions from a much-hated husband to a prisoner? Ally? Lover? Ultimately, Catherine will learn that to change a country, you must let it change you, that there is a fine line between idealism and delusion, and that becoming 'Great' will ask more of her than she could have imagined."
Our reaction to the news that #TheGreat has been renewed for a second season: pic.twitter.com/vEllLXWxF6July 2, 2020
See more
When will The Great season 2 be released?
The Great season 2 will premiere on Hulu next month on 19 November. It will then be available on STARZPLAY via Amazon Prime in the UK from the 5 December.
How to watch The Great from outside your country
If you're away from home and want to keep up with your favourite shows, you might find yourself coming up against geo-blocking technology.
Luckily there's a simple solution - using a VPN. It's a handy piece of software that allows you to change your IP address so your mobile, computer, or laptop thinks it's in another location. Meaning, you can watch your favourite show, film or event - even if you're outside your home country.
Our favourite VPN service is ExpressVPN (opens in new tab) - rated one of the best, by our colleagues at TechRadar (opens in new tab).
If you sign up for an annual plan you'll get an extra 3 months absolutely FREE (opens in new tab). And it's risk-free. If you change your mind in the first 30 days, let them know and they'll give you your money back.
How to set up a VPN to watch The Great
Download ExpressVPN (opens in new tab), using the easy-to-follow instructions (remember: you can get 3 months free and there's a 100% risk-free 30-day money-back guarantee).
Once you've installed your VPN, open the app and select your server location as anywhere in the United Kingdom.
With your ExpressVPN (opens in new tab) installed and your location set to the United Kingdom, head to All 4, log in and follow the instructions to start streaming your first episode.
How to watch The Great online in the US
As a Hulu original show, The Great is available to stream on your smart TV, desktop, gaming console or your phone if you have a Hulu subscription (opens in new tab). Subscriptions start from $5.99 per month, giving you access to their vast library of video-on-demand content. There's also the option for a free trial before you commit.
How to watch The Great online for free in the UK
If you're in the UK, there are a couple of different ways to watch.
You can watch all 10 episodes of Season 1 for free on All 4 (opens in new tab)(Channel 4's free live and on-demand streaming streaming service). It's broadcast weekly, on Sunday nights at 9pm and episodes drop online shortly after. To watch, all you have to do is set up an account and you're good to go (but remember you should have a TV licence). And once you're registered, as a UK resident you can watch your favourite Channel 4 shows from anywhere in the world, using a VPN (opens in new tab).
The Great is also available in the UK via premium subscription services: streaming platform StarzPlay (opens in new tab), on Starz's channel on Amazon Prime Video, and on-demand via Sky. All of these come at a cost with StarzPlay subscriptions starting at £4.99 per month and Sky subscriptions starting at a lot more.
Sagal is a journalist, specialising in lifestyle, pop culture, fashion and beauty. She has written for a number of publications including Vogue, Glamour, Stylist, Evening Standard, Bustle, You Magazine, Dazed and Wonderland to name a few.