Is it better to work out in tight or loose fitting clothes?
We asked the expert whether tight or loose fitting workout clothes are better for you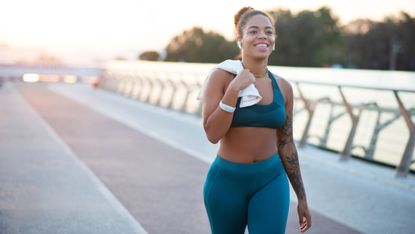 (Image credit: Getty)
When it comes to picking a gym outfit - even if you're just working out at home - do you go for a tight fitting set of leggings and sports bra, or do you prefer baggy sweatpants and a loose old t-shirt?
It's important to think about breathability, support and comfort when it comes to your workout clothes - but which out of loose fitting clothes and tight fitting clothes offers this the most? After all, loose fitting clothes seem comfier and breathable, but tight fitting clothes are more supportive.
Want some answers? We asked professional trainers to shed light on this sportswear dilemma...
Is it better to workout in tight or loose clothing?
Zac Yeo, a personal trainer for OriGym, says: "The question of whether you should wear tight or loose clothing when working out has been an ongoing debate amongst fitness experts for years.
"When you exercise in tight fitting clothes, you feel more compact and in general and look leaner.
"However, wearing exercise clothes that are too tight could lead to discomfort when you're working out and potentially cause injury. When you choose your next piece of clothing, you should keep areas like your waist, stomach and hips in mind."
This is something David Wiener, a training specialist at AI-based fitness and lifestyle coaching app Freeletics, says it's important to take into account.
David explains: "For many, tight clothing is usually the first choice for exercise, as it makes your body feel compact and fit, but it can have some drawbacks. If your clothes are too tight then this can become a problem and cause issues during and after exercise. For example, wearing clothes that are too tight around the hip and waist area can lead to pain at the hip joints and also cause spine or circulation issues.
"To avoid these problems, make sure you have full range of motion in the clothing you choose and that you don't feel too restricted."
Loose fitting clothes can sometimes be a little more pleasant to workout in, as the fabric (and therefore sweat) doesn't cling to the skin. But it's important to consider just how loose these clothes are.
Zac adds: "Wearing loose fitting clothing as you work out has no real issues in terms of discomfort. However, there are some things you will need to look out for. If you are wearing workout clothes that are too loose, you could potentially trip or fall and injure yourself, or others around you."
Extra loose and baggy clothes is therefore a no-go.
What activities require tighter workout clothes?
Different activities require a different type of clothing. For example, a HIIT session, which is likely to involve a lot of sweat and physical movement, calls for clothes with more support and compression for the muscles - typically tighter garments. Whereas anyone taking part in a yoga session will want their clothes to be flexible and move with the body (so there's no issues getting into the various positions) and these are typically looser.
This is something backed up by Zac, who adds: "When you choose your next workout outfit, you should think about the sport or activity that you are wearing it for. If you're planning on going for a run, for example, wearing tight-fitting clothes that wick away sweat and give you a full range of motion would be ideal. Whereas, if you were heading to a yoga class where the exercise that you are completing is typically low impact, you may prefer looser clothing."
Are tight fitting clothes better for you in the gym?
Compression sportswear has become an increasingly popular choice over recent years - mainly for its health benefits.
Chloe Twist, a personal trainer and nutrition coach for OriGym, believes tight clothing is a better option for sports for this very reason.
She says: "If you select tight clothing that is the right fit, it can have many benefits such as added support and stability to various areas of the body. This is especially true of compression layers, that have also been found to lift some of the pressure away from muscles during certain exercises, as well as aiding blood circulation. As long as you have a full range of motion, tight clothing is the way to go."
Experts say that compression clothing can increase blood and lymphatic flow which can boost your performance in the gym - by allowing for oxygen to be delivered more efficiently to your muscles.
David adds: "In addition to improving performance, this can also reduce muscle fatigue and the risk of injury, help to regulate and control your body temperature and also shorten recovery time."
Lizzie is a freelance lifestyle and culture journalist who writes for titles such as Metro.co.uk, Evening Standard, Refinery29, Woman & Home, Ideal Home and Spectator Life. You'll find her looking up new restaurants and bars on Instagram or scrolling through cute dog videos. She also loves travelling, running, cooking and cross-stitching.