Try the Lizzo workout routine—it really does feel good as hell
It's about damn time to try these Lizzo workout tips for a confidence-boosting sweat session...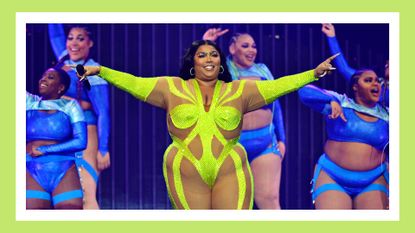 (Image credit: Jim Dyson/Gett)
The Lizzo workout routine is an inspiring place to start if you want to up the tempo when it comes to your fitness levels. The 35-year-old singer is known for exuding self-love in her lyrics, and the feel-good message also plays out in her exercise regimen, with a focus on getting strong as opposed to adhering to a particular body "ideal".
Just like Kim Kardashian's workout routine, the "Cuz I Love You" crooner focuses on high-intensity exercise sessions that include lifting plenty of weights—with the aim of being the best version of herself. "I'm not working out to have your ideal body type," the Grammy winner stated in a June 2020 TikTok video. "I'm working out to have my ideal body type. And you know what type that is? None of your f***ing business. Because I am beautiful, I am strong, I do my job, and I stay on my job." Preach!
If you want to build a healthy relationship with your body just like the hitmaker, then let us take you through the perfect workout schedule that leaves Lizzo feeling really powerful on stage. From cardio on the treadmill and spin bike to bodyweight moves and resistance training, here's all you need to know about Lizzo's go-to workout routine.
Lizzo workout tips: 5 ways the star trains
1. Treadmill speedwalk
Having long been ignored in the gym, the humble treadmill had a viral moment last year thanks to TikTok. There was the 12/3/30 workout routine and treadmill "strut," started by creator Allie Bennett, that saw social media users get their steps in along to the soundtracks of famous artists like Taylor Swift, Harry Styles and—of course—Lizzo.
The star tried to give it a go herself and shared a TikTok post of herself doing the "Lizzo treadmill strut" to some of her biggest hits. She power-walked to "About Damn Time", "Tempo", "Exactly How I Feel", "Juice", "Fitness" and "Rumors". Then she jogged to "Soulmate" and "Truth Hurts" and finished by twerking to "Good As Hell."
Bennett recommends starting the workout at your own pace and then adding 0.1mph to your speed each time the song changes. For example, while demonstrating the workout challenge, she started at 3.4mph and then sped up to 7mph. However, Lizzo's beginning speed was 2.5mph, which she gradually raised to 3.6mph, noting that everyone's "journey" is different and to always go at your own pace.
2. Strength training
Fortunately, Lizzo frequently shares her workouts on TikTok so we can see exactly how she trains. This has revealed that she does plenty of strength training in her home gym, through bodyweight exercises and also lifting weights.
In this TikTok post, the star can be seen doing a full-body workout in just four exercises. She moves from the "superman" to battle ropes, and weighted squats to pull-ups. Want to follow in her footsteps? You'll need a pair of the best dumbbells for women.
@lizzo

Stop scrolling and grab your thighs or your belly or your arms and tell your body you love it! Whether you do squats or not ur perfect just as u are🔥

♬ original sound - lizzo
3. High-intensity workouts
The pop star also does a lot of high-intensity circuits that get her heart rate soaring and raise her cardiovascular fitness ready for her incredible performances. In another TikTok post, Lizzo showed herself doing a particularly challenging sweat session to the soundtrack of her upbeat song "Tempo."
She began with lat pulldowns while keeping her legs raised to work her core. She then worked her abs further with the help of a medicine ball before proceeding onto jumping jacks (one of our favorite beginner workout exercises) and finishing with battle ropes.
4. Spinning sessions
Lizzo has also shared a post of herself riding a stationary bicycle, revealing that it is part of a consistent fitness routine she has been doing for several years. Indeed, spinning is a great low-impact form of cardio that has a number of health benefits, including increased aerobic capacity.
It is unclear what her home spin bike of choice is, but the star recently crashed a Peloton class in New York to promote her album Special. In an Instagram post, she can be seen asking the delighted instructors if she could join their session with a group of backing dancers.
5. Comfy kit
Some of our favorite Lizzo quotes are about body confidence and this TikTok post, in which she shared how happy she was to be wearing gym shorts for the first time, was no exception. She revealed that she had previously felt "too insecure" and "self-conscious" to forgo leggings in favor of the shorter style. In the clip, the star noted: "Also my thigh meat chafes, so I was like, why do that?"
The singer continued: "Today I'm working out in shorts and, ya know, I'm gonna keep it real with y'all—not much has changed, physically, about myself, but a lot has changed here, mentally. Here, emotionally." She added: "I accept myself. These shorts are a little long so they won't chafe, but I'm doing it! Yay!"
Words of wisdom to bear in mind the next time you choose from your best workout clothes!
Lauren is a freelance writer and editor with more than six years of digital and magazine experience. Most recently, she has been the Acting Commissioning Editor of Women's Health—where she co-produced the Going For Goal podcast—and has previously also written news and features for titles including The Telegraph, Grazia, Stylist, Dazed, The Sun's Fabulous, Yahoo Style UK and Get The Gloss. She covers all aspects of lifestyle, specializing in health, beauty, and travel. Can't live without: oat milk lattes, new podcast episodes, long walks, and great skincare.