Madelyn Cline workout routine: how the star stays toned for the beach
Madelyn Cline's workout routine is *outer* this world...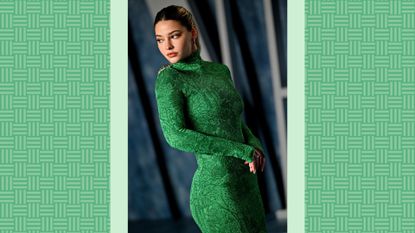 (Image credit: Lionel Hahn/Getty)
Want to boost your fitness levels? The Madelyn Cline workout routine is a great place to start. The actress is a force to be reckoned with in Outer Banks, the Netflix series that propelled her to stardom. Her character, Sarah Cameron, can be regularly seen running, swimming, climbing and hiking her way through the seasons—and we're sure the 25-year-old is just as active off-screen.
We'll have to wait and see what thrilling action scenes Madelyn will experience in the upcoming Outer Banks season four. In the meantime, we do have some intel on how the star—who also looked incredible in the recent Glass Onion film—likes to stay in shape. Although, just like her relationship with Chase Stokes, she's kept us on our toes with the exact details of her regime.
However, from what Madelyn has shared, she's got a refreshingly balanced approach to exercise. From upper body moves to outdoor sports, the rising star—who has been an increasingly frequent attendee on the red carpet of late—knows that staying active has to be fun in order to be sustainable. Here are the key ways she moves her body...
The Madelyn Cline workout routine: 4 things to know
1. Upper body exercises
When it comes to devising the perfect workout schedule, it can be easy to end up focusing entirely on lower-body movements, like squats and lunges. However, Madelyn ensures that she doesn't neglect her upper-body strength in the process.
In February 2023, she shared a video to Instagram of herself doing assisted pull-ups, helped by a crew member, on a bar on the Outer Banks set. Wearing a crop top and shorts, she can be seen in the clip—captioned "tomfoolery 3.2"—putting all her might into the challenge and doing an impressive amount of reps in a row.
2. Outdoor sports
Madelyn told Women's Health that she grew up skiing—a fun but tough workout if there ever was one. Speaking in 2020, she also revealed that she was continuing to expand her love of snow sports and had recently gone snowboarding for the first time.
It doesn't stop there with the outdoor activities, however. The adventurous actress told Vogue that one of her first jobs involved working in a horse barn and that riding helps her mental health. Describing herself as a "horse girl", she said: "When I'm riding, I feel very centered."
3. Cardio anytime
Rather than sweat it out on a treadmill in the gym, Madelyn likes to weave her cardio exercise into her day-to-day routine. She told Vogue that she is a fan of taking walks around Hollywood—although she didn't disclose if she preferred to go alone or with a rumored boyfriend.
Then there's the physical intensity that comes with filming for Outer Banks. The star revealed in Interview in December 2022 that she gets "very sweaty" shooting scenes. She explained: "It is very physically demanding and emotionally taxing." We bet!
4. Balanced movement
Above all, Madelyn tries to maintain a healthy relationship with exercise after struggling with her body image at a young age.
"I think I was around 16 when I started working out a lot," she told Women's Health. "I would wake up every morning at 5am and I would work out for 30 minutes. It was super rigorous cardio every day." She added that she also did dancing and weightlifting.
Of her mindset, the star shared: "All I knew was I wasn't achieving a particular body image, and so I was angry. I was harming myself.' However, fortunately, her mother was on hand to help with the process of self-love. 'She would stand there in the mirror with me and we would list out things that I liked about my body," she recalled. "After that repetition, those things became solidified in my mind. I like my curves, I like my hips, and after a while, I started to love my body. I became so much happier."
Lauren is a freelance writer and editor with more than six years of digital and magazine experience. Most recently, she has been the Acting Commissioning Editor of Women's Health—where she co-produced the Going For Goal podcast—and has previously also written news and features for titles including The Telegraph, Grazia, Stylist, Dazed, The Sun's Fabulous, Yahoo Style UK and Get The Gloss. She covers all aspects of lifestyle, specializing in health, beauty, and travel. Can't live without: oat milk lattes, new podcast episodes, long walks, and great skincare.