I'm excited to have a President who cries again
Joe Biden is bringing back a time-honored presidential tradition: Crying in public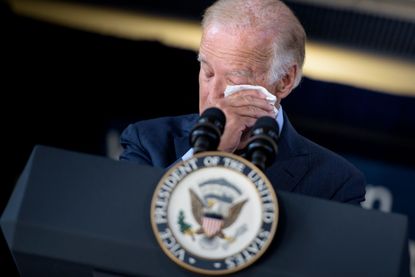 (Image credit: Photographer Brendan Smialowski / AFP / Getty Images)
The night before he became the 46th President of the United States of America, Joe Biden cried. And I smiled—but not for the reason you might think.

The then-President-Elect grew teary-eyed several times during his farewell address at the Major Joseph R. "Beau" Biden III National Guard/Reserve Center in his home state of Delaware. When paying tribute to his late son for which the venue was named, who died of brain cancer at age 46 in 2015, and when saying goodbye to the citizens of Delaware, who he had represented as Senator for 36 years before becoming Vice President in 2008.
It is certainly not the first time that a Commander-in-Chief has been publicly moved to tears—everyone from Gerald Ford to Bill Clinton to even George Washington shed a few during their presidential tenures. Biden's former campaign mate Barack Obama was not one to shy away from moments of grief and gravitas during his two terms, famously weeping during a sorrowful statement following the 2012 Sandy Hook Elementary School massacre. It wasn't even the first time Biden himself got choked up during official duty—a tear-jerking video of Obama surprising a visibly moved Biden with the Presidential Medal of Freedom went viral back in 2012.
It isn't new. What it is, however, is a refreshing break from four years of tough-guy politics, of novelty "liberal tears" mugs, of "Macho Man" stage cues, and a patriarchal stance that "real men don't cry". It's a return to outward displays of vulnerability and values, a much-welcome reminder that humanity can still exist at the highest office in the country. It's a clear about-face from the former administration, which was helmed by a leader who once told biographer Timothy O'Brien: "When I see a man cry, I view it as a weakness."
It is especially poignant in a year when a woman, Kamala Harris, is finally in the White House. After, well, millennia of women being told that they're too emotional and thin-skinned to hold public office, to see a man at the highest level of power display so overtly and unashamedly a "feminine" emotion is still a striking thing to behold. There may be no crying in baseball, but there is crying in the White House. And for that, I'm crying tears of joy.
Christina Izzo is the Deputy Editor of My Imperfect Life.
More generally, she is a writer-editor covering food and drink, travel, lifestyle and culture in New York City. She was previously the Features Editor at Rachael Ray In Season and Reveal, as well as the Food & Drink Editor and chief restaurant critic at Time Out New York.
When she's not doing all that, she can probably be found eating cheese somewhere.