Joe Biden posted a thirst trap to encourage people to get vaccinated and you need to see it
Who knew COVID-19 would bring us our first presidential thirst trap? What a time...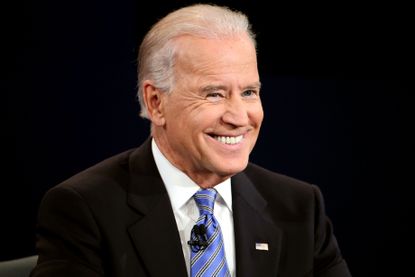 (Image credit: Photo by Chip Somodevilla/Getty Images)
In news that we didn't think we'd ever be writing, Joe Biden posted his first thirst trap on Instagram and it did not disappoint.
In an attempt to encourage young people to get the COVID-19 vaccine, the President of the United States shared a throwback picture of himself as a young man—a picture many have already thirsted over on social media before, may we add—on Tuesday, with a caption cheeky caption. "I know this young person would've gotten vaccinated, but we've got to get other young people protected as well," he wrote. "Who's willing to help?"
It didn't take long for people to start flooding the post with hilarious comments, with one user writing: "Are your DMs open, Joe?" while others made similar jokes. "Using young Joe as a public health hook… I see u POTUS' social media manager," another wrote.
Meanwhile, the rest of the comments had a lot to say about the dashing young Biden. "Lmao joe was a dish back in the day," one fan of the picture commented. Similarly, another said: "This young person was also fine as hell."
As funny as the whole thing was, some followers also picked up on how eager the government was to get young people vaccinated to prevent the spread of COVID-19, which recently saw a spike in States with less vaccinated people. "POTUS pulling out the thirst trap, it must be serious," one person commented.
According to the Centers for Disease Control and Prevention, only 38% of young people ages 18 to 29 have received at least one vaccine dose, the lowest rate among any age group. The figure has alarmed public health experts and clearly, the President too, who as it stands, is doing everything he can—including sharing a thirst trap—to get young people vaccinated faster.
The White House even launched a COVID-19 College Vaccine Challenge and teamed up with Snapchat to encourage young people to get vaccinated. Most recently, the President and American Physician, Dr. Anthony Fauci, recruited pop star Olivia Rodrigo to record a series of videos promoting the vaccine to young people.
Sagal is a journalist, specialising in lifestyle, pop culture, fashion and beauty. She has written for a number of publications including Vogue, Glamour, Stylist, Evening Standard, Bustle, You Magazine, Dazed and Wonderland to name a few.