Is Joseph Fiennes in 'The Handmaid's Tale' season 5?
Commander Waterford wasn't in the best shape last we saw him, but is Joseph Fiennes in 'The Handmaid's Tale' season 5?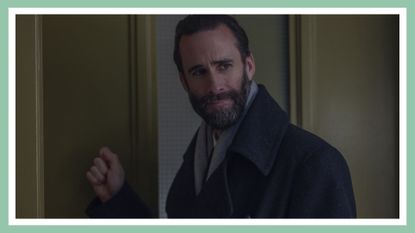 (Image credit: Sophie Giraud/Hulu)
Things weren't looking great for ol' Fred Waterford in the final episode of The Handmaid's Tale season 4.
*Spoiler warning!* Husband to a pinky-less Serena Joy (Yvonne Strahovski), founding member of the Republic of Gilead and head of the household where June Osborne (Elisabeth Moss) was enslaved as a handmaid, the villainous Commander Waterford (portrayed by Joseph Fiennes) finally gets what's coming to him in season 4 episode 10. Thinking that he's being sent to Geneva for his immunity hearing, Fred is instead plopped right in the middle of No Man's Land, with a vengeful June, Emily and fellow former handmaids on his tail.
The women enact a Salvaging (Gilead-speak for public execution) and beat the commander to death. And to double down on his demise, June has his finger and wedding ring sent back to Serena as proof. "It's a very ugly kind of justice, but it is justice and it feels good because of that. It's what Fred deserved," showrunner and creator Bruce Miller told The Hollywood Reporter.
But does that mean that Joseph Fiennes is not in The Handmaid's Tale season 5? Fiennes, who received Emmy and Screen Actors Guild nominations throughout the years for his work on the series, has been a main member of the cast for the past four seasons. Alexis Bledel, who played handmaid Emily Malek throughout the series, has already departed ahead of season five—is Joseph Fiennes joining her? Here's what we know.
Is Joseph Fiennes in 'The Handmaid's Tale' season 5?
Yes, despite the fact that Fred Waterford is very much deceased by the time The Handmaid's Tale season 5 rolls around, Joseph Fiennes is still featured in the show via flashback scenes used throughout the season.
"I let Joe know exactly what I was planning. You don't want anything like this to be a surprise. Also, the character dying doesn't mean Joe stops coming and being part of the cast. We do have quite a heavy flashback show," Miller confirmed to The Hollywood Reporter.
"I knew it would happen, but I'm rather glad that they kept him as long as possible because for the audience, I think it will be a huge reward. If it had come sooner, well, audiences would be deeply satisfied, but I think it's interesting that we've gotten to explore this paradox of revenge," Fiennes told Vanity Fair. "Given the length of time June has been executing that need to revenge, to bring closure—the paradox being that it inevitably doesn't bring closure, and in fact perpetuates the issue; she becomes the monster she seeks to destroy—we needed that time to see the full departure of the high spiritual June into the low, vengeful angel."
"It's terribly sad. But it would be much worse if we thought we were never going to see Joe again on set," Miller said to THR. "There's two different aspects to it: the heartbreak of the story and the heartbreak of real life. And at least the heartbreak of real life is neutered a little bit by knowing we're going to be seeing him again."
As for those flashbacks, expect "stories of Serena and Fred that we haven't seen before" in "early Gilead," Miller revealed. "In the finale [of season four], we revisit Fred and June and what happened in the Waterford house in flashbacks. I would never take anything like that off the table. I love that we can access that stuff where the viewer and June are on the same page and thinking back to the same things."
The Handmaid's Tale season 5 is streaming on Hulu starting September 14, with new episodes weekly.
Christina Izzo is the Deputy Editor of My Imperfect Life.
More generally, she is a writer-editor covering food and drink, travel, lifestyle and culture in New York City. She was previously the Features Editor at Rachael Ray In Season and Reveal, as well as the Food & Drink Editor and chief restaurant critic at Time Out New York.
When she's not doing all that, she can probably be found eating cheese somewhere.