Bye bye Korean 10 step skincare regime - the 'elimination diet' for skin is the hottest trend right now
Who's got the time for a Korean 10 step skincare routine anyway?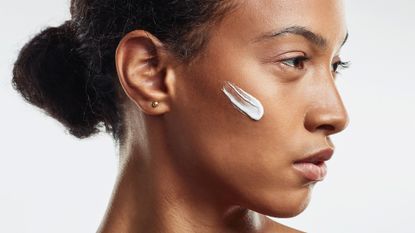 (Image credit: LumiNola/Getty Images)
After months of gorging on a Korean 10 step skincare regime, experts are recommending we do the opposite and go on the 'elimination diet' for skin.
In other words, we should shelve our maximimalist routine and switch to a minimalist approach instead.
Lockdown and social distancing measures have meant that we've learnt to become our own facialists and skincare alchemists. Self-care has rocketed as has the product pile on as people tuned into ever more skincare tutorials.
On the plus side, we've taken a long hard look at our naked skin and identified its real needs, rather than just whacking on another coat of base and hoping for the best.
But that doesn't mean we've been playing nicely with our skin. Upgrades to our routines have in some cases seen women using 10 or more products; others have mixed ingredients together that have no place sitting in the same regime.
For example, while retinol mixes well with moisturising ingredients like hyaluronic acid and ceramides, used together with AHAs like glycolic acid or vitamin C and you're likely to be over-drying, over-exfoliating and irritating your skin.
When your skin reads product overload as the enemy, "it starts producing inflammatory hormones, which leads to bumps, chapping and redness," says skin and laser expert Debbie Thomas. "That's your cue to pare things back to a bare-bones routine of cleanser, serum and SPF until things have settled."
Augustinus Bader, loved by celebrities such as Victoria Beckham and facialists including Joanna Czech (she famously said,"This cream is unforgettable"), is the complete antithesis.
Bader's The Cream doesn't claim to moisturize and doesn't contain Instagram-friendly ingredients like retinol or hyaluronic acid. It simply asks you to use it for 27 days, applying nothing else apart from cleanser and SPF.
The science speaks for itself - as you age, skin cells produce less collagen and they become more sensitive to environmental damage from UV and pollution. Bader's TFC-8 complex - a combination of amino acids and vitamins - activates your skin's stem cells, putting them into repair mode.
I ditched my own Korean 10 step skincare routine and tried the 27 day challenge. I literally had people stop me in the street to ask me what was making my skin so glow-y.
As a result that month has rolled into six and my skin has never looked, or felt, better. It's like I've given my skin the fuel it needed to function efficiently by itself without unnecessary filler ingredients or products.
Another big advocate of a more minimalist - but effective - skincare routine is Tina Craig, aka BagSnob. She created the U Beauty Resurfacing Compound, an all-in-one serum designed to slash your routine in half but still provide skin with multi-tasking antioxidants, peptides, vitamins C and E and vitamin A.
Craig's solution was the first-of-its-kind delivery system called SIREN.
"The skincare ingredients are held in a capsule that attracts free radicals to it like a magnet," she explains. "The free radical chews through the capsule wall, effecting the release of its ingredients precisely where the damaged areas of your skin are. The ingredients only go where they are needed, which is how we avoid irritation."
According to Craig, her rosacea has been at bay ever since. "At one time, I was using 13-15 products a day every day and it was causing my rosacea to flare up," says Craig.
"My skin was cosmetically confused, which is why I created a 'one and done' solution outside of moisturiser, so there are no more serums, toners, exfoliators, essences or extra steps."
It's perhaps also telling that CeraVe has become a TikTok force to be reckoned with.
The no-frills bottles and lack of any added sensitizers or fragrances, have garnered these basic cleansers and moisturizers a legit cult following. In fact, this 15-year old drugstore brand's earned media value is estimated to be up 128 percent year on year to around $22 million worth of coverage.
Proof perhaps, that while maximalist regimes make good theatre on TkTok, they don't necessarily make good sense for your skin.
Fiona Embleton is a multi-award-winning beauty editor who has tested over 10,000 products in her 10 years + of writing and shooting beauty stories. For the past four years, she was the Senior Beauty Editor at Marie Claire, having previously worked in the role of Beauty Editor at both Stylist and Cosmopolitan. She has recently gone freelance and alongside My Imperfect Life, she has written for titles including ELLE UK, ELLE Canada, Buro 247, Harper's Bazaar Arabia, Vogue Scandinavia, and ES Magazine. Beauty journalism allowed her to marry up her first-class degree in English Literature and Language (she's a stickler for grammar and a self-confessed ingredients geek) with a passion for make-up and skincare, photography, and catwalk trends. She loves jumping on the latest internet-breaking beauty news, dissecting the best red carpet looks, and having the crème de la crème of dermatologists, make-up artists, and hairstylists on speed dial so she can tap them for the best advice. She's a discerning beauty shopper and knows it can be confusing trying to navigate what's hype and what really works. So if she really likes something, you can trust that she has reached that opinion by vetting it against everything else she's ever tried. Her career highs? Interviewing Cate Blanchett and winning a Jasmine Award for the deeply personal feature Cancer Stole My Mother's Scent.