What's going on with Kylie Jenner and Travis Scott's relationship? Here's what we know about their reported split
After welcoming their second child, rumors have started swirling that Kylie Jenner and Travis Scott's relationship is no more...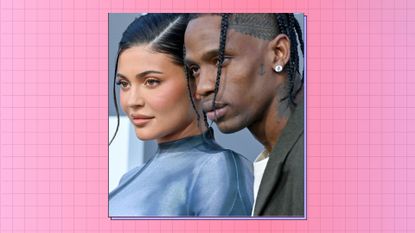 (Image credit: Getty Images: Axelle/Bauer-Griffin/FilmMagic)
What's going on with Kylie Jenner and Travis Scott's relationship? Rumors are flying around that the on-and-off again couple have gone their separate ways—here's what we know...
For those in need of a Kylie and Travis recap, following their co-parenting trips in 2021 with their first child, three-year-old daughter Stormi, fans were left speculating that the pair were indeed back together. This was then only fueled on further by their exciting baby news appearing to confirm that their romance was well and truly, back on.
Now though, nearly a year on from welcoming their son (formerly called Wolf Webster, with his new name yet to be confirmed), the pair have once again, split.
So, are the rumors true? Here's the all latest news between the Kylie Cosmetics mogul and Travis Scott and how their relationship began in the first place...
So, does this mean Kylie and Travis are back together?
From the looks of it, yes it appears they have. According to US Weekly, the pair spent the Holidays apart and are no longer in a relationship.
A source told the publication: "Kylie and Travis are off again, they were supposed to spend the holidays together, but she went to Aspen to be with her family and friends up there."
The insider then added: "This has happened so many times before, they're known to be on again-off again, but always remain friends and great co-parents."
While they currently seem to be broken up, we just never know with these two—as neither Kylie nor Travis have confirmed the news.
The pair also appeared to split and then rekindle things in 2021, with a source again telling US Weekly that they were "closer than ever," but not putting a label on it.
They explained: "Travis will be at all holidays, everything to do with Stormi, but he and Kylie don't call each other boyfriend and girlfriend. There are no expectations between them. There are no requirements in their relationship, it's the way it's always been.
"They don't call each other asking where they are, Kylie and Travis are both allowed to do whatever they want, but they have a huge amount of love for each other. It's not a traditional relationship, but it works for them and has worked for years", the source continued.
So, there could still be hope for another reunion!
Kylie Jenner and Travis Scott: relationship timeline
Now that we've got the latest scoop between Kylie Jenner and Travis Scott, let's do a deep-dive into the 24-year-old beauty mogul and 30-year-old hip-hop star's relationship, also known as the coolest duo in pop culture.
Here's how it all began and where their love story stands today.
April 2017: The beginning of Kylie and Travis' romance
Kylie and Travis' budding romance was birthed at a place where most celebrity relationships are formed: Coachella. The two sparked relationship rumors after being spotted together on a hot spring day at the music festival in April 2017. At the time, a source told People that the two had been friends for a while but seemed to be getting cozy at designer Jeremy Scott's Moschino x Candy Crush Coachella party.
"Kylie and Travis made their way to a private table, where they were joined by friends and enjoyed the deejay," the source said. "After five minutes of being in a very crowded space, Travis got up and left the table, and Kylie followed him out with her friends following close behind her."
Kylie, who was 19 at the time, had broken up with long-term ex Tyga, earlier in the month so things with Travis seemed to be in the early stages at this point.
However, later in the month, on April 25, the youngest of the Kardashian/Jenner clan was spotted once again with Travis, this time sitting courtside at an NBA playoff game in Houston, the rapper's hometown. A source once again told People that the two were "definitely looked like a couple cuddled up next to each other among her friends".
It was then reported by E! a few days later that the couple spent the weekend together in Boston, where Travis was scheduled to perform two shows. At this point, it looked like Kylie had joined Travis on his tour right after they hit it off at Coachella—a fact the two later confirmed to be exactly how their relationship started in a joint cover story for GQ in 2018. "Coachella was one of the stops on his tour," Kylie told the magazine. "So he said, 'I'm going back on tour—what do we want to do about this?' Because we obviously liked each other." She then added: "And I was like, 'I guess I'm going with you.'"
May 2017: Kylie makes it Instagram official
Social media queen Kylie kicks off the new month by making things semi-Insta official with Travis by posting a group picture of the two with her sister Kendall, Diddy, Migos, Wiz Khalifa and Jaden Smith together at the MET Gala.
A few days later Kylie is back on the road with Travis, who is performing in Miami at Rolling Loud Festival. Pictures emerge of the couple wearing matching t-shirts and looking super loved up, cemented their status as a couple.
June & July 2017: The relationship reaches new heights
On June 12, 2017, Travis tweeted: "Legit happiest day of my life." While fans had no idea what he was referring to at the time, we later found out that it was in response to Kylie's pregnancy with the couple's daughter, Stormi Webster.
The next day, the couple shared pictures of their matching butterfly tattoos on Snapchat, with Kylie's on her right ankle and Travis' on his left ankle.
In July, Travis' tour continues with Kylie, her sister Kendall and friends including Bella Hadid joining the rapper in London for his performance at Wireless Festival. Later that month, the couple are back in Los Angeles, where Kylie supports Travis at the Staples Center as he opens for Kendrick Lamar. The couple quickly shut down brief break-up rumors with further public appearances.
August 2017: Travis goes all out for Kylie's birthday
Travis pulls out all the stops for Kylie's 20th birthday, throwing her a huge surprise party with a chocolate fountain, balloons, and an ice sculpture of Kylie's body...
It was also reported by E! that Travis got her a diamond necklace and a full-string orchestra earlier that day. He'd clearly been taking notes from Kimye (R.I.P)...
The couple continues the rest of the summer going strong but keeping a lower profile.
Autumn 2017: Kylie pregnancy rumours emerge
In September 2017, numerous tabloids report that Kylie and Travis are expecting their first child together. TMZ says Kylie began to tell friends in early September, while Page Six reports that the couple is expecting a girl. However, none of this is confirmed by Kylie, Travis, or any of their friends, family, or representatives.
For the next couple of months, fans continue to speculate on the pregnancy rumors bur Kylie and her camp remain tight-lipped. She continues to post on Instagram but eagle-eyed fans notice a pattern of her only sharing selfies from the waist up, which is out of character for Kylie, who loves a full body mirror selfie.
As tabloids continue to scrabble for proof of her pregnancy, Kylie calls out Daily Mail in November 2017 for sharing images of her boarding a private jet with her sisters that she claims have been edited.
First of all if you're going to photoshop my photos blogs/paps!! Check for the crooked lines in the background.2nd photo is clearly altered pic.twitter.com/c9fi0EyhWBNovember 5, 2017
See more
January 2018: Travis break his silence on the pregnancy rumours
In an interview with Billboard, Travis is asked about Kylie's pregnancy to which he gives a very cryptic answer that neither denies nor confirms the news.
When the interviewer asks "have you spoken to your father about becoming a father yourself?", Travis says: "Uh...for what?"
The interviewer continues: "There are these rumors that you're dating Kylie and having a baby with her?" but Travis quickly shuts it down, responding: "I don't want to talk about that. They're just guesses. Let them keep fishing."
February 2018: Kylie and Travis welcome their first child together
On February 1, Kylie finally confirms rumours by sharing that she and Travis have become parents to their daughter, Stormi Webster. She releases a statement to fans on social media before posting an adorable YouTube video of her pregnancy titled 'To Our Daughter.'
The couple is congratulated by fans and celebrity friends as well as Kylie's entire family, who repost the news on their own social media. Her sister Khloe, who was also pregnant with her daughter True at the same time as Kylie was with Stormi, also shares a cute picture of the two posing next to each other with their bumps.
Spring 2018: Kylie and Travis are going strong
The new parents appear more loved up than ever as they bask in the joy of their baby girl. In March 2018, Kylie once again sparks rumors after sharing a photo of herself wearing a ring with Travis's initials (his birth name is Jacques Webster) on her ring finger. Posting the snap on her Instagram stories, she captions it: "Jacques Webster and Jordyn Woods. Real ones, Ok..." The latter didn't age so well considering Kylie and Jordyn are no longer BFFs.
In April, the two celebrated Stormi's first Easter with cute family pictures and videos shared on social media. They also took a trip to Houston to visit Travis' extended family with nine-week-old Stormi and had a huge party.
At the end of the month, on 28th April, Kylie throws yet another party, this time for Travis' 26th birthday at Six Flags. The couple then went on a family holiday with Stormi to Turks and Caicos.
May 2018: The couple make their Met red carpet debut
While they both attended the Met Gala the year prior, Kylie and Travis made their official red carpet debut together at the 2018 event wearing a matching military-themed ball gown and suit.
Sharing a cool couple's picture from the night, Kylie wrote in an Instagram post: "Stormi's parents."
July 2018: Kylie and Travis appear on the cover of GQ together
The couple makes their first magazine cover appearance together for the GQ August 2018 issuer, including their first joint interview where they open up about their relationship and becoming parents.
Kylie opens up about Travis not liking life in the limelight and the extra attention that comes from being associated with the Kardashian/Jenners. "That's why we just go the extra mile to keep our relationship super private, or, like, if he has events or something, I won't come," she tells GQ. "Because I want him to do his own thing. I want him to be him. I don't want it to be Kylie and Trav. If people don't ever see us together, that's okay with me, because we just do our thing."
Autumn 2018: The couple are back on tour together
Things are going from strength to strength for Kylie and Travis, with Kylie publicly supporting her man and often referring to him as "hubby" on social media. By November 2018, she is back on the road with him for his Astroworld Tour.
December 2019: Fake cheating rumours emerge
Travis is quick to shut down fake cheating rumours that emerge, claiming that he hooked up with another woman. "Trolls always wanna create some fake shit to destroy real love," he writes in a post shared on Instagram stories. "Going overboard to make shit look like look is not is evil. I hate acknowledging shit but quit trying to take joy from shit that's good. I pray God blocks out all evil"
When it was revealed that the fake images were meant as a "prank", Kylie also broke her silence on the matter, saying: "IDK if this is really a social experiment to some people, but you're messing with real people, real relationships, real family. I'm happy my relationship is strong because this is getting out of hand. The internet scares me sometimes for real."
By January 2019, the couple was back to sharing lovey-dovey posts on Instagram. Kylie even posts a fire shot from a photoshoot with the caption "extraño a mi esposo," which means "I miss my husband" in Spanish.
The couple continued to be loved up throughout the summer, celebrating Kylie's 22nd birthday together in Italy and attending various public events together, including the premiere of Travis' Netflix documentary, Travis Scott: Look Mom I Can Fly, where they posed on the red carpet with Stormi in August 2019.
September 2019: The couple appear on Playboy magazine together
Kylie and Travis do another cover story together, this time for Playboy magazine where they speak candidly about their sex lives, explaining that nothing has changed in the bedroom since having Stormi.
In the interview, Kylie says: "You [Travis] remind me that motherhood and sexuality can coexist, and just because you embrace your sexuality doesn't mean you have loose morals or you're not a good mother. You can be sexy and still be a badass mom."
No need for the best app-controlled vibrators here then...
October 1: Break up rumours are reported
It looks like things are over for Kylie and Travis by October 2019, with TMZ reporting that the couple split following their last public appearance in late August.
The publication states that Kylie and Travis are "both single" and that they are "walking away from their relationship" after "trying to make the relationship work for a while."
Over the next few months, fans hold out for a reunion but it doesn't seem to be on the cards for the two. In fact, a source tells US Weekly that "it doesn't look like they will immediately reconcile anymore. They have differing objectives and two different lives."
The source adds that the two are still "extremely close" and that "Kylie is doing fine since her breakup with Travis".
"They love each other and they share a daughter that will bind them together for life," a second source told the publication. "They've been great partners in that respect. They are both putting aside any romantic differences to be the best parents in the world for their daughter."
Throughout 2020: Are they back together?
Fans of Kylie and Travis spend the entire year trying to figure out whether the two are back together as they seem super friendly and often flirty on Instagram (Travis loves thirsting under Kylie's pictures) but the couple does not confirm rekindling.
In fact, the little legend that is Mason Disick reveals that Kylie and Travis are not back together during an IG live in April 2020, even though it is revealed that the co-parents are quarantining together in Palms Springs, when Travis' voice is heard in the back of one of Kylie's Instagram stories.
On his birthday, Kylie shares an adorable post dedicated to Travis and Stormi, highlighting how much of a great father he is. She then shares a similar post in June for Father's Day.
Kylie and Travis get rumours running once again when they pose together once again, though it still feels like they are just friends...
2021: Rumors of a rekindled relationship intensify
Throughout 2021, Kylie and Travis have been making headlines as they enjoy quality time as a family, Kylie shared cute videos of the two enjoying a family trip with Stormi, and a few months prior, in February 2021, a source told E! News: "Kylie and Travis are still madly in love. You can tell every time they are together that there is a lot of love there. Both of their faces light up when they are together and both seem very happy."
The source adds: "Kylie and Travis spend a lot of time together with Stormi as a family and aren't ruling out getting back together. They aren't putting pressure on the relationship right now."
Fast forward back to May and Entertainment Tonight reports that the pair are back together... ish. Their source claims that Kylie and Travis are "are messing around and having fun together. They've always had a strong connection and chemistry and they're exploring their relationship romantically again."
Kylie then addressed some questionable headlines, claiming that she and Travis were now in an open relationship.
you guys really just make up anything. pic.twitter.com/Q0LPxgiRGgMay 21, 2021
See more
i'm not discrediting anyone who is in an open relationship but it's just careless and disrespectful to throw this narrative out there without knowing what's true.May 21, 2021
See more
The blowout came just as further rumors emerged that Kylie and Travis were thinking about expanding their family.
According to Entertainment Tonight, a source revealed: "Kylie and Travis are on very close terms and ideally, Kylie would love to have more kids one day and she would of course love for the father of her future children to be Travis, but they aren't putting any pressure on themselves and are seeing where things go." It looks like Kylie got her wish!
August 2021: Kylie and Travis announce baby no.2!
In August 2021, news broke that Kylie and Travis were expecting a second baby. A source told ET Online, that the pair were very happy and that they "always wanted to give Stormi a sibling and having another child was always part of their plan."
December 2021: New reports that Kylie and Travis are not together
Despite the pair seeming very close, and soon-to-be welcoming baby number two, confusion is in the air once again surrounding their relationship status.
A magazine article that featured a photo shoot of the couple, said Kylie and Travis are 'not a couple.' Leading to fans theorizing on TikTok about whether they have split again, or ever got back together in the first place.
Thankfully, big sis, Khloe Kardashian was on hand to set the record straight, replying to user @angelesfrancoo's video discussing the article. She said: "Wow I don't know why this magazine would write this but they are very much a couple."—Case closed!
February 2022: Kylie and Travis welcome their son
The couple announced the arrival of their son in February, with Kylie following up the exciting news with a video on YouTube, documenting her pregnancy and the moment she told mom Kris Jenner that baby number two was on the way.
Watch below for a cuteness overload...
May 2022: Kylie, Travis and Stormi hit the red carpet
In May 2022, Kylie and Travis proved they were still going strong as they hit the red carpet with their daughter Stormi for the 2022 Billboard Music Awards.
January 2023: Split rumors start circulating once more
Despite welcoming their son a year prior, it now seems the pair have split after a source told US Weekly that they were "off again" after spending their Christmas vacays apart.
Sagal is a journalist, specialising in lifestyle, pop culture, fashion and beauty. She has written for a number of publications including Vogue, Glamour, Stylist, Evening Standard, Bustle, You Magazine, Dazed and Wonderland to name a few.