Lana Del Rey defends her album cover after receiving backlash on social media
The pop star was criticised yet again after defending her new album cover on Instagram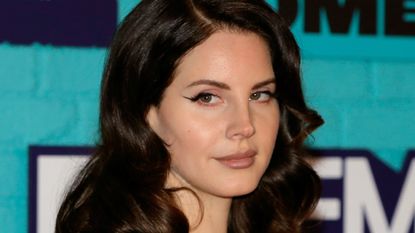 (Image credit: Photo by Andreas Rentz/Getty Images for MTV)
Lana Del Rey is the latest star to spark controversy on social media after releasing the artwork and track list for her new album, Chemtrails Over the Country Club.
Lana del Rey's Chemtrails over the Country Club album cover controversy: what's it all about?
On Sunday night, the singer announced her new project on Instagram, unveiling the album cover which shows a group of women, including Del Rey, sitting around what appears to be a table in a diner. However, shortly after sharing the post, she left a comment underneath, responding to criticism over the lack of people of colour included on the artwork.
While it is unclear where the criticism began, Del Rey explained that she had received comments about the lack of women/people of colour and decided to address it, launching a longwinded defence which only appeared to fuel the fire.
"I also want to say that with everything going on this year! And no this was not intended – these are my best friends, since you are asking today. And damn!" she wrote. "As it happens when it comes to my amazing friends and this cover yes there are people of colour on this record's picture and that's all I'll say about that but thank you."
She then went on to name three women of colour who feature on the artwork, describing her group of friends as "a beautiful mix of everything".
She continued: "In 11 years working I have always been extremely inclusive without even trying to. My best friends are rappers my boyfriends have been rappers. My dearest friends have been from all over the place, so before you make comments again about a WOC/POC issue, I'm not the one storming the capital [sic], I'm literally changing the world by putting my life and thoughts and love out there on the table 24 seven. Respect it."
What are people saying about Lana del Rey's album cover controvery?
Her comments soon became even more of a talking point on Twitter than the initial reaction to her album cover, with people... well, doing what they do on Twitter: making memes and ridiculing the situation.
"Every time lana del rey posts those long essays on her social media's she gets cancelled like sis just say "" and go please," one person wrote.
every time lana del rey posts those long essays on her social media's she gets cancelled like sis just say "☁️" and go please 😭😭 pic.twitter.com/Drs7gMQWbOJanuary 10, 2021
See more
Lana Del Rey trying to write an Instagram caption pic.twitter.com/kuFbeNwNNqJanuary 11, 2021
See more
lana stans when lana del rey starts to write another long paragraph on her instagram: pic.twitter.com/wJLxrRG9M7January 11, 2021
See more
Meanwhile, another person tweeted: "Oh so I see lana del rey has learned a whopping total of absolutely nothing after her last backwards ass racial commentary."
Others made similar comments, whilst using memes and gifs to express their frustrations and making jokes about how Del Rey's publicist would be reacting to her Instagram comment.
Lana Del Rey when she sees her career doing well pic.twitter.com/6V4LvSr9eYJanuary 11, 2021
See more
lana del rey stop making everyday so difficult for your fans challenge pic.twitter.com/nlVfaLw5rpJanuary 11, 2021
See more
As some of the tweets suggest, this isn't the first time Lana De Rey has received backlash for making controversial comments about race. Back in May 2020, the singer yet again took to Instagram to explain herself after making comments about female pop stars, many of whom where women of colour.
Accusing critics of trying to start a "race war", she defended herself against comments that claimed her music glamourised abuse by pointing out that other female artists including Ariana Grande, Cardi B, Nicki Minaj and Beyoncé, "have had number ones with songs about being sexy, wearing no clothes, f***ing, cheating", without being "crucified" like she claimed she was.
Sagal is a journalist, specialising in lifestyle, pop culture, fashion and beauty. She has written for a number of publications including Vogue, Glamour, Stylist, Evening Standard, Bustle, You Magazine, Dazed and Wonderland to name a few.