Did Louis and Christine get evicted from 'Too Hot To Handle'?
Louis and Christine's relationship is heating up on 'THTH' season 5 but did they break any rules during their night together?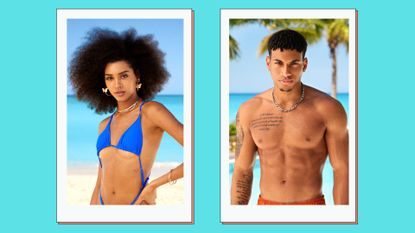 (Image credit: Netflix)
It simply isn't Too Hot To Handle without rule breaks and Louis and Christine are on track to be this season's top tule breakers.
The second batch of episodes from Too Hot to Handle season 5, which dropped on Netflix on Friday, July 21, proves that the reality dating show is surely heating up, but this season has been steamy from episode one, as this year's contestants seem to be struggling even more than usual with the idea of a no-sex retreat.
It is somewhat understandable that singletons on the show have difficulty subduing their sexual desires, as they were expecting to find themselves on a show that would provide them with multiple hookups and summer parties. Instead, they've been subjected to a ban on anything remotely sexual and a talking cone's attempt to make them build emotional connections. (Who is Lana from Too Hot to Handle? We've got the intel.)
Despite the difficult task, if they do manage to keep their hands to themselves, they could win $200,000—except there's a tiny hitch, as money gets deducted for every rule break that contestants (*cough* Louis and Christine *cough*) indulge in, which loses them large sums of money.
Christine and Louis's recent excursion in episode five saw them kissing multiple times as well as a "prolonged mutual, manual gratification," as Lana dubbed it, which cost the group a whopping $48,000. So the sneaky cone decided to put the couple to the ultimate test by sending them to spend a night alone where the rules still applied but the temptation was even hotter.
But did Louis and Christine pass Lana's test? Here's everything we know.
Did Louis and Christine break any rules on their night alone?
Considering both Louis and Christine had already wasted a significant chunk of the prize fund before their one-night $48,000 blowout, Lana really had viewers questioning if she knew what she was doing when she set them this challenge. But we should know better than to bet against the cone, as the duo did end up passing the test. However, that doesn't mean Lana didn't have a few more tricks up her robotic sleeve for Louis and Christine's night away.
Before Louis and Christine's evening was even fully underway, Lana added another twist to this story as she gave the rest of the contestants a chance to win back the $48,000. If they believed that Louis and Christine respected the group and rules of the retreat enough to abstain from breaking any rules, then the $48,000 would be restored back to the fund. But if they chose to put their faith in them and they went on to break any rules, then the prize fund would drop a further $48,000.
This was a massive offer from Lana and the house was very much split, as they all acknowledged that Christine is the horniest person on the retreat, so this could go downhill very fast if they chose to trust them. But after taking a vote, the remaining contestants ended up voting six out of ten to trust that Louis and Christine would not break any more rules. Yazmin, Courtney, Trey and Dre voted that the couple could not resist temptation for the night and would end up breaking more rules.
So despite Christine being very tempting towards Louis and pulling out all the stops, which included a banana trick she later promises to teach Lana, the couple did hold strong and it's a good thing they did.
Did Louis and Christine get evicted from 'Too Hot To Handle'?
The contestants winning back the $48,000 was just the first twist Lana had for the group, as she later reveals that if Christine and Louis had failed to adhere to her rules while in the suite alone, they were going to be sent home from the retreat as an example to the rest of the group. It's safe to say Lana was not messing around.
It's understandable why Lana considered sending home Christine and Louis because of their flagrant rule breaks in episode five alone. It suggested that they were not serious about the retreat. So, if after a warning and ultimate test didn't shake things up for them, it would really confirm that maybe the retreat wasn't the right place to help them grow.
Thank goodness they decided to stay strong, otherwise, it would have been goodbye Louis and Christine. But though they passed the test this time, it still doesn't feel like a guarantee Louis and Christine will make it to the end of the season.
The first seven episodes of Too Hot to Handle season 5 are streaming on Netflix now, with the new episodes dropping on Friday, July 28.
Liv is a freelance journalist currently studying English at university. She loves covering everything from entertainment and politics to lifestyle and travel. As well as writing for My Imperfect Life, Liv has bylines in The Times, HuffPost, Den of Geek, Bustle The Metro and The Bookseller.