We just got a glimpse into the Madelyn Cline boyfriend sitch—here's all the latest *swoon-worthy* intel
We have some juicy Madelyn Cline boyfriend news for ya! Here's the DL...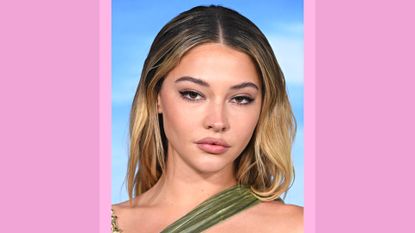 (Image credit: Getty Images/ Steve Granitz/FilmMagic)
After the latest Madelyn Cline boyfriend news? Well, you're not alone because ever since Outer Banks costars, Madelyn Cline and Chase Stokes split (along with Sarah Cameron and John B in season 3, albeit briefly), fans have been left pondering her current relationship status. So, who is Madelyn Cline dating, exactly? May 2023 has already offered up some clues...
As OBX fans will know, Madelyn (aka Sarah Cameron) stars alongside her real-life ex, in the hit Netflix series. The co-stars turned lovers, confirmed their relationship in 2020 but sadly called it quits in 2021. Since then, despite frequent reconciliation rumors, the pair have gone on to confirm new relationships—and no, not with each other.
In the case of Chase Stokes' girlfriend sitch, the actor is now dating country singer, Kelsea Ballerini but he's not the only one to have moved all the way on. Madelyn has also let slip that she's now 'taken' and even teased her mystery man on her Insta story! Here's the latest intel on her love life and that 'soft launch'...
Madelyn Cline boyfriend 2023: who is she dating now?
Viewers of Outer Banks have long manifested that Madelyn and Chase Stokes would give their relationship another go after their break-up in 2021. And this truly seemed like a possibility for months, given that the former couple was back on set together, and with reports that they were both single.
Unfortunately, for Sarah and John B fans across the globe, it has been confirmed that Madelyn does indeed have a boyfriend—but no, it's not with Chase.
So, who is Madelyn Cline's boyfriend now then? Well, her new man is rumored to be singer, Jackson Guthy—though neither has confirmed this, as of yet.
Fans were first tipped off to the news that Madelyn was in a new relationship after her interview with The Cut in December 2022, where she was described as being "at the Malibu home she shares with her boyfriend and dogs."
Given that the pair *appear* to be living together (or at least spending a lot of time together), things seem very serious with her current beau. But, perhaps sensibly, Madelyn appears keen to keep his identity under wraps for now. As mentioned though, there has been a lot of speculation that her new man is Jackson.
In February 2023, Madelyn went on to officially confirm, once and for all that she is indeed "taken" in an interview with Cosmopolitan. She said: "I am happily taken. All I know is he makes me incredibly happy. And I've truly never been happier, and I feel very, very empowered," before adding: "Love is tight. And when you find something like that, you fight for that shit. And also, you fight to keep it yours, you know?" N'aww!
Since then, fans think they've spotted Jackson in a few of Madelyn's Instagram post, but the actress has done very well to ensure the snaps are either too out of focus to 100% identify him, or to obscure his face in some way. Take slide 4 of this Insta carousel for example...
The latest glimpse in her relationship came on Tuesday, May 16, 2023, with Madelyn seemingly 'soft launching' her relationship with a snap of her kissing her fella—well, her shadow kissing his shadow that is, so again no identity confirmation!
That's officially the latest Madelyn Cline boyfriend 2023 news—so when there's anything more to know, we'll keep you updated right here!
Madelyn Cline boyfriend history—official relationships and rumored boyfriends
1. Madelyn Cline and Jackson Guthy
So, as mentioned it's thought that Madelyn is currently dating American singer Jackson Guthy, with rumors first beginning to circulate back in May 2022. She appeared to take the 26-year-old—who previously dated YouTube star Olivia Jade Giannulli until 2019—as her date to a wedding.
Then, in June, the pair were pictured having lunch in Malibu and going on grocery runs together. While neither of them has ever officially confirmed a romance, these dating rumors are definitely compelling.
Especially after Madelyn confirmed in February 2023, that she does indeed have a boyfriend though she didn't name names. Clearly, she's trying to keep things out of the public eye, after her fan-favorite relationship with Chase. So, could Jackson Guthy be her mystery man? Watch this space...
2. Madelyn Cline and Zach Bia
Back in December 2021, shortly after Madelyn and Chase were reunited at the People's Choice Awards, she was linked to Zach Bia, an American 'socialite' and DJ. The pair were pictured leaving an LA restaurant together just before her 24th birthday.
However, the DJ, 26, has insisted they are just friends. Speaking in January on the BFFs with Dave Portnoy and Josh Richards podcast, he said: "We are not dating. We hang out all the time."
3. Madelyn Cline and Ross Butler
Shortly before that, in November 2021, Madelyn was linked to actor Ross Butler. The 32-year-old starred in another Netflix show 13 Reasons Why (he also played Trevor, Peter Kavinsky's BFF, in Netflix's To All the Boys: P.S. I Still Love You).
Ross confirmed to TMZ that they were "just friends". However, he then proceeded to confuse things by leaving a flirty comment on one of Madelyn's Instagram posts—sparking rumors once more...
4. Madelyn Cline and Chase Stokes
Madelyn's last—and only—confirmed public relationship was with Chase. She met the 30-year-old actor on the set of Outer Banks after the pair played love interests. They started to fall for one another in real life in April 2020 when they were forced to quarantine together amid the first pandemic lockdown (like Justin and Hailey Bieber)—and they went public with their romance that June.
However, after frequently appearing in public together and sharing loved-up social media posts, the couple went quiet in 2021. In October of that year, a source confirmed to E! News that they had split. Meanwhile, an insider told People that "they were trying to work things out privately but broke up a couple of months ago".
Fans were confused in February when new promotional material for their Netflix series showed them holding hands. However, Madelyn insisted to Us Weekly at a Hollywood event in March that they were simply in character filming new scenes.
Since then, it appears Chase has landed in a new relationship with Kelsea Ballerini, the American country pop singer. The pair have been pictured getting cozy at LAX Airport recently, holding hands and hugging—but the rumored couple haven't actually publicly commented on their romance yet. Kelsea is recently divorced, having ended her relationship with fellow singer Morgan Evans last year.
Lauren is a freelance writer and editor with more than six years of digital and magazine experience. Most recently, she has been the Acting Commissioning Editor of Women's Health—where she co-produced the Going For Goal podcast—and has previously also written news and features for titles including The Telegraph, Grazia, Stylist, Dazed, The Sun's Fabulous, Yahoo Style UK and Get The Gloss. She covers all aspects of lifestyle, specializing in health, beauty, and travel. Can't live without: oat milk lattes, new podcast episodes, long walks, and great skincare.