Justin and Hailey Bieber's relationship timeline—from when they met to their glamorous wedding
The love story of Mr & Mrs Bieber is quite the ride, so here's a full rundown Justin and Hailey's relationship...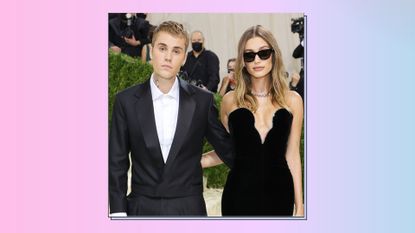 (Image credit: Getty Images/ Mike Coppola)
Justin and Hailey Bieber have been on quite the journey, from all that drama between Hailey and Selena Gomez to their whirlwind engagement. But since saying their 'I dos' the pair have been going strong and have blossomed into a real power couple. So, for anyone who needs a refresher on their love story—here's Justin and Hailey Bieber's relationship timeline, from when they first met to when they got married.
The couple, who got married in 2018 after a speedy romance and engagement (more on this later), initially wed at a New York City courthouse before tying the knot once more in front of friends and family in a lavish ceremony in South Carolina.
Fans were, of course, pretty surprised when the two announced their engagement, just a few months after they had both been in public relationships with other people—Justin with long-term ex, Selena Gomez and Hailey (previously, Baldwin) with Shawn Mendes.
That being said, Justin and 'glazed' nail trendsetter, Hailey had actually been in each other's lives for a decade and even dated on and off since meeting in 2009. Despite spending most of the time apart and in other relationships with their respective exes, they managed to maintain their connection and support one another through testing life events, ultimately finding their happily-ever-after together.
So, before we get to the full timeline of their love story, let's address your burning questions about their famous nuptials...
When did Hailey and Justin Bieber get married?
Hailey and Justin officially tied the knot at a New York City courthouse in September 2018—but unlike the likes of Kourtney Kardashian and Travis Baker who had a Vegas 'wedding' before their Italy nuptials, Hailey and Justin did actually legally marry in New York before their grand wedding ceremony a few months later.
Their second wedding then took place at South Carolina's five-star Montage Palmetto Bluff hotel in 2019, with all their friends and family in attendance. A large portion of their wedding was also featured in Justin's YouTube Series Seasons.
How long have Hailey and Justin been married?
When they wed, Hailey was 22 years old and Justin was 24 and they've been married for four years now after tying the knot in 2018. Hailey even marked their fourth wedding anniversary with a throwback snap from their wedding ceremony and a loved-up caption that read: "4 years married to you. the most beautiful human I've ever known...love of my life. Thank God for you. 🤍🥂"
Since their wedding, they've just been going from strength to strength, even going as a couple to the Met Gala in 2021. Hailey herself has also enjoyed a lot of success, from launching Rhode Beauty to her Who's in my Bathroom YouTube series.
Justin and Hailey Bieber's relationship timeline
2009: Justin meets Hailey at a fan event
We've all seen the adorable video of a very young Justin Bieber being introduced to Hailey Baldwin at a fan event of his in 2009. Hailey, who was just 12 years old at the time, was there with her famous dad, Stephen Baldwin. At the moment, however, the only thing in the air was an awkward pre-teen mood. But it did mark the start of something beautiful, even though they definitely didn't know it at the time.
2011: Hailey attends Justin's 'Never Say Never' premiere
Hailey and Justin meet once again a few years later when once again, her dad brings her along to a Bieber event—this time being the premiere of his documentary, Never say Never.
"I was never a superfan, of him or of anyone," Hailey explained in an interview with Vogue in 2019. "It was never that crazed, screaming thing. I didn't think about it in any kind of way except for the fact that he was cute. Everybody had a crush on him. But for the first few years, we had a weird age gap."
November 2014: The two are spotted at Church together
Fast forward a few years and the two, now both fully fleshed teenagers, were spotted at Hillsong Church together with close friend Kendall Jenner. The moment sparked the initial dating rumors about Hailey and Justin, who had just broken up with his on-off girlfriend, Selena Gomez—a very public relationship that his fans followed every step in.
December 2014: Justin denies dating rumours
A month later, Justin posted a selfie of him with Hailey, insisting that they were just "good" friends. "People are crazy," he wrote. "I'm super single and this is my good friend you would know otherwise."
Similarly, Hailey told E! News at the time: "I've known him since I was so young — since I was like 13—and we've just been good friends over the years. We have just stayed close and there's nothing more to it than that."
January 2015: They celebrate New Year's Eve together
Despite their denial, things are looking real couple-y between Hailey and Justin at this point. The two are spotted celebrating New Year's together in January 2015, with Justin sharing a video of the party they were at on his Instagram. Still, they insisted they were just friends.
Summer 2015: Justin and Hailey get matching tattoos
In July 2015, Justin and Hailey got the same "G" tattoo in honor of their pastor's daughter, Georgia, who was born with Lissencephaly, a rare condition characterized by a lack of folds in the brain. The two, who share a strong religious bond, and both come from Christian families, have always been vocal about God being at the center of their union.
Once again, Justin shared the tattoo on Instagram, writing: "This is for the strongest couple i know Chad and Julia Veach! Their daughter was born with Lissencephaly. She is incredible and has the sweetest soul. You guys make me better and I'm blessed to have you in my life #Georgia #gtat".
December 2015: Hailey joins Justin's family vacation
A whole year has now passed since dating rumours between Hailey and Justin emerged and suspicions were only getting stronger as when Hailey joins Justin and his family on a sunny vacation. Throughout their trip, the pop star shares adorable videos and pictures of the two, which pretty much cements them as a couple.
January 2016: Justin and Hailey seal the deal with a kiss
The couple finally go Instagram official in January 2016 when Justin shares a picture of them sharing a passionate New Year's kiss. In what was their second new year's together, they celebrated with famous friends in St Bart's at Leonardo DiCaprio's party.
Love was definitely in the air!
February 2016: Justin and Hailey both speak publicly about their relationship
In separate interviews, the two finally discuss their relationship status but it isn't quite the confirmation fans were expecting. Speaking candidly, Justin told GQ that Hailey is someone who he "really love[s]," but also said that he didn't want to "commit" to anything. Meanwhile, Hailey told E! that the two were dating casually.
"We are not an exclusive couple. He's about to go on tour," she told E! News. "Relationships at this age are already complicated, but I don't really like to talk about it because it's between me and him."
Safe to say they were in the midst of a situationship. Although it seems Justin already knew that he wanted to marry Hailey one day, two years before it actually happened. "I know that in the past I've hurt people and said things that I didn't mean to make them happy in the moment," he said in the GQ interview. "So now I'm just more so looking at the future, making sure I'm not damaging them. What if Hailey ends up being the girl I'm gonna marry, right?"
Spring/Summer 2016: Justin and Hailey fall out
In the time between February and August 2016, things between Justin and Hailey soured and it looked like they'd officially parted ways.
Hailey later opened up about the time during an interview with Vogue, following the couple's wedding in 2019. "Negative things happened that we still need to talk about and work through," she said. "Fizzled' would not be the right word—it was more like a very dramatic excommunication. There was a period where if I walked into a room, he would walk out."
August 2016: Justin starts dating Sofia Richie
Things were officially over between Hailey and Justin by August 2016, as he unfollowed her on Instagram and started a new romance with Sofia Richie. Though public, their fling was short-lived and by September, Justin was single again.
November 2017: Justin gets back together with ex, Selena Gomez
Justin and Selena had a whirlwind of their own (we're going to need a separate timeline for that one) but the pair began rekindling their romance towards the end of 2017. In November of that year, Justin was spotted hanging out at Selena's house with a group of their friends, while her then-boyfriend, The Weeknd, was on tour.
Selena and The Weeknd split shortly after and she was spotted supporting Justin at a hockey game in Los Angeles while wearing his jersey. It didn't take long for press to pick up on the news, with US Weekly confirming that they were officially back together.
May 2018: Hailey attends the MET gala with Shawn Mendes
Weeks after paparazzi pictures of Hailey and pop star Shawn Mendes hugging fuelled relationship rumors, the two made their red carpet debut by attending the MET Gala together on May 5 2018.
However, at the time they both denied being in a relationship. A few months later, Shawn admitted to Rolling Stone that they were "more than friends." But he was quick to add: "I don't even wanna put a title on it. I think it was more of a zone of limbo."
June 2018: Justin and Hailey reconcile their relationship
By June, Justin's relationship with Selena was over and whatever was going on between Hailey and Shawn was dead too. The two found their way back to one another after both attending a conference in Miami hosted by pastor Rich Wilkerson Jr.
"The common denominator, I promise you, is always church," Hailey explained in the couple's Vogue interview. "By then we were past the drama. I just gave him a hug. By the end of the conference, he was like, 'We're not going to be friends.' I was like, 'We're not?'"
What he meant was, he wanted more.
Things between them quickly went from 0 to 1000, with Justin and Hailey very publicly showing their love and affection for one another with constant PDA. They looked in love and happier than ever, though fans were still confused about how rapidly things had progressed.
July 2018: Justin proposes to Hailey
Hailey was photographed by fans wearing a huge diamond ring on her left ring finger on July 8 2019, while she and Justin were on vacation in the Bahamas. She confirmed a year later on Instagram that Justin proposed on July 7.
The couple then confirmed that they were engaged on July 9, with Justin sharing a lengthy Instagram post about Hailey, the "love of my life" and expressing an emotional description of what she means to him.
You'd be lying if you said you didn't shed a tear reading it!
September 13, 2018: The couple get married
Justin and Hailey decided to get married at a courthouse in New York City on 13 September 2018. TMZ reported that "several eyewitnesses" spotted the happy couple at the Marriage Bureau, which is where marriage licenses are issued.
At the time, some witnesses at the scene reported that they heard Justin tell Hailey, "I can't wait to marry you, baby" with tears in his eyes.
Later on, Vogue confirmed that the two tied the knot at the courthouse.
September 18, 2018: Justin serenades Hailey in London
Taking it back to his busking days, Justin serenaded his new wife during a trip to London, at Buckingham Palace no less. There's even a cute moment where he points to Hailey and says "that's the love of my life right there," in a clip shared on social media by fans who were there.
The happy couple then went on to share plenty of other adorable moments in the months to come!
November 15, 2018: Justin officially calls Hailey his wife on Instagram
The couple finally confirm their marriage on Instagram, with Justin sharing a picture of the two of them and writing in the caption: "My wife is awesome."
The next day, on November 16 2018, Hailey officially changed her Instagram name to 'Hailey Bieber', marking the moment by sharing yet another cute picture of herself and her new husband.
February 7, 2019: The Biebers appear on the cover of Vogue
The couple appears on the cover of American Vogue together, where they discuss their relationship in-depth for the first time.
"We're coming from a really genuine place," Hailey said. "But we're two young people who are learning as we go."
"I'm not going to sit here and lie and say it's all a magical fantasy," she added. "It's always going to be hard. It's a choice. You don't feel it every single day. You don't wake up every day saying, 'I'm absolutely so in love and you are perfect.' That's not what being married is. But there's something beautiful about it anyway — about wanting to fight for something, commit to building with someone."
September 30, 2019: The Biebers have their wedding
A year after getting married legally, the couple finally have the A-list wedding fans were expecting with a beautiful ceremony at Montage Palmetto Bluff in South Carolina. According to Vulture, the couple arrived by speedboat the day before.
January 2020: Justin opens up about his proposal on The Ellen Show
Speaking on The Ellen DeGeneres Show, Justin recalled feeling nervous about proposing. "I was more nervous about, 'Am I able to make this commitment as a man and be able to honor what I say?'" he said. "Because that's a serious commitment when you say you're gonna love someone for better or for worse and be faithful."
May 2020: Hailey opens up about the ups and downs of her relationship with Justin
Speaking to Natalie Manuel Lee for Hillsong Channel, Hailey got real about what made her give her husband a second chance after all of their ups and downs. "I think I always knew if we did ever work things out and get back together, it was going to be a situation where it was very serious and we were gonna get married or [it] was going to lead to that," she said at the time. "I didn't necessarily know what the timeline was gonna be. I just trusted and I think [it] was such a huge leap of faith. ... I've known him for a really, really long time and I just knew. I don't know, it's hard to explain."
October 2020: The couple appear on the cover of Vogue Italia
Once again, The Biebers grace the cover of Vogue—this time Vogue Italia, and it's a steamy shoot.
September 2021: The Biebers attend the Met Gala
After surviving lockdown as newlyweds and enjoying several vacations together, alongside other public appearances, Hailey and Justin make their MET Gala debut in September 2021. Hailey wore a beautiful black YSL gown, while Justin matched her in a classic black suit as they embraced the theme of the year, "In America: A Lexicon of Fashion."
October 2021: Justin wants to start "trying for a baby"
When the pop star's Amazon Prime Video documentary, Justin Bieber: Our World, is released in October 2021, there are plenty of intimate moments shared between the couple on display, including a moment when Justin admits that he's ready to start a family with Hailey. "My intention for 2021 is to continue to set goals and have fun while doing them. Make sure I put my family first and hopefully we squoosh out a nugget," he says. He later clarifies that he'd want to "start trying" for a baby at the end of 2021.
December 2021: The Biebers take a trip to London
The couple looks happier than ever during a trip to London, with Justin posting several pictures of them posing around the city. "London town wif my baby", he wrote in the caption.
February 2022: The couple attend the Superbowl in LA
The couple attended the Super Bowl LVI with Hailey's BFF Kendall Jenner and her boyfriend, Devin Booker. Talk about an all-star double date!
Justin and Hailey have been going from strength to strength ever since, with Justin frequently showing love to his wife on Instagram by gushing over her modeling campaigns and sharing sweet words about their love.
We're always rooting for these two!
Sagal is a journalist, specialising in lifestyle, pop culture, fashion and beauty. She has written for a number of publications including Vogue, Glamour, Stylist, Evening Standard, Bustle, You Magazine, Dazed and Wonderland to name a few.