7 Meghan Markle movies and TV shows you may not know the royal was in
Before becoming royal, the Duchess of Sussex was a successful actor. Here are 7 Meghan Markle movies and TV shows that made her famous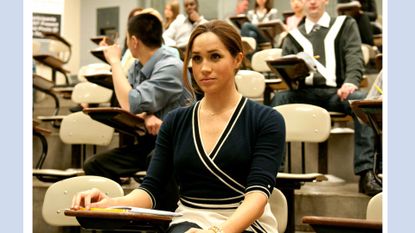 (Image credit: TCD/Prod.DB / Alamy Stock Photo)
Though she's most well-known now as the Duchess of Sussex, these Meghan Markle movies and TV shows prove that the royal was in the spotlight long before meeting her future princely husband and becoming a part of the most family in the world. Markle will soon make a return to the small screen in the much-anticipated Harry & Meghan Netflix docuseries, but before that premieres on Thursday, December 8, let's look back at the star's time in the entertainment industry.
The 41-year-old was, after all, born in Los Angeles, California—the epicenter of the Hollywood movie industry. Before embarking on her acting career, arkletraMined at Northwestern University, receiving a bachelor's degree, with a double major in theater and international studies.
After graduating, though, she previously revealed that she struggled to secure acting roles—something she attributes to her mixed heritage. In a piece for Elle, Markle wrote: "I wasn't black enough for the black roles and I wasn't white enough for the white ones." However, her Hollywood breakthrough came in 2011, when she was eventually cast as Rachel Zane in the hit law series, Suits—a role which inadvertently led her to her future royal husband! But what of her other acting projects?
7 Meghan Markle movies and TV shows you should know:
1. 'A Lot Like Love'
After graduating, but well before landing her starring role on Suits, Markle took on lots of smaller acting roles, including a bit part as a nurse on an episode of General Hospital. (Fun fact: her father Thomas Markle was actually the lighting director on the show!)
But when it comes to movies, the 2005 film A Lot Like Love was one of her bigger (but still pretty minor) roles. Markle briefly featured alongside Ashton Kutscher in this rom-com and had a fair few lines in the movie, despite only appearing onscreen for a total of about 30 seconds.
In her scene, Meghan's character Natalie takes a seat next to Ashton on an airplane. The pair exchange a quick "hello" before Meghan's time is taken up by a man (played by Kal Penn) who sits in the seat across from the aisle. He quickly wraps her up in an intriguing—and slightly icky—conversation about how, in 24 hours, he's going to be rich; and the pair continue chatting as the plane takes off.
Despite clearly introducing herself as Natalie, Meghan's character is only credited in the film as "Hot Girl 2"...
2. Deal or No Deal
Deal or No Deal proved to be one of Meghan's bigger jobs in the entertainment biz. Between 2006 and 2007, she worked as a "briefcase girl" on the hit game show; her job was to open up briefcases filled with various amounts of money for the show's contestants. She's said to have starred in 34 episodes of the show, then fronted by Howie Mandel, before quitting to pursue other roles.
Markle has since spoken about her time on the show, admitting that she didn't love how being a "briefcase girl" made her feel. She confessed that the role felt "solely about beauty, and not necessarily about brains."
During a discussion with socialite Paris Hilton on Markle's podcast Archetypes, Meghan revealed: "I ended up quitting the show. Like I said, I was thankful for the job, but not for how it made me feel—which was not smart."
"And by the way, I was surrounded by smart women on that stage with me. But that wasn't the focus of why we were there. And I would end up leaving with this pit in my stomach, knowing that I was so much more than what was being objectified on the stage."
3. '90210'
Also in 2006, the Duchess had a very small role in 90210, the 21st-century remake of the '90s original Beverly Hills, 90210 series.
It's not by any means her most prominent role, but it's one that has made its way across social media, with fans stunned to find out the future royal was in the popular show.
During Meghan's one scene, her character Wendy is seen performing *ahem* an oral sex act on one of the main characters, Ethan, in his car, while his soon-to-be friend Annie looks on in shock.
While Meghan herself has never spoken about the very brief role, a book focusing on Harry and Meghan called Finding Freedom—written by Omid Scobie and Carolyn Durand—said the actress was wary about filming the potentially awkward scene. They wrote: "Meghan was hesitant to shoot the scene, but struggling actresses can't be picky." Fair enough, we say!
4. 'Fringe'
In 20019, Markle played FBI Special Agent Amy Jessup in the US-based science fiction series Fringe.
The Duchess starred in the first two episodes of season two, investigating a strange case alongside the Fringe division (which investigates fringe science). Her character Special Agent Jessup is brought in to investigate a car crash with some odd goings-on. In episode two, she is also seen investigating another crime scene, which leads her to suspect that there is a strange connection between religion and the Fringe division.
After her two-episode arc though, Meghan is never actually seen again on the show—and her disappearance from the storyline is unexplained. We're not entirely sure why, and Meghan herself has never shed light on it, but as a jobbing actor at the time, it may be safe to assume that she simply got herself a better gig!
5. 'Remember Me'
Markle had another tiny role in the 2010 comedy-drama movie Remember Me—yes, the flick starring none other than Robert Pattinson. We never thought we'd see the Duchess of Sussex and Batman share the screen either...
Interestingly, she plays a bartender called Megan, and her single scene sees her frantically busy behind the bar at a nightclub. Robert Pattinson's character, Tyler Hawkins, and his best friend Aiden Hall (played by Tate Ellington) sidle up to the bar when Aiden tells Megan that she "looks great." However, Meghan's character doesn't seem too keen, angrily telling Aiden: "Do. Not. Speak." Markle and Pattinson don't actually interact in the scene, with his character Tyler only seen smiling on and laughing at the awkward interaction between the pair.
Another interesting fact about Meghan's role in the movie is the fact that her ex-husband, Trevor Engleson, was also one of the film's producers.
6. 'Horrible Bosses'
The Duchess of Sussex had yet another encounter with one of Hollywood's biggest actors during her time working on the film Horrible Bosses. Markle starred in a short scene alongside Jason Sudeikis, where she played a FedEx worker named, Jamie. She quickly catches the eye of Jason's character Kurt Buckman, and the pair have a slightly creepy exchange in which Kurt tells Jamie she's too pretty to just be a "FedEx girl" and that, instead, she must be a model or an actress.
That's Meghan's only scene in the movie—and, as it turns out, one of her final roles before landing her most notable project, Suits...
7. 'Suits'
Meghan's big break in the acting world came when she landed the role of paralegal Rachel Zane on the USA Network series Suits.
The show initially centers around two main characters, Harvey Spector, a charming and infallible New York City attorney at Pearson Hardman law firm—and his young lawyer protégé Mike Ross who—spoiler alert!—doesn't actually have a law degree.
Markle played the role of Rachel for seven seasons between 2011 and 2018. Her character was very much tied to Mike Ross (played by Patrick J. Adams), with the pair having an on-again-off-again relationship and eventually getting engaged on the series. During the show, Meghan's character achieves her dream of becoming a lawyer (as opposed to a paralegal) and the pair end up moving to Seattle—a storyline that ended both Meghan and Patrick's time on the show together.
The Duchess of Sussex actually left the series following her engagement to Prince Harry in 2018. The pair had been long distance for some time before the Duke proposed, and Meghan filmed her last few scenes in Suits just before the couple revealed their engagement.
Speaking about leaving Suits, Markle told the BBC: "I don't see it as giving anything up, I just see it as a change. It's a new chapter."
"And keep in mind, I've been working on my show for seven years. We were very fortunate to be able to have that longevity on a series, and for me, once we hit the 100-episode marker, I thought, 'I have ticked this box'. And I feel really proud of the work I've done there, and now it's time to work as a team with you [Prince Harry]."
The show continued for two more seasons without Patrick and Meghan, eventually coming to an end in 2019.
Meghan Markle net worth—how much is the Duchess worth?
According to Celebrity Net Worth, the Duchess of Sussex has a combined net worth of around $60 million with her husband Prince Harry.
The couple's financial situation is pretty different from many others as, in recent years, the pair have transitioned from a royal income—largely from the Duchy of Cornwall—to earn their own money, when they stepped away from the monarchy in February 2021. (Speaking of royal drama, this is everything we know so far about The Crown season 6...)
Before meeting Prince Harry, Meghan Markle was reported to have earned around $50,000 per episode of Suits, and she also made a respectable income via brand deals—such as clothing lines—and her lifestyle blog, The Tig, alongside her acting salary.
During their time as working members of the Royal Family, Harry and Meghan were financially provided for by the institution of the monarchy.
But since then, the couple has been carving out unique ways to make an income, including paid speaking engagements, book deals, Meghan's Archetypes podcast and, of course, their upcoming documentary series (which is coming to Netflix this December—we can't wait to watch!), all of which contributes to their current joint net worth.
Amy Hunt is a lifestyle writer and editor, and was previously Lifestyle Channel Editor at womanandhome.com, having been with the brand since 2015. She is passionate about everything from entertainment to books, to homes, food and wellness. When she isn't editing, researching or writing articles, he's busy burying her nose in a gripping thriller, practising yoga, or buying new homeware.