Melyon skincare: why you need to know about this Swedish brand
Inclusivity lies at the heart of Melyon skincare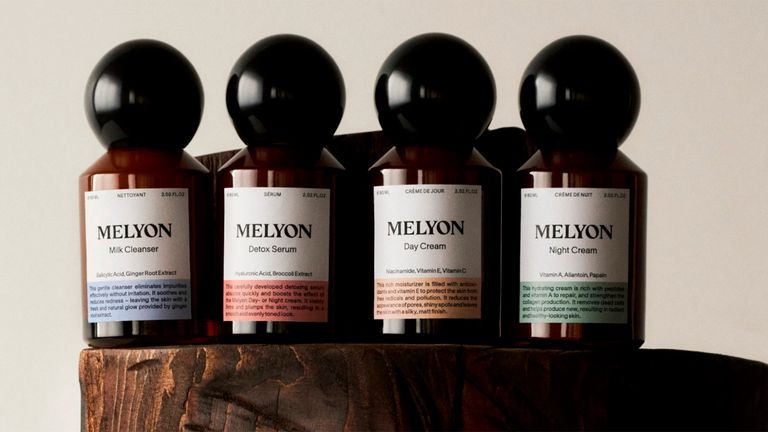 (Image credit: Melyon.com)
Meet Melyon skincare, the new disruptive brand that is shaking up the industry.
First, there's the fact that this is a line democratizing beauty for all. While it's designed for dark skin tones, Melyon products are unisex but can be used by anyone. Hence the brand name — a clever play on the English word 'melanin' and the Togolese/Ghanaian expression 'enyonam'— meaning 'it is good for me.'
A brief glance at the website highlights Melyon's agenda. Their campaign features a variety of different ethnicities and religions, but their mission statement — to "work for a society where beauty is perceived through diversity" — really captures the current Zeitgeist. This is a brand to watch.
Also impressive is Melyon founder Roger Dupe's 'less is more' approach — both from a practical and sustainable perspective. Taking lessons from his time as a model who traveled the world, Dupe ensured each recyclable bottle is a mere 60ml. Easy to fit in hand luggage and made from 100% recyclable glass.
Then there are the products themselves.
Melyon skincare line up
The expertly curated line features a milk cleanser, a detox serum, a day moisturizer, and a night cream — all vegan, cruelty, and paraben-free.
Each product features the hero ingredient baobab oil as a base — a nod to founder Dupe's roots in Ghana and Togo. Naturally rich in vitamin C, baobab is believed to have antioxidant, antimicrobial and anti-inflammatory properties.

The Milk Cleanser is packed with salicylic acid and ginger root to unclog pores and eliminate purities without irritation, while also taking down redness.
Meanwhile, Melyon's Day Cream combines niacinamide with antioxidant vitamins, C and E, which protect against pollution and improve the appearance of crater-like pores.
The Night Cream is the sidekick to your skin's overnight repair mechanisms. It contains peptides and vitamin A to strengthen collagen production and buff away dead cells, making way for fresh new ones.
Finally, there's the Detox Serum to be used together with the Day and Night Creams, with skin-plumping hyaluronic acid and broccoli extract.
Good-looking and ballsy? What's not to love about this brand?
Senior Beauty Editor, Future Publishing. Portfolio: Marie Claire, Cosmopolitan, Stylist.