Best hyaluronic acid serums: 5 hero hydrators to quench skin's thirst
Find the best hyaluronic acid serums for you in our edit of the top formulas out there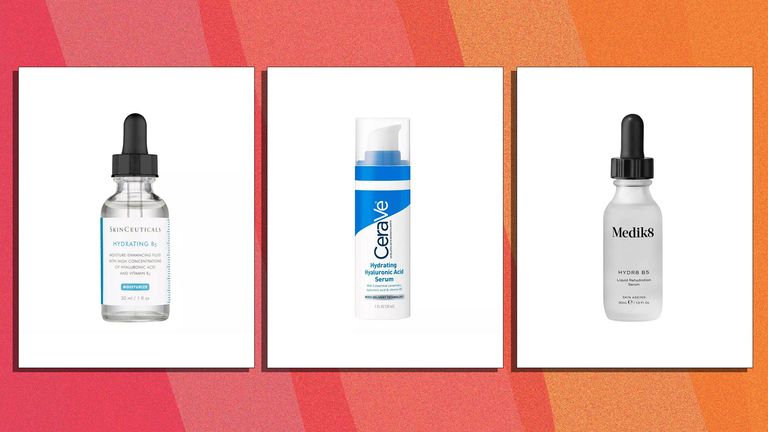 (Image credit: SkinCeuticals / CeraVe / Medik8)
The best hyaluronic acid serums are a game-changer for dehydrated, tight, and unhappy skin. Arguably, one of the most famous skincare ingredients in the game, If you're looking to add more hydration to your skincare routine (and subsequently your skin), here's why this ingredient should be your go-to.
Hyaluronic acid is pretty nifty in that it helps to draw moisture into the skin and boost hydration in the deepest levels of your skin. It can also hold its own weight in water, multiple times over. Together with one of the best retinol serums, hyaluronic acid serums could make a huge difference in your skin's appearance.
We've rounded up the best hyaluronic acid serums on the beauty market right now, including fan-favorite The Ordinary Hyaluronic Acid Serum. If you have a bit more budget to spend on your new HA, look to Medik8's Hydr8 B5 Liquid Rehydration Serum to quench your skin's thirst.
---
---
Best hyaluronic acid serums: our tried & tested picks
1. CeraVe Hydrating Hyaluronic Acid Serum
Backed by dermatologists and extra gentle for sensitive skin
Specifications
Additional ingredients : Ceramides, vitamin B5
Reasons to buy
+
Recommended by dermatologists
+
Non-comedogenic (doesn't clog pores)
+
Opaque and air tight packaging
Reasons to avoid
-
Has a thick consistency—some users may prefer a fluid serum
You've probably seen this one doing the rounds on TikTok—CeraVe is an excellent, affordable skincare brand that has the backing of dermatologists all over the world. This comes with the added benefit of the brand's signature ceramide complex, which supports the skin barrier, helps to prevent moisture loss, and protects your skin. Its consistency is more of a cream than a serum, but it sinks in so easily and leaves skin feeling soft from the get-go.
2. The Ordinary Hyaluronic Acid 2% + B5 Serum
Results that won't break the bank
Specifications
HA concentration: 2%, three molecular weights
Additional ingredients: : Vitamin B5
Reasons to buy
+
Super affordable
+
Vegan and free from alcohol and oil
+
Absorbs easily
Reasons to avoid
-
Transparent, non-airtight bottle
Containing three different molecular weights of hyaluronic acid, The Ordinary's offering is both super affordable and super effective. With tens of thousands of online reviews, the majority of which are five stars, the product is clearly very popular with the skincare enthusiast community. It sinks into the skin easily, layers well with other skincare products, and won't leave a sticky residue (the key is not to apply too much). Apply it to damp skin for best results.
3. Medik8 Hydr8 B5 Liquid Rehydration Serum
The science-backed brand that skincare nerds love
Specifications
Additional ingredients: Vitamin B5
Reasons to buy
+
Non-comedogenic
+
Vegan and free from alcohol and oil
Reasons to avoid
-
Semi-transparent, non-airtight bottle
Medik8 is known for its research-led, science-backed skincare products. The Hydr8 B5 is another multi-molecular weight hyaluronic acid serum, which is
a real plus.
"The smallest hyaluronic acid molecules are able to penetrate deep into the skin, drawing moisture up from the lower layers of the dermis," Isaacs explains. "Larger molecules of hyaluronic acid sit on the skin as a moisture reservoir, feeding the upper layers and blocking water loss to the environment. Used together, low and high weights of hyaluronic acid distribute hydration throughout the entirety of the skin for a smooth complexion."
This formula is very fluid, sinking into the skin brilliantly, and so layers well as your first skincare step.
4. Skinceuticals Hydrating B5 Gel
A super duper non-sticky hyaluronic acid
Specifications
Additional ingredients: Vitamin B5
Reasons to buy
+
Completely non-sticky formula
+
Absorbs quickly
+
Alcohol and fragrance free
Reasons to avoid
-
Transparent, non-airtight bottle
-
The most expensive buy on our list
If you have the means to invest a bit more money in your skincare routine, you can't go wrong with Skinceuticals (see our edit of the best vitamin C serums next for another of their hero products). This one is described as a gel moisturizer but it's truly a serum and helps to hydrate and plump the skin while supporting its barrier. The best bit is that it's not at all sticky, whether you use it on its own or under your moisturizer, and it's a firm favorite in our bathroom cabinets. On the expensive side, but worth every cent!
5. Skingredients Skin Veg Serum
A hydrating serum that's a serious glow booster
Specifications
Additional ingredients: Polyhydroxy acid (gluconolactone), procollagen peptide, liquorice root extract
Reasons to buy
+
Seriously glowy
+
Non-comedogenic
+
Airtight and opaque container
Reasons to avoid
-
Not a straight hyaluronic acid serum
Skingredients is the brainchild of Jennifer Rock, aka the Skin Nerd, and all six of the products are truly excellent. Described as a "hydrator and highlighter", Skin Veg Serum is packed with so many fruit and veg extracts that it's a bit like a hydrating green juice for your skin. It also comes with the added benefit of polyhydroxy acid in the form of gluconolactone, which offers gentle exfoliation that's suitable even for sensitive skin (read: way less harsh than glycolic acid). You'll have a serious *glow* after applying and it plays really well with make-up as well as other skincare products. They also ship all over the world. We love it!
What is hyaluronic acid?
Hyaluronic acid—or (C14H21NO11)n for the science fans out there—is actually a substance that's already present in our skin. "It's one of the major components of our natural extracellular matrix, which is the framework our skin sits on," explains Daniel Isaacs, director of research at Medik8. "This is important for maintaining a firm and supple complexion.
"Hyaluronic acid can draw moisture from the surrounding atmosphere and lower skin layers to the top levels of the epidermis. This leaves the complexion both nourished and supple."
It also has a pretty impressive CV as a skin-benefiting ingredient. "Hyaluronic acid is able to hold 1,000 times its weight in water, so functions as a humectant," adds Dr. Ifeoma Ejikeme, aesthetics doctor and founder of the Adonia Medical Clinic. "Its role in the skin is to help retain moisture and lubrication. It can be a helpful addition to a skincare routine used once or twice a day."
Together with one of the best retinol serums, hyaluronic acid serums could make a huge difference in your skin's appearance.
How to use the hyaluronic acid serums
Hyaluronic acid serums can be used once or twice per day, so it's up to you whether you factor it into your morning or evening skincare routine (or check out the best skincare product order for your skin type). Apply a few drops to damp skin before other serums and your moisturizer so that it can really draw that moisture into your skin. Either drop your serum into your palms or directly onto the face before smoothing or pressing it into your skin.
Lucy is a beauty journalist who has written for titles including Marie Claire, Cosmopolitan, OK!, woman&home and Women's Health, as well as regularly contributing to My Imperfect Life. Her work covers everything from skin and haircare tips to trying and testing the latest beauty launches, and interviewing celebrities and experts. A certified dog person, her other interests include mental wellbeing, books, piña coladas and not getting caught in the rain.