Sustainable vs ethical: what's the difference when you want to shop consciously?
Confused about the difference between sustainable vs ethical businesses? Here's what you need to know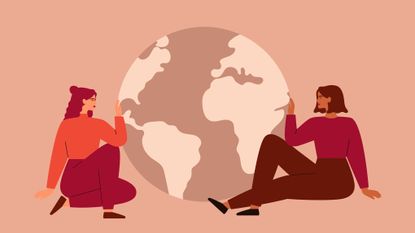 (Image credit: Getty)
It's become trendy to shop mindfully, whether sustainable vs ethical purchases. Whether picking up a beautiful dress made by an ethical, independent brand with social impact at the heart of their ethos, or wearing the best sustainable jewelry brands created from recycled silver and handmade locally with a reduced carbon footprint, it feels nice to tell friends that our enviable new purchase isn't from a high-street store.
But a problem arises when these stories become confused and words like sustainable and ethical become interchangeable. Although both things are positive steps for a brand to be taking, they don't mean the same thing. Let's dive into the differences between sustainable vs ethical shopping.
Sustainable vs ethical: What are the differences?
Shopping sustainably: what does it mean?
When it comes to sustainable vs ethical practices, sustainability primarily concerns the environment. So, if you're worried about issues like plastic use, carbon footprint and landfill, you'll be looking to spend your money with brands that focus on reducing their impact on the earth as much as possible.
There are plenty of ways a brand might do this. If you're buying online, check the "about us" section of their website, or if they don't have any clear guidelines available about their commitment to sustainability, send them an email to ask. When shopping for fashion, a good indicator that a brand is sustainable is the effort taken to make sure their clothes last a long time and don't end up in a landfill.

For example, they might offer free repairs or make their clothes or accessories from recycled materials that may have otherwise become waste. In the fashion industry, there's also issues around water wastage (a huge amount is used to make denim, FYI!), the use of pesticides in growing cotton, and packaging, which are important for brands to address, too.
You might be thinking, why wouldn't every business make the effort to become sustainable? Although we agree that every business does have a responsibility not to leave the planet worse than they found it, it's not always that easy.
Sustainable products generally take longer and cost more to make, with a complex manufacturing process. All of these factors push up the recommended retail price and of course, the more expensive something is, the smaller the consumer pool becomes. If a business has a big enough gulf between the amount of money it costs to make something and the price it's being sold at, there's room to give customers introductory discounts and to have seasonal sales. These things attract more customers and make business more successful.
But if a business is already spending a lot on its production costs in order to be sustainable, it's likely that its profit margins will be small and it will be harder for it to make enough money to continue operating. This is why it's so important to support sustainable businesses.
Shopping ethically: what does it mean?
On the ethical side of the sustainable vs ethical debate, practicing business ethically means ensuring that the people who make and sell a company's products are treated fairly. This could mean ensuring that their working conditions are comfortable, that they have reasonable working hours and are paid a fair wage. It could also mean, especially in the beauty industry, that the business is against animal testing and cruelty.
Businesses or brands that are truly passionate about being ethical might seek out or partner with a charity that works with underprivileged communities and change their production process to promote employment among these communities, upskilling them and offering support as well as the opportunity to gain financial independence.
Sustainable vs ethical: which one is better?
Although it's not unusual for businesses who are passionate about being ethical to also take the environment into consideration, it's not a given. If the environmental impact of your purchases is what you're most concerned about, you'll need to double-check that with the brand.

Equally, just because a brand has a small carbon footprint, this doesn't mean it supports any social impact schemes or investigates the working conditions for those who make its products.
Ideally, it would be best for both the planet and its people to shop with brands who don't focus on sustainable vs ethical but rather on sustainable and ethical, keep both practices at the forefront of their business models.
Megan Murray is editor of Soho Home and has ten years of experience in lifestyle journalism writing across topics such as interiors, food, and travel. Previously, she launched interiors franchises for Stylist.co.uk, where she was senior writer and still freelances, as well as for sites such as Square Meal and Mr Porter. Megan has a passion for shining a light on the stories of talented womxn and has interviewed the likes of Mariah Carey, Munroe Bergdorf and Maya Jama. In her spare time, Megan loves decorating her rental, reading independent magazines and exploring the UK.