How can women feel safe right now? Two psychologists on how to cope with the dark realities of Sarah Everard's case
The death of Sarah Everard has been triggering for women everywhere. We asked two psychologists to suggest ways to protect our mental health and feel safer...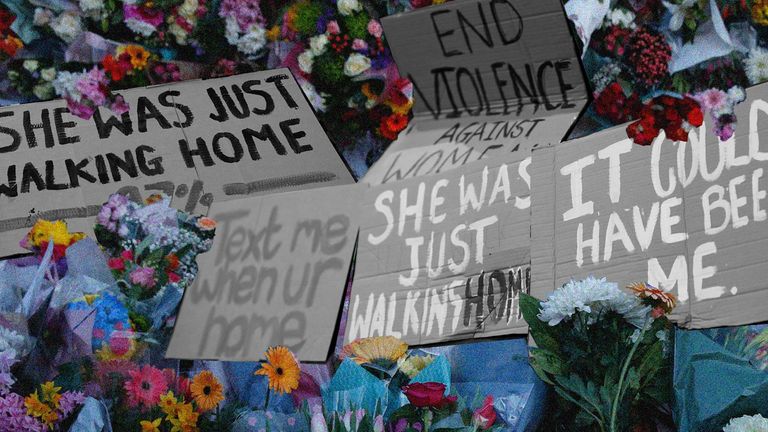 (Image credit: Getty Images / Hollie Adams / Polly Thomas)
This week has been a devastatingly bleak reminder that as women, our lives are constantly at risk. We're not safe to walk the streets alone, we're not safe to be vocal about our mental health struggles and as domestic abuse statistics have shown us time and time again, we're not even safe in our own homes. So, where does that leave us?
The abduction and death of Sarah Everard has sent shivers down the spines of women all over the country. While we grieve the loss of a young woman whose fate could so easily have been our own, we're left with a gut-wrenching feeling at the pit of our stomachs. We're afraid, heartbroken, bereft but sadly, not surprised.
The truth is, what happened to Sarah is everything we've been told to fear since childhood. It's what we've been taught to prepare for 'just in case'. Always stay alert when walking home, take the busiest route you can find no matter how much longer it is, keep your phone tightly gripped to your hand and your keys in between your fists for protection. Avoid roads without street lamps, have your headphones in but don't play any music, and always send that 'home' text as soon as you make it. It's a routine that is so inherently embedded in our brains; one that Sarah followed step by step that night in South London, but still didn't save her.
On Wednesday, Met Police Commissioner Cressida Dick announced that human remains—now confirmed to be the body of Sarah, a 33-year-old Marketing Executive who was last seen in Clapham Common on 3 March—had been found in Ashford, Kent. The news came shortly after a Met Police Officer was arrested for her disappearance and sent shockwaves through the mainstream press and social media. The tragedy, combined with new figures by UN Women UK stating that 97% of young women (aged 18-24) have been sexually harassed in the UK has sparked a wider dialogue about the lack of safety and risk of violence towards women at the hands of men. For many of us, it has also been incredibly triggering.
This week alone, which ironically began with International Women's Day, the world has shown us once again how unprotected women are. It has brought up past traumas and dark memories for women who have feared for their lives the way Sarah did that night, or been ridiculed and disparage for vocalising their suicidal thoughts like Meghan Markle did in the Oprah Interview. It has prompted us to share even more safety precautions with fellow women and girls, even though we know that ultimately, none of it matters. The only thing that can truly stop violence against women is the men who perpetrate it. Knowing this, how can we ever feel safe?
Right now, protecting our mental health is crucial, says Clinical Psychologist Dr Marianne Trent, who specialises in helping adults learn stabilisation strategies to process past trauma at Good Thinking Psychological services .
"Grief is an incredibly complicated thing but has other layers of trauma and horror when it involves a sudden death and especially murder," she says. "We are able to put ourselves into the mindset of others and imagine what they must be thinking or feeling. Therefore, it would be really normal if you were finding it hard to switch off from thoughts of Sarah and her family. It's also really common to become more hyper-vigilant about risk and danger after such public stories. This is because the bit of our brains which look for danger, our amygdala, becomes like an over-sensitive smoke alarm which can start making noise before we've even got bread out of the cupboard let alone when we actually burn the toast."
To help you feel safe during such times, Dr Trent and Psychotherapist Karin Peeters both suggest using specific coping mechanisms to help quieten down the part of your brain that feels so intensely under threat. Here are three steps you can take...
How to look after your mental health if you've been triggered by the Sarah Everard case
1. Try to transform your overwhelming emotions into compassion
"Feeling overwhelmed in itself does not help anyone, including yourself and it can create a feeling of helplessness," says Peeters, who is Director at Vitalis Coaching & Therapy. "Using your sadness and fear as a means to open your heart towards others who feel the same increases your capacity for compassion. Compassion is an expression of love for those who are suffering and comes with a wish to act to help them and be of benefit."
2. Give yourself permission to be moved
"You're human and a mammal and news of this kind can feel like a direct threat to our clan," explains Dr Trent. "Take some deep, slow breaths in and out with your shoulders relaxed and your feet placed on the floor. Imagine breathing in a golden light or a warm glow which helps you have everything you need right now to help you feel calm and safe."
Similarly, Peeters suggests readjusting your mind: "Zoom out to see a broader view of the world, as if you are an eagle flying high through the sky. See the hurt everywhere, but also the beauty, kindness and miracles that are happening everywhere, right now."
3. Focus on what you can do instead of what you can't
"Many news items are completely outside your circle of influence," says Peeters. "Focus instead on what you can do, like educating your children around safety and self-defence or calling a friend who went through something frightening in the streets of London and who could use a listening ear right now."
If you're feeling triggered yourself, Dr Trent also suggests reaching out to others and talk about how you're feeling. "This might be especially important for you if you've previously been through anything which has been traumatic in the past and that this event has made you think of that time in your life again."
Sagal is a journalist, specialising in lifestyle, pop culture, fashion and beauty. She has written for a number of publications including Vogue, Glamour, Stylist, Evening Standard, Bustle, You Magazine, Dazed and Wonderland to name a few.