How the UK is reacting to Meghan Markle and Prince Harry's Oprah Winfrey interview
The world has gone into meltdown over Oprah's much-hyped interview with Meghan Markle and Prince Harry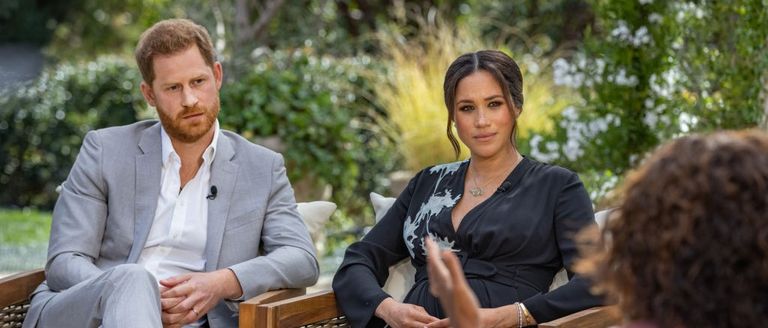 (Image credit: Handout/Getty)
Meghan Markle and Prince Harry's Oprah Winfrey interview premiered on Sunday evening, and it didn't hold back. From gender reveals to intimate information about the estranged royals' new relationship with the Queen, Kate Middleton, Prince William, and Harry's father, Prince Charles, the tell-all truly told all. And just like us, fans and celebrity pundits were all here for the exciting developments.
The shocking CBS interview, which aired on UK television station ITV, has sparked a lot of interest and lots has happened since.
How has the royal family responded to the interview?
While the royal family does not usually respond to criticism or controversy, a short statement was released today.
It read: "The whole family is saddened to learn the full extent of how challenging the last few years have been for Harry and Meghan.
"The issues raised, particularly that of race, are concerning. Whilst some recollections may vary, they are taken very seriously and will be addressed by the family privately.
"Harry, Meghan and Archie will always be much loved family members."
UK reactions to Meghan and Harry's Oprah interview
To start, Good Morning Britain host Piers Morgan stormed off the set this morning after his co-host Alex Beresford called him out on his derogatory remarks about the Duchess of Sussex.
Other British celebrities expressed their thoughts on Meghan, Duchess of Sussex, as Little Mix band member Leigh-Anne shared her take on the tell-all on Instagram, writing: "Meghan has been dragged from the start and we have all witnessed it. I praise her strength and determination for speaking out on her experiences showing the underlying racism lying within the royal establishment."
The award-winning singer added: "When you become known to the public there is no safety net to protect you from what people can fire out and say about you. We witness this all the time, particularly concerning women and more to the core, women of colour."
Singer Lily Allen compared Meghan's remarks about trying to get support for her mental health to the music industry.
As she chastised Piers Morgan, who has been outspoken about the Sussexes and even accused Meghan of fabricating her suicidal feelings as she wrote: "Btw, the way Voldemorgan was going on about the betrayal this morning, I was expecting way more slagging off of 'the firm'. By far and away the press were the real villains and PM [Piers Morgan was] just trying to change the narrative/avoid any accountability, deflection as usual."
Of course, Twitter users joined the hype, with one commenter writing: "Meghan and Harry here to take back everything stolen from Diana."
Another said: "queen sitting in front of the tv like let's annex back those colonies I've seen enough."
Piers Morgan has taken an active role in deliberating the bombshells revealed in the interview as he criticized the Duke and Duchess for an "absolutely disgraceful betrayal" as one of his many statements read: "This interview is an absolutely disgraceful betrayal of the Queen and the Royal Family. I expect all this vile destructive self-serving nonsense from Meghan Markle—but for Harry to let her take down his family and the Monarchy like this is shameful. #OprahMeghanHarry"
The host added: "Let's be clear: Prince Harry and his wife just spent two hours trashing everything the Queen stands for & has worked so hard to maintain, whilst pretending to support her. And they did it while her 99yr-old husband Philip is seriously ill in hospital. It's contemptible."
Lifestyle news writer