How did MGK and Megan Fox meet? A complete relationship timeline
Following a PDA-filled BBMA appearance, fans are wondering, "How did MGK and Megan Fox meet?"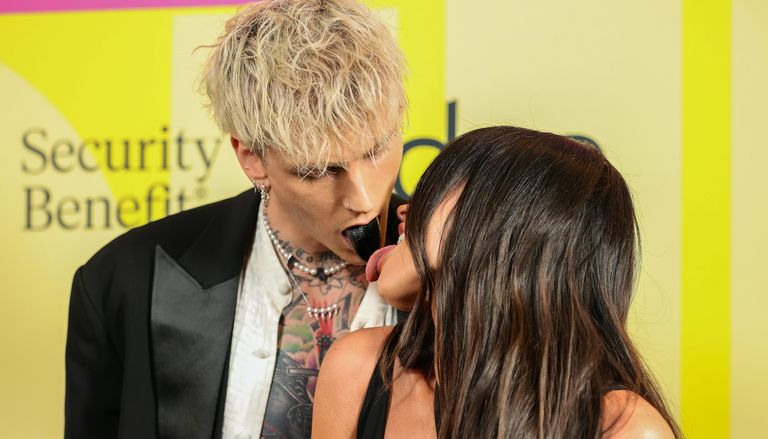 (Image credit: Getty Images)
After a night of heavy PDA (and that black-dyed tongue—eek!) from the celebrity couple at this weekend's Billboard Music Awards, many fans are wondering, "How did MGK and Megan Fox meet?"

The Billboard Music Awards 2021 is just one example of the steamy—and much-publicized—adventures of actress Megan Fox and her rapper boyfriend (and Pete Davidson's BFF) Machine Gun Kelly, a.k.a MGK.
We'll take you through the rollercoaster, punk-rock romance that's been blossoming for well over a year—lip locks, blood necklaces, and all. Buckle up!
How did MGK and Megan Fox meet?
Back in March 2020, right before the pandemic caused the world to temporarily shut down, Machine Gun Kelly (real name Colson Baker) and Megan Fox met on the set of indie thriller, Midnight In The Switchgrass.

Although production was halted due to COVID-19, sources allege that the two managed to still keep in touch. (The film will be released in July 2021.)
"My Bloody Valentine": Megan Fox MGK video
Two months later—following paparazzi photos and news about the divorce between Megan Fox and her husband of a decade, Brian Austin Green of Beverly Hills, 90210 fame—the actress made a sultry appearance in MGK's "My Bloody Valentine" music video.
One month later in June 2020, the rocker-rapper posted a tweet with the song's lyrics, "I'm calling you girlfriend, what the f***" and then proceeded to add that life was imitating art. That sounds about right!
"i'm calling you girlfriend, what the fuck"life imitated art on that one. ❤️🔪June 15, 2020
See more
How long have Megan Fox and MGK been together?
In a July 2020 interview with Give Them La La...with Randall, the Jennifer's Body actress spoke candidly about producer Randall Emmett's decision to cast Machine Gun Kelly in the Midnight In The Switchgrass movie.
"I was like, 'Who is going to play this role?' And he was like, 'Oh, we just got Machine Gun Kelly,' and immediately, I was like, 'Uh oh,'" Fox said.
"I knew, I could feel that some wild s*** was going to happen to me from that meeting, but I wasn't yet sure what," she added. "I just felt it like, deep in my soul that something was going to come from that."

In addition to podcast reveals, the two have been flaunting their relationship on social media since summer 2020. From Fox rocking out to her beau's songs to sweet Instagram captions ("Achingly Beautiful Boy...My heart is yours"), these two have not been shy about giving fans a glimpse into their romance.
This is the iconic red lipstick Megan Fox wears all the time—and it's on sale
In their first public appearance together, Machine Gun Kelly and Megan Fox attended the American Music Awards back in November 2020.
MGK and Megan Fox: Blood vial necklace
In 2021 after an appearance on The Ellen DeGeneres Show, the rock star admitted that Fox sent him a parting gift before leaving for a movie role—a necklace containing her blood.
"Some people give, like, a handkerchief to their partner or whatever," he said. "She gave me her DNA."
Well, he did say she was his "Bloody Valentine," if you recall!
Did MGK meet Megan Fox kids?
Sources revealed to US Weekly that Machine Gun Kelly met Megan Fox's children in September 2020. The actress shares Noah, age 7, Bodhi, age 6, and Journey, age 4 with her ex-husband Brian Austin Green.

However, word has not gotten out whether or not Fox has met MGK's daughter, 11-year-old Casie Colson Baker, who the rapper had with former partner Emma Cannon when he was 18 years old. (Though it's likely she has, given the way things are progressing!)
How old is MGK and Megan Fox?
The age difference between MGK and Megan Fox is only four years: Machine Gun Kelly is 31 years old, while Megan Fox is 35.
It's not Fox's first romance with an age difference, however. Her ex-husband Brian Austin Green was 13 years older than her. They met on the set of the TV show Hope & Faith when she was 18 years old and he was thirty.
Billboard Music Awards 2021 appearance
In May 2021, the two lovebirds made headlines for attending the Billboard Music Awards together, where Machine Gun Kelly's new tongue tattoo—which turned his licker entirely black—also made an appearance. How do we know about the new tat? Because the two were seen smooching up a storm.
In a lengthy interview for Nylon, Fox was quoted alongside her boyfriend and noted: "The intensity of merging with him is just overwhelming, and the threat it poses is so powerful but so beautiful that you have no choice to surrender with reverence and with gratitude."
Looks like we'll be seeing a lot more of these two!
Megan Fox exes: Who has she dated?
Prior to her whirlwind romance with Machine Gun Kelly, Megan Fox has been seen with other famous faces over the years. After meeting in 2004, Fox and Brian Austin Green became engaged in 2006 but broke it off in 2009. A year later, they reconciled and became engaged again in June 2010, getting married in Hawaii two weeks later.
They welcomed two children between 2010 and 2015, but that year, Fox filed for divorce citing irreconcilable differences before finding out that she was pregnant with their third child. They reconciled again but officially split in 2019, with Fox filing for divorce in November 2020.
Early on in her career, Fox was often seen out and about with 7th Heaven actor David Gallagher, but that relationship reportedly fizzled in 2004. She also dated her Transformers costar, Shia LaBeouf, during one of her break-up periods with Green.