Kourtney Kardashian and Travis Barker's relationship timeline—steamy Instas, NSFW moments, double dates and all
Will Kourtney Kardashian and Travis Barker's relationship last forever (and ever)?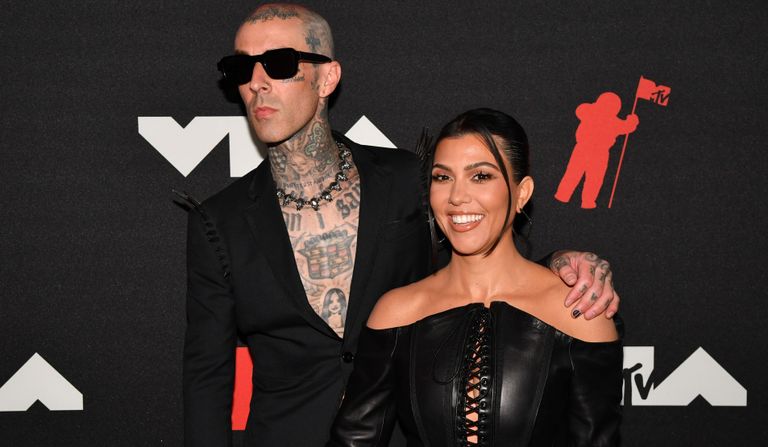 (Image credit: Jeff Kravitz/MTV VMAs 2021 / Getty)
Is Kourtney Kardashian and Travis Barker's romance the real deal?
This friends-to-lovers relationship is heating up fast, and many suspect an engagement is in the near future. (And perhaps a couple of kids if that VMAs declaration is anything to be believed.)
Although their time together has been brief, it has been loaded with PDA, kind gestures and a few NSFW moments here and there...okay, a lot of NSFW moments. Let's take a look to see how it all began for the reality TV starlet and Blink-182 drummer.
---
---
Kourtney Kardashian and Travis Barker pre-2021
Before the two were an item, Kourtney Kardashian and Travis Barker were reportedly "close friends," which is a seamless transition to a relationship. They were even already acquainted with one another's family to boot.

There were several points in 2018 when the two stepped out for various get-togethers, according to US Weekly, be it a vegan dinner or a Hillsong's church service. Things took a turn for the romantic in late 2020.
January 2021
The two started to make fans question if something more than friendship was in the works when Barker left a few flirty Instagram comments on the Kardashian sister's page, like a red rose emoji on her sexy mirror selfie.

What really got the conversation started in January was the fact that the two both shared the same images from Mama Bear Kris Jenner's home in Palm Springs. (We sensed a weekend getaway.)
February 2021
When the eldest Kardashian sister shared an image on Instagram—several days after Valentine's Day, we might add—holding the drummer's hand, we knew for certain that love was in the air. No need for a caption Kourt, the photo says it all.
March 2021
Although a few sultry moments got fans' attention, Barker's kind words really captured hearts. While making an appearance on The Drew Barrymore Show, he gushed about his girl and how effortless their relationship is.
"I'm spending time with a woman who's a great mom, who's a great friend," he said.
He continued: "It just comes natural."
But that doesn't mean the steaminess was put on hold—far from it. The sexiness was turned back on, and quickly when Kourtney wore a risqué t-shirt while on a date with the rocker. The shirt included NSFW lyrics from The Queer's track, "Love Me."
The two also had a fun night out with fellow love bugs Machine Gun Kelly and Megan Fox in late March.
April 2021
Spring was all about the tats and the PDA, if you're going by Kourt and Travis. The Blink-182 drummer got the starlet's name tattooed on his chest, celebrated her birthday with some steamy IG photos and declared his love "a blessing to this world." Sounds like it was a great way for Kourtney to ring in another year. Plus, he also showered his lady with a gorgeous floral display of tulips and gardenias in her home.
May 2021
Apparently, not everyone is thrilled with the duo's newfound love for one another. Travis's ex-wife Shanna Moakler was less than pleased and claimed that Kourtney broke apart her family. (She also alleged that Travis had an affair with Kourtney's older sister Kim, whom he did admit to having a crush on in the past.)
"My family is broken because of this family, and now my kids and I are alienated from each other because of another sister in the family, so yay for me... Thanks for destroying my family twice," Moakler told TMZ.
But this didn't seem to bother the couple. We caught a glimpse of Kourtney tattooing "I love you" on her beau's arm, so it seems like a pretty permanent situation. The duo even ventured to the most magical place on earth (Disney) with their kids. They needed to cool off after their rather risqué admission earlier in the month when Travis claimed that he had a Goop candle that smelled like "Kourtney's orgasms." It's safe to say that is definitely not Mickey Mouse material!
June 2021
Much like friends MGK and Megan Fox, Kourtney is taking the whole commitment thing to a new level by carrying around a vial of Travis's blood, which she shared with followers on Instagram. That's certainly one interesting way to prove your devotion to your S.O.
Insiders revealed engagement predictions to US Weekly in June, insisting that Travis is likely to pop the question soon in a grand gesture of love. They even believe he will take his love bug and their families back to Disney to do the honors.
August 2021
The two decided to venture to Italy, and of course, engage in some amore while there. As per usual, Kourt took to Instagram to show off her steamy kissing session with the rocker. No one was surprised.
What onlookers did find surprising? Scott's alleged response to the smooches.
During the Keeping Up With The Kardashians reunion, Scott told host Andy Cohen that he gives his ex his blessing to pursue this new relationship.
"I think if you really love somebody, right, you want them to be happy no matter what. So I do give her a blessing to be happy," he said.
It only took a matter of weeks for that to change: Kourt's ex, Younes Bendjima, posted an alleged private direct message on his Instagram Stories on August 30, 2021, from none other than the Lord himself.
"Yo is this chick ok!????? Brooo like what is this. In the middle of Italy," Scott wrote while including a photo of Kravis in a lip lock.
Younes replied: "Don't matter to me as long as she's happy. PS: I aint your bro." He captioned the screenshot of the message with: "Keep the same energy you had about me publicly, privately."
Although Scott has yet to comment on the reveal, it seems like Kourt has something to say. Hours after the Instagram fiasco, the eldest Kardashian sister tweeted a Bible verse that seemingly hints at the drama.
"John 15:7 If you remain in me and my words remain in you, you may ask anything you wish, and it will be done for you," she wrote.
John 15:7 If you remain in me and my words remain in you, you may ask anything you wish, and it will be done for you.August 31, 2021
See more

Things might get bumpy from time to time, but Kravis does not appear to be fazed. Several days after the DM drama, the couple attended the MTV Video Music Awards in Brooklyn, where the rocker was scheduled to perform with pal Machine Gun Kelly. MTV's biggest event was the perfect place for them to make their debut red carpet appearance together and, per usual, prove just how in love they are.
They looked like the perfect punk-rock couple in matching black leather ensembles. As you might've imagined, there were plenty of kisses along the way as they hit the red carpet. Does anyone appreciate a sexy lip lock more than these two? But the red carpet was just the beginning.
Who better to introduce MGK and Barker's performance than their respective girlfriends? Megan Fox and Kourtney Kardashian took the stage, eager to let fans in on the fun before the Barclay's Center started rocking out to "Papercuts."
"I'm a huge fan of this next performer. I've watched him grow, and not just as an artist, but also as a person," Fox said of her beau, MGK.
Kourt chimed in with an equally sentimental introduction: "I'm a fan too, and I think his drummer is super hot."
But everyone's heads truly turned—and shouts erupted—when Fox said, "New York, I need you to get extra loud for our future baby daddies."
Although we cannot possibly confirm anything, it's safe to say that the couples have busy plans in the months ahead, don't you think? (Some saw Fox wearing a ring on that finger during the VMAs rehearsal and others suspected a proposal would arise after the "Papercuts" performance.)
Leave it to the VMAs for a few shocking moments here and there!
Danielle is a writer for My Imperfect Life, where she particularly enjoys covering lifestyle and entertainment news. She was previously the editor of Time Out New York Kids and a news editor at Elite Daily. When she's not working, you can find her reading a good book and enjoying a cup of coffee. Follow her @dvwrites.