Kourtney Kardashian and Travis Barker's relationship timeline—steamy Instas, NSFW moments, double dates and all
Will Kourtney Kardashian and Travis Barker's relationship last forever (and ever)?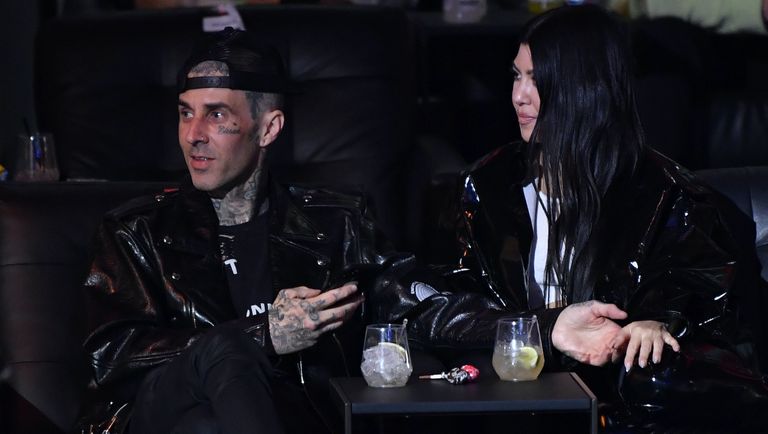 (Image credit: Getty Images)
Is Kourtney Kardashian and Travis Barker's relationship the real deal? Experts seem to think that an engagement is on the way for the friends-turned-lovers, and their relationship timeline, albeit brief, has been loaded with PDA, kind gestures, and a few NSFW moments here and there. Let's take a look to see how it all began for the reality TV starlet and Blink-182 drummer.
Kourtney Kardashian and Travis Barker pre-2021
Before the two were an item, Kourtney Kardashian and Travis Barker were reportedly "close friends," which is a seamless transition to a relationship if you ask us. They were even already acquainted with one another's family.

There were several points in 2018 when the two stepped out for various get-togethers, according to US Weekly, be it a vegan dinner or a Hillsong's church service. Things took a turn for the romantic in early 2021.
January 2021
The two started to make fans question if something more than friendship was in the works when Barker left a few flirty Instagram comments on the Kardashian sister's page, like a red rose emoji on her sexy mirror selfie.

What really got the conversation started in January was the fact that the two both shared the same images from Mama Bear Kris Jenner's home in Palm Springs. (Weekend getaway, perhaps?)
February 2021
When the eldest Kardashian sister shared an image on Instagram—several days after Valentine's Day, we might add—holding the drummer's hand, we knew for certain that love was in the air. There was no caption necessary.
March 2021
Although a few sultry moments got fans' attention, Barker's kind words really captured hearts. While making an appearance on The Drew Barrymore Show, he gushed about his girl and how effortless their relationship is.
"I'm spending time with a woman who's a great mom, who's a great friend," he said.
He continued: "It just comes natural, it's like a maturity thing."
The sexiness was turned back on, and quickly when Kourtney wore a risqué t-shirt while on a date with the rocker. The shirt included NSFW lyrics from The Queer's track, "Love Me," per Page Six.
The two also had a fun night out with fellow love bugs Machine Gun Kelly and Megan Fox in late March.
April 2021
Spring was all about the tats and the PDA, if you're going by Kourt and Travis. The Blink-182 drummer got the starlet's name tattooed on his chest, celebrated her birthday with some steamy IG photos, and declared his love "a blessing to this world." Sounds like it was a great way for Kourtney to ring in another year. Plus, he also showered his lady with a gorgeous floral display of tulips and gardenias in her home.
May 2021
Apparently, not everyone is thrilled with the duo's newfound love for one another. Travis's ex-wife Shanna Moakler was less than pleased and claimed that Kourtney broke apart her family. (She also alleged that Travis had an affair with Kourtney's older sister Kim, whom he did admit to having a crush on in the past.)
"My family is broken because of this family, and now my kids and I are alienated from each other because of another sister in the family, so yay for me... Thanks for destroying my family twice," Moakler told TMZ.
She believes that the rift, particularly between her and her children, is all thanks to Kourtney. But that didn't get in the couple's way. We caught a glimpse of Kourtney tattooing "I love you" on her beau's arm, so it seems like a pretty permanent situation, despite Shanna's wishes.
The duo even ventured to the most magical place on earth (Disney) with their kids. They needed to cool off after their rather risqué admission earlier in the month when Travis claimed that he had a Goop candle that smelled like "Kourtney's orgasms," according to The Cut. Definitely not Mickey Mouse material!
• Are Kylie Jenner and Travis Scott back together?
June 2021—and beyond
Much like friends MGK and Megan Fox, Kourtney is taking the whole commitment thing to a new level by carrying around a vial of Travis's blood, which she shared with followers on Instagram, according to Glamour. That's certainly one interesting way to prove your devotion to your S.O.
Insiders revealed engagement predictions to US Weekly in June, insisting that Travis is likely to pop the question soon in a grand gesture of love. They even believe he will take his love bug and their families back to Disney to do the honors.
Looks like their relationship timeline has just begun.
Danielle is a news writer for woman&home and My Imperfect Life. When she's not working, you can find her experimenting with new recipes or sitting on the couch with a good book and a cup of coffee.