Who is Moses Sumney from 'The Idol'? Get to know the singer-turned-actor
He plays the most faithful follower of Tedros' cult, but who is Moses Sumney? All about 'The Idol' performer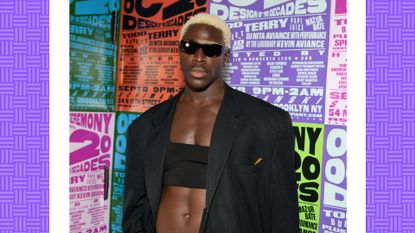 (Image credit: Santiago Felipe/Getty )
The Weeknd isn't the only IRL performer in The Idol cast—Moses Sumney not only appears onscreen alongside Abel Tesfaye and Lily-Rose Depp (who, yes, is really singing as Jocelyn) in the scandalous HBO series but also features on its soundtrack.
The Idol controversies have dominated the conversation about the series—which centers on an aspiring pop star (Depp) and her complicated relationship with a modern-day cult leader (Tesfaye)—since it debuted on HBO and Max on Sunday, June 4, thanks to its gratuitous nude scenes and that drama between The Weeknd and Rolling Stone.
But one positive point of discussion around The Idol has been the casting of singer-songwriter Moses Sumney as a croney of said cult leader. Here's what to know about the musician-turned-actor.
Who is Moses Sumney from 'The Idol'?
Moses Sumney is a Ghanaian-American singer-songwriter who portrays the character of Izaak, a faithful follower of Abel "The Weeknd" Tesfaye's character, Tedros, in The Idol. He joins a cast that includes fellow real-life musicians including Troye Sivan, who plays Xander, and BLACKPINK's Jennie Ruby Jane, who plays Dyanne.
It is Sumney's first acting role, but any nervousness was abated by the welcomeness of the cast, particularly Depp. He told Interview Magazine after The Idol's premiere at Cannes in May 2023: "I think I became closest with Lily [-Rose Depp], to be honest. It was my first show, and also I'm not the main cast. The main cast is really just Lily and Abel [Tesfaye]. I just expected to be like, 'Hi, nice to meet you. I'll see you when I see you.' But she was so embracing and welcomed me in so openly and lovingly and was so present, checking up on me not only throughout the production but even up until this weekend. Like, 'Did you get into Cannes okay?' I've never felt just so welcomed and loved on."
As for any worries about that aforementioned controversy over the show, Sumney said: "It is what it is. I think sometimes people will make their minds up before they've given something a chance. And so, in a way we can predict what will happen in this situation. I think the people who've decided what their opinion is on it already are probably not going to change it. So, there's not much to be nervous about there.
Sumney is better known for his music career, which includes a self-recorded EP called Mid-City Island, followed by the two full-length albums Aromanticism and Græ.
Moses Sumney songs from 'The Idol'
Along with acting onscreen, Moses Sumney also contributes to the soundtrack of The Idol. After the third installment of the series, which aired on Sunday, June 18, The Weeknd shared a batch of songs from the episodes, including Sumney's "Get It B4," his first new song since 2020.
Moses Sumney age: how old is he?
Born on May 19, 1992, Moses Sumney is currently 31 years old. And if you're astrologically curious, he's a Taurus.
What is Moses Sumney's Instagram handle?
Sumney managed to score the epic Instagram handle of @moses, where he shares red carpet appearances, runway shows, concert performances, beach vacations with close friend Emily Ratajkowski and more.
Is Moses Sumney gay? What we know about his sexuality
The performer has been frequently referred to as a "queer" artist by the media. However, Moses Sumney has never confirmed that label, telling The Independent in 2020: "I have never identified, publicly or privately, as queer. But I don't correct people when they say that. I try not to correct people too much these days, because the desire to do so stems from ego."
"I realised at some point that proclamations of identification are largely for other people, not for the self," he continued. "So people can call me whatever they want to call me, if it helps them feel actualised or like they are relating to something they see in themselves. But it's worth noting that no one has ever been considerate enough to ask me."
He has also previously said that he identifies as aromantic, which is a romantic orientation in which a person has little or no romantic attraction to others. Sumney told i-D in 2018: "I was wondering why every time I dated someone it felt a bit hollow. I'd have these really intense…not relationships…but things, where I cared deeply for someone, but always felt like there was one last piece missing: being in love. I started to wonder what love even means?"
"I definitely believe in love, it would be dishonest to say I don't," he added. "But I think there's different types of love, familial, platonic, romantic…I believe they all exist but I don't believe that everyone will get to experience them, and that's where I have the issue: the social pressure to declare that you're 'in love', even when you might not be, just to feel validated."
Catch Moses Sumney as Izaak in The Idol, airing on HBO and Max on Sundays at 9pm Eastern.
Christina Izzo is the Deputy Editor of My Imperfect Life.
More generally, she is a writer-editor covering food and drink, travel, lifestyle and culture in New York City. She was previously the Features Editor at Rachael Ray In Season and Reveal, as well as the Food & Drink Editor and chief restaurant critic at Time Out New York.
When she's not doing all that, she can probably be found eating cheese somewhere.