'Ms. Marvel' TV show: all the scoop we learned at the premiere
The 'Ms. Marvel' TV show has officially hit Disney Plus! Here's intel we learned straight from the cast and crew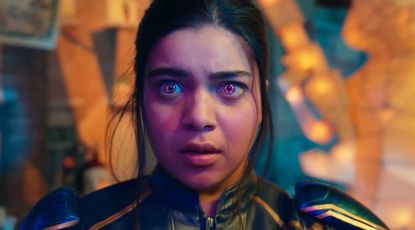 (Image credit: Disney Plus)
The release of the Ms. Marvel TV show from Marvel Studios and Disney Plus is finally here and with excitement peaking, we were fortunate enough to attend the press conference featuring the cast and creative team leading the series.
The series is set up to be huge, as it features the first instance of South Asian representation in a Marvel series, the first Muslim superhero and the first teen-based series. (Remember, the Peter Parker/ Spider-Man franchise have all been films up until this point.)
To get you amped up for the premiere of Ms. Marvel on Wednesday, June 8, here's just a few of the fantastic things we learned about the show, straight from the source.
All the scoop on the 'Ms. Marvel' TV show:
1. Kevin Feige said Kamala Khan coming into the MCU was inevitable
Ms. Marvel is a much-loved comic series, and when the Kamala Khan-focused show was announced, fans rejoiced that their prayers had been answered. I
n the press conference, President of Marvel Studios Kevin Feige revealed the reason behind finally producing Ms. Marvel as a series: "Marvel it's such a privilege because not only are the re-interpretations every few years of existing wonderful characters, but every once in a while, and it does seem like every decade or so, there's a new character that comes around that catches the audience's imagination. And this character clearly did that."
Feige continued: "People started asking us in environments like this when we were promoting other things, 'When is Kamala Khan coming? When is Ms. Marvel coming?' So, it always seemed inevitable."
The Marvel Studios mogul also revealed it was the arrival of Disney Plus that made it feel like the perfect time to tell Kamala's story, as the streaming platform allows them to create character-focused series. It meant they could tell Kamala Khan's full story before officially entering her into the Marvel Cinematic Universe.
"I think that's important. I want people who never even considered watching Marvel Studios' production before to watch this and enjoy it, and then go watch all the other ones!" Feige added.
2. Iman Vellani was a 'Ms. Marvel' comic fan before auditioning for the role
Actress Iman Vellani, who plays Kamala Khan, auditioned for the role while still in high school. In the press conference, she discussed how knowing the comic books helped her audition, as she was able to recognize where dialogue was lifted from the written story. She also shared that, while she's happy to play Ms. Marvel, if she could have any superpower she would want Professor X's telepathy!
3. Iman Vellani found out she was Ms. Marvel through a Whatsapp text
Vellani revealed that she found out about the role through a forwarded WhatsApp chain message, leading her to think that the casting call was a scam. "February 2022 I get the WhatsApp forward. I thought it was a scam. I don't know what casting calls look like. But they are not white pages that say, 'Ms. Marvel Disney+ and headshot and resume here.'"
However, because she was a big fan of the comic books, she said went for it anyway: "At 3:00 a.m. the night it was due, I sent in my self-tape. I was like, my 10-year-old self is gonna hate me if I don't even try," the actress said.
A few days after she submitted the tape, she flew to Los Angeles to meet all of the executive producers: "Two days later I get a call. They're like, 'Do you have a lawyer? We wanna fly you to LA.' And I was like, 'I have a math test, but okay.' And next thing, I'm in LA with my dad. It was like the greatest trip of my life. I was fan-girling over Sarah Finn and Lewis D-Esposito. And I wanted to take full advantage of being in that room, because I didn't know if it was gonna happen again.""
But then the pandemic happened. It wasn't until June 2020 on her last day of high school that Vellani found out she got the role. Talk about leaving school with a bang!
4. Ms. Marvel aims to represent the South Asian community but says it is not a political statement
For many, the stand-out moment of the press conference was actor Mohan Kapur, who plays Kamala's dad, talking about how the show is representing the southeastern Asian community and Muslim community authentically.
"I don't think this series is shouting from the rooftops say that, 'Watch me.' We're talking about representation. It's a wonderful story of a community that's so ethnically diverse and culturally rich," Kapur said.
However, he was quick to add: "This is the Marvel universe telling a story about us," that the series is not a political statement but a story of one family and one girl. "It's the story of a family in a land that's not their own, but they've called it their home."
Castmate Saagar Shaikh also emphasized how the show aims to promote inclusivity: "We're used to having to explain a lot of things or fight to change a word…but with this show, everyone was on the same page. It's not our job to teach you what beta or beti means, that's a quick Googs."
5. The fictional AvengersCon set will be something fans can visit IRL in the near future
When asked if there are plans for the AvengersCon that happens in Ms. Marvel to happen in real life, Feige teased that the Comic Con-inspired convention could very well be a real thing.
Feige also hinted that props from the show, including costumes, could be on display in certain locations around the world for fans to interact with. The where and when of this wasn't revealed but with the show finally streaming, we imagine an announcement will also come in the near future. And of course we'll keep you updated!
6. The 'Ms. Marvel' series will get darker as it goes
Adil El Arbi and Bilall Fallah, the executive producers and directors of episodes one and two, teased that while Ms. Marvel is a light-hearted series, her journey may get a bit darker.
Sharmeen Obaid-Chinoy, director of episodes four and five, revealed that "in searching for her identity, Kamala Khan is going to go on this journey to reconnect with her family to understand why it's so important for her to tell her own story and to craft that story. And to feel that she could be that superhero she always wanted to be, except that it would be her being the superhero as opposed to emulating someone else. On that journey of discovery, we as an audience are going to go on what I can safely say is gonna be the thrill of our lives."
7. 'Ms. Marvel' had a hijab consultant on set
When asked about Nakia's hijab, which Yasmeen Fletcher wears throughout the show, writer-producer Sana Amanat revealed that they had "had a consultant on set making sure each hijab looked different and was wrapped properly."
Fletcher also discussed how they approach the hijab in the series: "There's a really beautiful scene in episode two that really just describes that feeling for Nakia in that she says, 'When I put this on, I feel like me.' And that is such a beautiful line and moment of identity of, like, this is not something to be ashamed of… And that really, truly has not been said about this culture before and wearing a hajib before on screen. And I'm so honored to be the person to convey that."
8. There may be a 'Ms. Marvel' season two!
In regards to the future of Ms. Marvel, while we know this sets up Kamala Khan's appearance in the film The Marvels—which is due to be released in 2023—we couldn't help but feel that this series may not be a one-off, as the cast kept calling it "season one," as if there could be a season two. So we would definitely watch this space if we were you!
Liv is a freelance journalist currently studying English at university. She loves covering everything from entertainment and politics to lifestyle and travel. As well as writing for My Imperfect Life, Liv has bylines in The Times, HuffPost, Den of Geek, Bustle The Metro and The Bookseller.