The Try Guys finally addressed the Ned Fulmer cheating scandal
Yet another infidelity has taken over social media and Ned Fulmer, The Try Guys star, is at the center of it all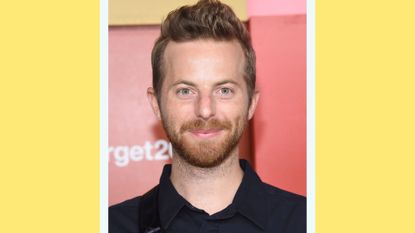 (Image credit: Gary Gershoff/Getty)
Looks like Armie Hammer, Tristan Thompson and Adam Levine aren't the only male celebrities hit with cheating scandals recently. The latest adulterous culprit is Ned Fulmer, a YouTube personality best-known as part of the popular comedy quartet The Try Guys.
Fulmer and the rest of The Try Guys—Keith Habersberger, Zach Kornfeld, and Eugene Lee Yang—first broke out as part of Buzzfeed but started their own successful production company in 2018, expanding their video content to include Food Network series, books, live tours and more.
However, cheating allegations against Fulmer cost the married father of two his position with The Try Guys, with the group publicly severing ties with the co-creator on Tuesday, September 27. So what exactly did Ned Fulmer do? Here's why social media is losing it over the news.
What happened with Ned Fulmer?
On September 27, an alleged text message chain containing a video of Fulmer making out with The Try Guys' producer and "Food Babies" star Alexandria Herring at a New York nightclub went viral on social media. Fulmer is currently married to and has two young sons with interior designer Ariel Fulmer, who has frequently featured on The Try Guys' YouTube channel as part of its "The Try Wives" series.
Eagle-eyed fans noticed something was awry prior to the infidelity news, with Fulmer allegedly being edited out of The Try Guys videos and absent from the group's social media posts in the last few weeks. It came to a head on Tuesday when the group posted a statement across their social pages announcing that "Ned Fulmer is no longer working with The Try Guys."
"As a result of a thorough internal review, we do not see a path forward together," the statement continued. "We thank you for your support as we navigate this change." The group has also unfollowed Fulmer on social media, and it remains to be seen if they will replace Fulmer in the foursome or continue on as a trio.
Fulmer himself addressed the scandal on Instagram and Twitter, where he admitted to having "a consensual workplace relationship" during his marriage. "I'm sorry for any pain that my actions have caused to the guys and to the fans but most of all to Ariel," he posted. "The only thing that matters right now is my marriage and my children, and that's where I am going to focus my attention."
His wife Ariel also made a public statement, posting on her social handles: "Thanks to everyone who has reached out - it means a lot. Nothing is more important to me and Ned than our family, and all we request right now is that you respect our privacy for the sake of our kids."
Alexandria Herring, who was reportedly engaged at the time of the affair, has not yet made a public comment.
The Try Guys' response video about Ned Fulmer's firing
On Monday, October 3, the three remaining members of The Try Guys published their first video since Fulmer's indiscretion went public. "By now, we're assuming you've seen the Reddit threads and TikToks and tweets and news articles. We want to give you a timeline of what's transpired and some transparency into our decision-making," Kornfeld began.
"On Labor Day weekend, multiple fans alerted us that they had seen Ned and an employee engaging in public romantic behavior," Habersberger relayed. The team checked in on the well-being of the employee before Fulmer admitted to the affair. "We just want you to know that we had no idea this was going on," Habersberger added. "All of that information was just as shocking to us as this has been for you this week."
Yang explained how they spent several weeks seeking counsel from lawyers, human resource professionals and PR reps before ultimately removing Fulmer as manager and employee on September 16. "We were acutely aware of just how contrary this was to the values of the company we've built and those of everyone who works here," Yang said. "This is something that we take very seriously and we refuse to sweep under the rug, that is now who were are and that is not what we stand for."
"We are incredibly shocked and deeply hurt by all of this," Yang added. "This is someone that we built a company and brand with for eight years. We feel saddened—not just personally but on behalf of our staff and fans that believed in us."
Fulmer has been digitally erased from The Try Guys videos and merchandise promotions, and upcoming videos in which he was heavily featured have been scrapped at a major cost to the company, Kornfeld noted.
Twitter takes on the Ned cheating scandal
Given the highly "online" nature of the cheating allegations, it's no surprise that social media was positively shooketh that the much-publicized "wife guy" Ned Fulmer cheated on his spouse with one of his employees. Here are some of the hottest takes and most-shocked reactions about The Try Guy's scandal.
ned fulmer from the try guys cheating on his wife after his entire personality for years was loving his wife is the exact reason i do not trust menSeptember 27, 2022
See more
The most ironic part of the Ned Fulmer/Try Guys drama is that someone at Buzzfeed is going to write an article about this.September 27, 2022
See more
"ned fulmer is caught cheating on Ariel, wife and mother of his 2 kids, at a solo sold out harry styles concert at Madison Square Garden" is a headline that would've sent me to a facility in 2014September 27, 2022
See more
Googling who Ned Fulmer is as an elder millennial and discovering the brutal quickness of the internet. pic.twitter.com/NnBHi4WERwSeptember 27, 2022
See more
So the Try Guys/Ned Fulmer rumors were true, huh? pic.twitter.com/ag73jRHX1oSeptember 27, 2022
See more
I did not have Ned Fulmer possibly cheating on his wife and no longer working for The Try Guys on my 2022 bingo card https://t.co/L5mnzfEQ56September 27, 2022
See more
the absolute worst part of this ned fulmer/try guys thing is that now all my mutuals know i never got over my buzzfeed phaseSeptember 27, 2022
See more
Ned Fulmer is for Gen Z, John Mulaney is for Millenials, and Adam Levine is for Gen XSeptember 27, 2022
See more
Christina Izzo is the Deputy Editor of My Imperfect Life.
More generally, she is a writer-editor covering food and drink, travel, lifestyle and culture in New York City. She was previously the Features Editor at Rachael Ray In Season and Reveal, as well as the Food & Drink Editor and chief restaurant critic at Time Out New York.
When she's not doing all that, she can probably be found eating cheese somewhere.