'Never Have I Ever' season 4: everything we know so far
When will we see the grand finale of 'Never Have I Ever'? Season 4 can't come soon enough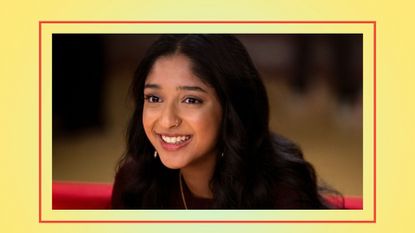 (Image credit: Lara Solanki/Netflix)
Never Have I Ever season 3 may have only just been released, but now, we're desperate to know all there is to know about Never Have I Ever season 4. After all, the fourth and final season has already been confirmed—so here's everything you need to know about the fond farewell of the popular Netflix show.
Mindy Kaling's teen comedy-drama, centering around high-schooler Devi Vishwakumar (Maitreyi Ramakrishnan), first hit our screens back in 2020 and we've since enjoyed three laugh-out-loud seasons.
There have been many ups and downs for Devi, who started out with a mission to be popular but quickly realized that high school isn't quite all it's cracked up to be.
Season three hit our screens on Friday, August 12, and if you're anything like us, you've already binged it or will have done so by the end of the weekend. So following that adorable ending, we're taking a look at everything you need to know about the fourth season of the show—including when it might come out and who will be in it.
*Warning: spoilers ahead!*
When is the 'Never Have I Ever' season 4 release date?
Never Have I Ever season 4 was confirmed by creator Mindy Kaling herself back in March of this year before season three even debuted.
Kaling told fans on her Instagram: 'We've got some morning announcements for you: season three of Never Have I Ever is gonna drop this summer!'
'Plus, we've just been renewed for a fourth and final season, which we are absolutely thrilled about.'
However, she didn't give anything away about when the fourth season would premiere—though, with some expert sleuthing, we've got a pretty good guess when to expect it.
Both season one and season two of the coming-of-age series dropped on Netflix (in the US and UK) in the summer. And of course, the third season also dropped this August.
So we reckon it's a pretty safe bet to assume that the fourth season will come out around summer 2023.
According to Elle (opens in new tab), filming for season four wrapped in early August, during which the cast hosted a carnival, screened a blooper reel from all four seasons, and listened to emotional speeches from both co-creator Lang Fisher and series star Ramakrishnan.
Who will be in the cast of 'Never Have I Ever' season 4?
Although there is no confirmed cast list for season four yet, it's a pretty safe bet that Maitreyi Ramakrishnan will be back to reprise her role as the show's star, Devi.
And of course, she likely won't be there without her two besties, Eleanor Wong (played by Ramona Young) and Fabiola Torres (played by Lee Rodriguez), who we're sure will be back.
There's likely to be a reappearance from the boys in Devi's life too, especially her new beau Ben (played by Jaren Lewison) after the pair finally (we think?!) got together at the end of season three.
Keen fans will likely be curious to know whether the former man of Devi's dreams Paxton (played by Darren Barnet), will be making an appearance too. Season three ended with Devi sweetly thanking Paxton for helping her get through her father's death, despite their relationship not working out.
While it's likely Pax will drop in, he may play much less of a starring role in Devi's life now that he's off to college, after graduating in season three.
We imagine Devi's family will still be a huge part of the show in season four—as will the much-loved narrator, John McEnroe, who voices Devi's internal monologue.
The Hollywood Reporter (opens in new tab) also reported that Michael Cimino, of Love, Victor fame is allegedly joining the cast for season four. Apparently, he'll play the character of skater-boy Ethan, and will be "a new heartthrob at Sherman Oaks High."
Uh-oh—do we sense tension for newly-coupled-up Ben and Devi?!
What will 'Never Have I Ever' season 4 be about?
There aren't many details yet about the storylines season four will explore, but given that Devi and her buds were heading into their senior year at the end of season three, we imagine there will be plenty of explorations of what that will mean.
It's likely that the girls will be exploring their next steps, and Devi and Ben may contemplate what the future holds for them away from Sherman Oaks High.
Is 'Never Have I Ever' season 4 the last one?
Sadly, season four will indeed be Never Have I Ever's final outing!
The end of the show was confirmed by Mindy Kaling herself earlier this year, as she admitted that four seasons seemed to just make sense for a show about high-schoolers.
Erin Underhill, the President of Universal Television, agreed: "Four seasons of Never Have I Ever is truly exciting and a little bittersweet because, as a loyal fan, I'd love Devi's journey to go on forever. But just like high school, all great things must come to an end."
In her Elle interview, Maitreyi Ramakrishnan says of the final season: "There's just so much. So much happens to these Sherman Oaks kids. They don't catch a break." Jaren Lewison, who plays one of Devi's love interests Ben Gross, adds: "I think the way the writers approached this fourth season has been with such care and with such tenacious and meticulous planning that I think we all feel comforted by the fact that it was a perfect sendoff. This fourth season is perfect."
We can't wait! In the meantime, check out these shows like Never Have I Ever to hold you over until Devi and the gang come back to Netflix.
Amy Hunt is a lifestyle writer and editor, and was previously Lifestyle Channel Editor at womanandhome.com, having been with the brand since 2015. She is passionate about everything from entertainment to books, to homes, food and wellness. When she isn't editing, researching or writing articles, he's busy burying her nose in a gripping thriller, practising yoga, or buying new homeware.
With contributions from