The 'Never Have I Ever' season 4 trailer just dropped, and it's Devi at her most dramatic
'Never Have I Ever' season 4 is going out with a bang...quite literally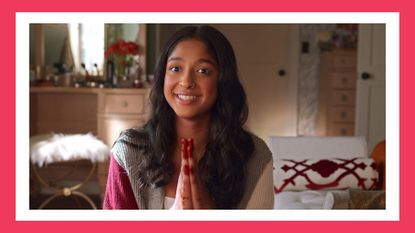 (Image credit: Netflix)
Never Have I Ever season 4 might be the Netflix series' final hoorah, and it certainly seems like it's going to be the most dramatic.
We were left with plenty of questions thanks to a few cliffhangers in Never Have I Ever season 3, particularly regarding Devi's love life and academic year. Now we're about to learn what's ahead for our hopeful romantic and Princeton U wannabe.
When is the 'Never Have I Ever' season 4 release date?
Mark your calendars: Never Have I Ever season 4 will hit Netflix on Thursday, June 8. As our beloved Devi would say, "Catch you on the flippity flip!"
Watch the 'Never Have I Ever' season 4 trailer
As promised, things are dramatic.
We pick up with Devi and Ben who are on shakier grounds than ever before...after they slept together. What now? And why is Paxton back at school after graduation? But more importantly, who's that new fella?
Senior year is going to be a memorable one, and we know Devi is going to make the most out of it...but will likely make a mess of it first.
Who will be in the cast of 'Never Have I Ever' season 4?
Maitreyi Ramakrishnan will be back to reprise her role as the show's star, Devi. And of course, she won't return without her two besties, Eleanor Wong (played by Ramona Young) and Fabiola Torres (played by Lee Rodriguez).
There's a reappearance from the boys in Devi's life too, including Ben (played by Jaren Lewison). The former man of Devi's dreams Paxton (played by Darren Barnet) will be making an appearance, too...even though we thought he left for college.
We know Devi's family will still be a huge part of the show in season four, as will the much-loved narrator, John McEnroe, who voices Devi's internal monologue.
Who's joining the 'Never Have I Ever' cast for season 4?
The Hollywood Reporter revealed that Michael Cimino, of Love, Victor fame is joining the cast for season four. Apparently, he'll play the character of skater-boy Ethan, and will be "a new heartthrob at Sherman Oaks High."
Uh-oh! Do we sense tension for Ben and Devi...and perhaps Devi and Paxton?
What will 'Never Have I Ever' season 4 be about?
Per usual, Devi is left to navigate emotional turmoil and is evidently going to be in a love triangle this season. Needless to say, we cannot wait to see how she lets that all unfold. Plus, she and her best buds will have to soon part ways to get ready for college, and speaking of which, does she land a spot at her coveted university: Princeton?!
Is 'Never Have I Ever' season 4 the last one?
Sadly, season four will indeed be Never Have I Ever's final outing.
In her Elle interview, Maitreyi Ramakrishnan says of the final season: "There's just so much. So much happens to these Sherman Oaks kids. They don't catch a break."
Jaren Lewison, who plays one of Devi's love interests Ben Gross, adds, "I think the way the writers approached this fourth season has been with such care and with such tenacious and meticulous planning that I think we all feel comforted by the fact that it was a perfect sendoff. This fourth season is perfect."
We can't wait! In the meantime, check out these shows like Never Have I Ever to hold you over until Devi and the gang come back to Netflix.
Amy Hunt is a lifestyle writer and editor, and was previously Lifestyle Channel Editor at womanandhome.com, having been with the brand since 2015. She is passionate about everything from entertainment to books, to homes, food and wellness. When she isn't editing, researching or writing articles, he's busy burying her nose in a gripping thriller, practising yoga, or buying new homeware.