No More Lonely Friends: how a viral TikTok started a friendship movement
Marissa Meizz, the creator of No More Lonely Friends, is redefining friendship goals one meet-up at a time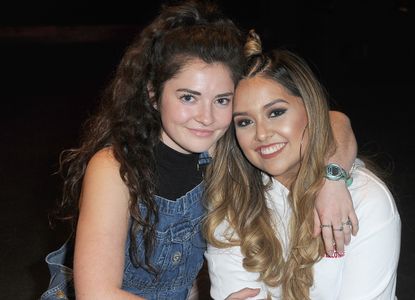 (Image credit: Albert L. Ortega/Getty)
Making IRL friends as an adult is a herculean task—but No More Lonely Friends is here to change that. What began as a viral TikTok has grown into a multi-city social movement across the US, and at the center of it all is one 23-year-old New Yorker, Marissa Meizz.
Creating love connections these days is easy enough through the best dating apps, but finding time to make platonic pals while juggling work and workouts and all of our other daily responsibilities can seem damn near impossible.
But using social-media savviness and a genuine eagerness to bring people together during one of the most isolating times in recent history, Meizz turned what could have been a truly embarrassing viral moment into proverbial lemonade and started a friendship revolution in the process.
Here's everything you need to know about No More Lonely Friends.
---
---
How did No More Lonely Friends start?
No More Lonely Friends began, like most things these days, as a trending TikTok. On May 17th, user @drewbdooboo posted a TikTok video captioned "Send this to Marissa in NYC," in which he recounts overhearing a group of disloyal friends planning to intentionally exclude a girl named Marissa from a birthday party.
"I hate to be the one to stick my nose where it doesn't belong, but if your name's Marissa, please listen up, " Drew says in the video. "I just walked by your friends and I need to tell you that the weekend you're away is not the only time that they could do their birthday party. They are choosing to do it the weekend you're away and you need to know. TikTok, help me find Marissa!"
With more than 14 million views on the video to date, TikTok did in fact help Drew find the Marissa, Marissa Meizz. The two connected and confirmed that those shady friends were indeed her shady friends. Once Meizz posted about it on her own TikTok account, she received from fellow users a swell of support and love and, well, friendship.
Meizz used those good vibes as the jumping-off point for a real-life meet-up for this burgeoning online community, which was held in New York's Central Park in June and promoted through Meizz's social media accounts. To her surprise, two hundred people showed up, and No More Lonely Friends was born.
Where are No More Lonely Friends meet-ups held?
Since that inaugural New York meet-up back in June, Meizz has hosted two follow-up park picnics in NYC this summer, the August edition (of which this writer attended) attracting a whopping 600 attendees who played volleyball, bonded over board games, and chatted over snacks and drinks until dark, even when the rain clouds came in.
Clusters of newfound friends left together to continue connecting over dinner, swapping cell numbers and social handles to start group chats and plan future gatherings.
Meizz has also expanded No More Lonely Friends to other cities throughout the states, including San Francisco, Los Angeles, Philadelphia, Boston, and Washington, DC, with Meizz herself flying out to each destination to attend the event, and more cities—domestic and potentially international—to come.
A costume designer in New York, Marissa Meizz has been personally footing the bill on travel, snacks, and other No More Lonely Friends-related expenditures, but as the movement grows through both traditional media—a cover story from The New York Times should boost attendance, eh?—and TikTok virality, so has the monetary opportunities.
There's now official merchandise in the form of crew necks, tote bags, and T-shirts available on the No More Lonely Friends website, and sponsors have taken notice. The recent August meet-up in New York featured enough drinks and free branded merch from Arizona Ice Tea to keep the 600-plus group satisfied.
But despite the rapid growth, the humble act of making friends is still at the core of the NMLF movement. At each meet-up, Meizz bounces around from group to group, giving hugs and kicking off conversations for more introverted attendees. "If you're reading this, we should be friends," reads the back of her shirt. It's that simple.
She wrote in an Instagram post: "No More Lonely Friends came about from someone talking behind my back about me — But now we flipped that switch and it's all about lifting each other up and using positivity to connect even more and make friendships that will thrive." Amen to that!
Christina Izzo is the Deputy Editor of My Imperfect Life.
More generally, she is a writer-editor covering food and drink, travel, lifestyle and culture in New York City. She was previously the Features Editor at Rachael Ray In Season and Reveal, as well as the Food & Drink Editor and chief restaurant critic at Time Out New York.
When she's not doing all that, she can probably be found eating cheese somewhere.