The best products to create an Olaplex routine for curly hair
All the products you should use for the ideal Olaplex routine for curly hair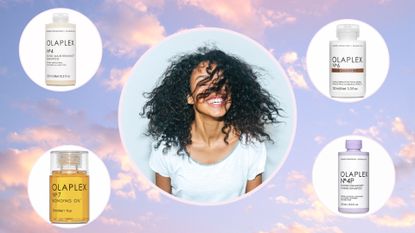 (Image credit: Future)
Building an Olaplex routine for curly hair is a reliable way to help bring dyed and bleached hair back from the brink of breakage and brittleness—no matter how far the damage has gone. As one of the first technologies to actually repair bonds in the hair, it uses the brand's patented active ingredient bis-aminopropyl diglycol dimaleate (try saying that five times fast). It's now an eight product-strong line up, consisting of both in-salon and at-home treatments including shampoo, a mask, and intensive treatments.
One of the best kept secrets about Olaplex, that's starting to emerge is that it's absolute heaven for curly hair—especially if it's been bleached, coloured, or damaged from heat. Because curly hair relies on strong bonds and structure to form a proper curl pattern, Olaplex helps to reinforce that. Those limp, straight-ish curls that pop up after going blonde? The best Olaplex products can fix them in most cases, it just may take a few weeks or months. I've been using it for years ever since I started bleaching my curls, and it's the one thing I can never run out of thanks to its strengthening superpowers.
Even in perfectly healthy hair, Olaplex keeps curls intact and strong—so many people have reported having springier, softer curls with each use of the stuff. Daily damage occurs through brushing, handbag straps, putting coats and scarves on, and not protecting hair at night with a satin bonnet or pillowcase—so it's best to do maintenance with some Olaplex in your routine. Read on for the best Olaplex routine for your curls, whatever stage they're in.
Olaplex routine for curly hair—salon treatments
Olaplex No.1 Bond Multiplier and Olaplex No.2 Bond Perfector
If you're colouring your hair or getting a blow-dry, I really recommend visiting a salon that uses Olaplex or a similar bonding treatment (I also really rate L'Oreal Smartbond and Aveda's Botanical Repair). Olaplex No.1 is a golden liquid, a tiny amount of which is added to the bowl of dye or bleach to reduce their impact on the hair while processing, keeping the hair bonds from breaking down too much.
Olaplex No.2 is a post-colour treatment that your colourist will apply to the hair after shampooing the dye out, and leave it to sit for ten minutes. Sometimes if my hair really needs it, I'll pop in to a salon for just an Olaplex bath, where my hair marinates in an Olaplex No.1 and water solution at the backwash sink for twenty minutes, then following up with an Olaplex No.2 treatment. The whole thing should cost around £20-30 and is so worth it as a top-up.
Olaplex routine for curly hair—at home treatments
Olaplex No.0 Bond Builder
Newly launched this year, Olaplex No.0 is the prelude to the cult Olaplex No.3 treatment. With the highest amount of Olaplex technology out of the whole range, it acts as a primer to bring out the best in No.3.
The two work together as a super dynamic duo to repair strands in record time. You don't have to use both, but if your hair's in dire need, then I definitely recommend buying the pair (which are the most effective out of the entire range). Apply to dry, detangled hair as it doesn't have much slip to get a brush through curls.
Olaplex No.3 Hair Perfector
This used to be the only take-home treatment that salons gave you to maintain your hair after a colouring session. Now, many people buy it directly from retailers to use consistently. It works best on damp hair before shampooing; apply and detangle gently, then leave to sit for at least ten minutes or overnight in a bun.
As a bonus, I pop into a steam room or use my facial steamer to really open up the hair shaft and let the Olaplex penetrate deeper.
Olaplex No.4 Bond Maintenance Shampoo and Olaplex No.4P Blonde Enhancer Toning Shampoo
Next comes the shampoo, which you can use alone or with other Olaplex products. If your hair has light or no damage, you can go with just the shampoo and conditioner but in my experience, you may as well save money on one of the treatments that stays on for longer, like No.3 or the No.8 mask.
Olaplex recently launched the violet version of the shampoo to tone brassy blonde hair—the perfect companion to bleached hair as it corrects both hair colour and condition.
Olaplex No.5 Bond Maintenance Conditioner and/or Olaplex No.8 Bond Intense Moisture Mask
Always follow shampoo with conditioner, or a hair mask—or both. Before the mask launched earlier this year, I used to leave the conditioner in for much longer than the stated three minutes, but now I can see how the mask totally blows the conditioner out of the water.
One of the drawbacks of the rest of the Olaplex line is that the products don't give enough slip for curly and coily textures to be detangled comfortably, but the mask's buttery thick texture makes up for that with hemp seed, rosehip, and meadowfoam oils to seriously nurture.
Use just one pump on short or fine hair, and up to three pumps for thicker, longer hair. A little goes a long way, and your hair will thank you for it even if you just decide to go with this one product.
Olaplex No. 6 Bond Smoother
When I first used this leave-in cream, I wasn't exactly wowed. I expected it to replace my curl creams, adding lots of hydration during the harsh winter months—and my hair felt strong, but not nourished.
However, I got to fully appreciate it when I used it before blow-drying my hair straight. It protects against heat, speeds up blowdry time, and gives hair a lightweight feeling of overall health, without that extra dose of weighty substance that help curls to clump together.
In the summer, it's great for when you don't want curls to look too defined or done—just the smallest dab through lengths and especially on ends helps hair feel supported and repaired when you don't have the time or energy to do the entire Olaplex shebang.
Olaplex No. 7 Bonding Oil
This is the smallest bottle, but you only need the tiniest drop. Luckily, the dropper dispenses barely any oil with each shake, so it's easy to control. It's amazing before blow drying or diffusing, especially in combination with No.6, as it's a heat protector and doesn't weigh hair down in the slightest.
Even my fine, flyaway-prone hair can handle a few drops of this when dry, whereas other oils can make it look greasy very quickly. Focus it on the ends, where your hair bonds are the most at risk due to being the oldest section, and always layer something hydrating underneath to seal it all in.
Ava Welsing-Kitcher is a freelance beauty journalist who's earned her stripes at InStyle, Stylist, and The Sunday Times STYLE. Though she can write about anything beauty and wellness, her main passion is hair - especially curly and afro textures. You can find her trawling through ingredients lists and product samples to really get to the bottom of what makes an excellent beauty buy.