Personal finance podcasts to help you achieve all of your money goals
From gaining confidence to strategizing plans, these personal finance podcasts will help you with whatever you need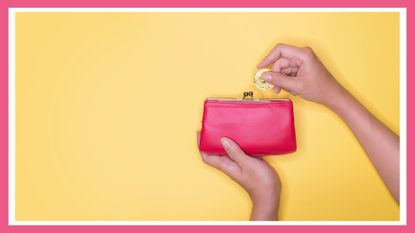 (Image credit: twomeows/Getty Images)
Looking for something to listen to? Our favorite personal finance podcasts are worthy of a play.
Whether you're trying to save for your dream home, or you're negotiating a salary with your new company, who doesn't appreciate financial wellness tips—especially during such a tough 2022?!
Regardless of your situation, allow these experts to guide you towards the financial goals you've been anxious to achieve. While you're at it, check out a few of our go-to money saving apps to keep your finances organized.
The best personal finance podcasts
1. In Her Financial Shoes
With a rating of 4.9 out of 5 stars on Apple podcasts, it's fair to say financial planner Catherine Morgan is doing something right.
Whether she's sharing her own tips or interviewing an expert to extract all of theirs, you'll find this podcast champions female entrepreneurship, and aims to help women gain financial confidence.
Morgan doesn't shy away from asking the uncomfortable questions that have made talking about money so taboo, and she's happy to challenge your money mindset and limiting beliefs to help you identify what's been holding you back from reaching your financial goals, too.
There are also countless episodes of practical advice from how to identify your money "leaks," and debt payment strategies, to how to start investing.
2. Black Girl Finance
Inequality in the workplace has led to BAME communities being paid between five to 10% less than their white counterparts. To be able to address the unique difficulties Black women face due to the gender and ethnicity pay gaps is one of the key reasons why Black Girl Finance founder, Selina Flavius, retrained as a finance coach and advisor after 15 years working in business development.
Her podcast, alongside her coaching services, are designed to provide a safe space for a community of unapologetic, ambitious, money-minded Black women to get real about their finances, and to help them make their hard-earned money go even further. The podcast features plenty of successful Black women who share their experiences and priceless financial advice, alongside actionable, practical strategies to budget, pay off debt, save and invest.
She's all for addressing money matters and speaking candidly about finances, even if we've been taught that the practice is impolite.
"It's super important to talk about how you are doing financially because if you are struggling, you should not suffer alone or in silence. There is help out there," she previously told My Imperfect Life. "Make sure that every single month you do a check-in on your finances and ensure that you can still handle any financial commitments that you may have."
3. Women on Top
Business strategist and host Frankie Cotton interviews inspirational female startup founders, business leaders, creators, politicians and activists, making this the ultimate podcast for budding entrepreneurs.
From creating multi-million dollar companies to managing mental health and imposter syndrome, Women On Top explores it all through a feminist lens to ultimately provide support and a community for working women. By unpacking her diverse guests successes, failures, ambitions and drive, Cotton makes finance and business relatable and accessible.
4. Squanderlust
Emotions have a lot to do with why, how and what we spend our money on, and with this podcast Martha Lawton (a former financial adviser) and Alex Lemon (an ex-chartered accountant) focus on the psychological elements of money management.
They've covered the complex relationship between money and mental health, how to deal with financial shame, why debt avoidance is common practice and so much more.
While there are some handy tips and resources shared, this podcast is all about unpacking the complex emotions and habits that are stopping you from having a healthy relationship with your money.
5. Money 101
While launched to help young adults like host Bea Duncan learn about the basics of personal finance, we are sure Gen Z's and finance novices alike will find this podcast helpful.
From saving, renting and pensions, to self-employment and effective budgeting, you'll find a whole host of everyday money issues are addressed. Format wise, some episodes feature real people sharing their experiences, anchored by stellar financial advice from money expert Kalpana Firzpatrick. Other episodes feature interviews with CEOs, or reviews for the best money apps.
6. So Money with Farnoosh Torabi
Hosted by Farnoosh Torabi, editor at large of CNET Money, an award-winning financial strategist, TV host and bestselling author, So Money is one of the most popular financial podcasts out there.
Farnoosh provides some pretty useful tips when it comes to managing your money and more importantly, providing an insight into financial strategies to elevate your income from some of the best experts in the industry. From learning the basics of cryptocurrency and its impact on our wallets, to valuable advice from today's top business minds, authors and influencers, she covers it all.
7. Your Financial Journey
Finances can be stressful, but Makala Green, author of The Money Edit and Britain's first Black and female chartered financial planner, is looking to take the worry right out of the equation.
With tips and tricks from the best people in the business, Green will help you feel more confident with your wallet.
"You are the author of your financial journey, and the right mindset makes a huge difference," she previously told My Imperfect Life.
Amerley is an award-winning beauty & lifestyle journalist who has been writing for the UK's most well-known glossies, websites and newspapers for over a decade. Known for her ability to predict the next big trend, there is really very little she won't try for a story. From microblading and injectables, to10 step skincare plans and breathing her way to better skin, Amerley loves to share her experiences and write relatable, informative and trend-led copy for beauty novices and junkies alike.