Five money saving apps that'll help keep your finances in check
Want to improve your finances? These money saving apps could be the answer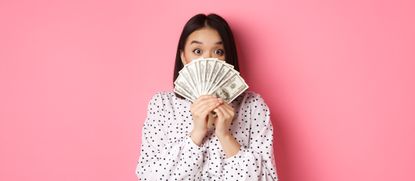 (Image credit: Getty)
Money saving apps are a great way to keep your finances in check—you just have to find the right one for you.
Now more than ever, many of us have turned our attention to finding new ways of saving for a rainy day, especially those of us who've faced financial hardships due to the ongoing pandemic. Luckily, there are some super easy steps you can take to start your money saving journey.
Whether you're saving up for a big occasion (a postponed wedding, perhaps?), want to buy a property or are keen to store away some cash for your emergency fund, we've got the best money saving apps to help you. As advised by Selina Flavius, the founder of Black Girl Finance UK—one of our favorite personal finance podcasts—following financial wellness tips like using money saving apps can go a long way in helping you reach your goals.
The best money saving apps to add to your phone ASAP
1. Monzo
The millennial favorite, you'll probably have seen your friends or colleagues carrying around this neon orange debit card and its accompanying app. A mobile-only bank, Monzo offers an alternative current account. Unlike your usual mobile banking service, it alerts you to outgoings with immediate mobile notifications. Most helpful of all, it logs your spending, organizing it into several categories—from bills and holidays to cash withdrawals, transport and eating out.
Ultimately, it's great for tracking your spending, setting a budget and splitting bills with friends, all of which help you save a lot of money in the long run. Available for both Android and iOS, it's free to download and set up an account.
The savvy savings secrets you need to put away extra cash in 2021
2. Squirrel
Squirrel is the app that makes sure you don't splash your salary as soon as it hits your account each month. Most of us are guilty of a payday splurge every now and again, but using Squirrel is a great way to make sure it doesn't become a regular habit.

The virtual equivalent of a piggy bank, the app allows you to set up an account which you transfer your salary into and then divide up your money into how much you need for your bills, goals, and a weekly allowance to spend on whatever you like.
Any money left over after bills are paid and your allocated chunk for savings has been tucked away is considered spending money. Squirrel will either release this all at once or as weekly installments to help you make it stretch. This way, you'll be on top of your finances at all times.
Like Monzo, it's available for both Android and iOS. However, only the first three months on the app are free. You'll then have to commit to a £3.99 month subscription.
3. Moneybox
Moneybox is a super easy way to make saving a daily habit for yourself. It takes your change for every day purchases (be it 50 cents or five bucks) and automatically investing it in a stocks and shares saving account. Yep, that's the right—the app is a great first step into the world of investing, as it pretty much does all the work for you. It rounds up the purchases made with your linked debit card and takes and invests the difference for you, no matter how small it may be.
Believe it or not, this means the more you purchase, the more you save, as your savings pot will grow on daily basis without you even noticing. Those who do not want to invest can also use the app to just transfer their loose change into a savings account without making any investments, so it's up to you how you choose to use it. The app is available for Android and iOS and offers a three month free trial before charging a £1 subscription fee.
4. Chip
Chip is an automatic savings app where the idea is that you won't miss the money you tuck away into your savings account. Once you've connected it to your bank account, the app uses artificial intelligence to calculate an affordable amount that can be saved automatically without affecting your day-to-day spending habits. This can be used with a number of high street banks for UK users or Monzo for those in the US or internationally.
However, there is a fee for this app. The first £100 you save is a free trial, then it'll charge you a cost of £1.50 every 28 days.
5. Plum
If you're really serious about saving, then Plum is the money saving app for you. Like Moneybox, it allows you to invest your savings to make a profit. It also features a literal "rainy day" feature that prompts you to save money every time it rains—so if you're in a particularly rainy state or live in the UK, then your virtual piggy bank should be nice and healthy.

If you want to be more in control of when and how you save, you can make use of Plum's adjustable moods feature where you can change how much you save each month, from "shy" to "beast" mode.
Sagal is a journalist, specialising in lifestyle, pop culture, fashion and beauty. She has written for a number of publications including Vogue, Glamour, Stylist, Evening Standard, Bustle, You Magazine, Dazed and Wonderland to name a few.