Was Ramona Singer fired from 'RHONY'? Fans have questions about the OG's exit
Bravoholics are agog over the rumors: Was Ramona Singer fired from 'The Real Housewives of New York'?!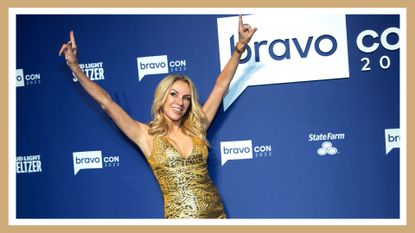 (Image credit: Santiago Felipe/Getty Images)
Was Ramona Singer fired from The Real Housewives of New York City? Turtle time has come to a close, and we've learned that the OG reality star will not be part of the RHONY season 14 cast.
"I do not want to do the show any longer," she revealed to PageSix on November 11, 2022. "It's not for me at this time."
During this year's BravoCon—where Singer was present—Andy Cohen revealed an all-new lineup for RHONY, including former J. Crew heavyweight, Jenna Lyons. In addition to a new, diverse cast, he also promised a reboot of the fan-favorite New Yorkers.
"We're at a crossroads for RHONY," Andy Cohen told Variety in spring 2022. "We've spent a lot of time figuring out where to go. And the plan that we've come up with, I think, is a real gift to the fans."
But now, said gift does not include the controversial Singer.
Was Ramona Singer fired from 'The Real Housewives of New York City'?
Though Singer claimed participating in the series was not in her best interest at this time, sources revealed to PageSix that she wasn't offered an opportunity to return. Well, well, well—this sounds juicy. Someone grab us a glass of Pinot while we dive into specifics.
Although this is the first time we've heard that Singer is officially exiting the show, it's not the first time her status has come under question. In 2021, rumors began to swirl that she would be booted off.
"The only original New York cast member who has never left from day one is Ramona Singer but now her time is up," sources told RadarOnline. (If you're wondering 'Wait, what about Luann de Lesseps?' the former countess was featured in the original RHONY season but was demoted to "a friend" status before returning as a full-time cast member later on.)
The sources continue: "Ramona will not be invited back to the next season of the show, which is currently not in production for a couple of reasons. One, she is too expensive. She is the only lady that has been on the show from day one...and her salary reflects it."
The currently-airing season 13 of RHONY has been an especially tumultuous one for the supposed Trump-supporting Singer, as she has been forced to reckon with younger, more progressive co-stars like Leah McSweeney and newcomer Eboni. K Williams, the franchise's first Black-American housewife.
"The basic premise of the show doesn't work anymore," a source told RadarOnline. "A bunch of older white women behaving badly was fun a decade ago but not today. The world has changed and if the show wants to survive another decade it must change too and that starts with the cast."
Another source added: "Ramona is furious that the show is changing. She doesn't understand why her behavior isn't great TV anymore. After over a decade of being rewarded for saying and doing the things she has done, she does not understand what the problem is."
Perhaps alluding to what was to come, she posted an image on Instagram with former cast mate, Bethenny Frankel—with whom she's had many ups and downs—stating, "The fun times 🍎 #rhony"
At the time of publication, Singer has yet to formally address her exit from The Real Housewives of New York City other than her interview with PageSix.
Ramona Singer net worth
According to various outlets, Ramona Singer is sitting comfortably rich at a net worth of $18 million. That value comes from a variety of business ventures—she co-founded True Faith Jewelry with her ex-husband Mario and has a jewelry collection for the Home Shopping Network, a skincare brand called Ageless by Ramona, and, of course, a line of Pinot Grigio.
Along with her Upper East Side apartment, Singer has a home out in Southampton, New York.
Ramona Singer salary: How much did she make from 'RHONY'?
It's been reported that Singer takes home a whopping $500,000 per episode of The Real Housewives of New York. She has been starring in the franchise since it debuted back in 2008.
How old is Ramona Singer?
Singer was born on November 18, 1956, making her 64 years old. She is a Scorpio, which is very on-brand for her.
Ramona Singer siblings: Is she an only child?
Throughout her time on RHONY, Ramona Singer has been forthright about her troubled childhood, growing up in upstate New York in a home plagued by alcoholism and abuse. The reality star has three siblings: Sisters Sonya Mazur and Tanya Pettyjohn, and brother Bohdan Mazur.
Singer's father died in 2009 and both she and sister Sonya were reportedly written out of his will. In her memoir Cocaine & Champagne, Sonya Mazur writes: "Ramona didn't get anything because she had already amassed a small fortune through her work...I'm fairly certain I was left out because of my lifestyle. He hated the fact that I was gay and never let me forget it."
So, needless to say, we've reached an end of an era, but we're fairly certain Bravo will still bring the drama, regardless of who appears on the Housewives franchise.
Christina Izzo is the Deputy Editor of My Imperfect Life.
More generally, she is a writer-editor covering food and drink, travel, lifestyle and culture in New York City. She was previously the Features Editor at Rachael Ray In Season and Reveal, as well as the Food & Drink Editor and chief restaurant critic at Time Out New York.
When she's not doing all that, she can probably be found eating cheese somewhere.
With contributions from