Who is Eboni K. Williams on RHONY? Everything you need to know about the newest Bravo housewife
Meet Eboni K. Williams, the first Black cast member on the Real Housewives of New York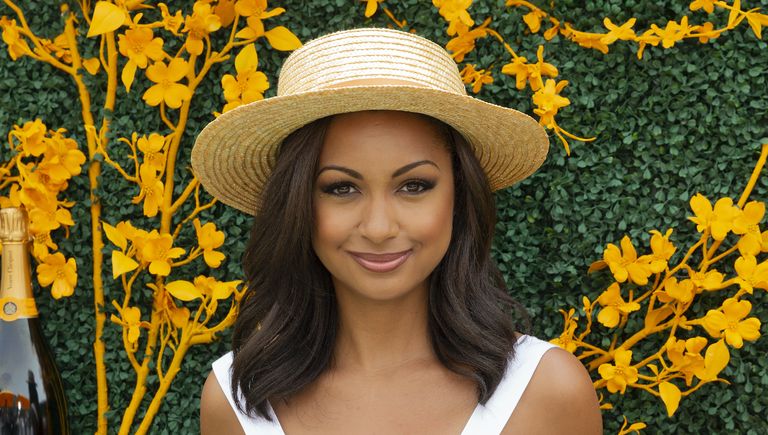 (Image credit: Lev Radin/Pacific Press/LightRocket via Getty Images)
The girls are back, but this time, they're bringing company: If you're curious about Eboni K. Williams on RHONY, we'll get you up to speed on Bravo's highly-anticipated cast member, the new season of The Real Housewives of New York City, and naturally, all of the shenanigans that are likely to unfold. 
Joining the RHONY ranks alongside Luann de Lesseps, Leah McSweeney, Ramona Singer, and Sonja Morgan, Williams is the youngest housewife this season and the first Black cast member to join the franchise. She's already garnered quite a bit of attention amongst fans and doesn't seem to have trouble navigating the murky waters of New York City's socialite scene. 
After the premiere of season 13's first episode on May 4th, Williams—who is stepping into Dorinda Medley's spot—joined Andy Cohen and her cast members on Watch What Happens Live! to discuss her initial thoughts about joining the group and made a huge confession in the process. 
"No Andy, I didn't watch a lot of RHONY, I watched all of RHONY," she joked. "I'm a Bravoholic like everybody else, of course!"
But there's more to the self-described Bravoholic than you'd think. Here's what you need to know about Eboni K. Williams. 
Who is Eboni K. Williams on RHONY?
Williams is a Louisiana native and former pageant queen who attended the University of North Carolina Chapel Hill and Loyola University New Orleans College of Law. She practiced corporate law and was the only black woman at her Charlotte-based law firm, according to Vanity Fair. 
She began dabbling in broadcast journalism—contributing to Fox News during the 2013 George Zimmerman trial—before landing her own show at Fox titled Eboni's Docket. She allegedly wasn't worried about appearing on the controversial news network, as she believed Fox was in need of "an educated, unapologetic, skilled, Black legal and political expert," reports Vanity Fair.  
Since leaving Fox, she's currently hosting State of the Culture on Revolt TV. 
Eboni K. Williams: Fox News' agitator 
Eboni came under fire for criticizing then-President Donald Trump for the way he handled the violence in Charlottesville, Virginia in 2017. As a result, she ultimately decided to leave the network. 
Who is Eboni K. Williams engaged to?
The new housewife is currently single, though she recently ended an engagement. In 2020, she broke things off with her fiancé, who chose to quarantine with his children instead of her. 
"And for me—listen I'm not a parent yet. I get that they're number one. But I need to be number one. And I wasn't number one so I needed to move on," she said on the Wendy Williams Show. 
You'll have to keep digging for more clues about his identity, however. Williams doesn't name her ex-fiancé or keep traces of him on her social media pages, Heavy reports. 
From Bling Empire to Bridgerton: there's actually an evolutionary reason we can't resist TV shows about gossip
What is Eboni K. Williams' net worth? 
Reports indicate that Williams' net worth is roughly $3 million. 
Who are Eboni K. Williams' parents?
Like her relationship, Williams keeps her family life relatively private. She was raised by a single mother, though details have not emerged about her identity.
Eboni K. Williams age: how old is she?
The youngest of the current Real Housewives of New York cast, Williams is 37 years old. Prior to Williams, Leah Sweeney, who joined the RHONY cast last season, was the youngest at age 38. The rest of the cast is between 55 and 64 years old. 
What is Eboni K. Williams' tagline on RHONY? 
"I've had to work twice as hard for half as much, but now I'm coming for everything."
What can we expect from Eboni K. Williams on RHONY this season?
Naturally, emotions run high, and even newcomer Williams has tiffs with her cast mates, particularly for an insensitive comment from Ramona and an argument with LuAnn. Watch it all unfold in the season trailer below.  
What happened to Dorinda Medley?
Eboni K. Williams is filling the empty slot that Dorinda Medley left in the RHONY cast. Medley was a RHONY regular for six seasons until August 2020 when she announced that she was leaving the hit Bravo series. 
Medley posted on Instagram announcing her exit: "What a journey this has been....Thank you to Bravo and NBC for the incredible ride and to my castmates for constant stimulation and entertainment. I wish you all health, happiness and success."
However, while fans initially thought it was Medley's own decision to leave the series, the Bravo personality revealed months later on former RHONY castmate Bethenny Frankel's Just B podcast that she actually was not asked to return by show producers, reports People.  The snub was rumored to be the result of Medley's copious drinking and outbursts throughout the season. 
Medley told Frankel:  "I was ready to go back, I was excited to go back, I was planning to back, and I thought I would have a great year. I wasn't given that option."
She continued: "They're calling it a pause, which I don't really...for me, I'm an old-fashioned girl. If you're not waitressing and getting paid, you're not waitressing."

Medley admitted: "I had a rough season, but that's what we do as Housewives. We have good seasons. We have bad seasons. We come back and we change it up," she said. "And listen, I was looking forward to coming back this year. I was looking forward to having that moment."
Whether Medley does come back for future editions of the Real Housewives of New York remains to be seen, but in the meantime, we're excited to see what Eboni K. Williams brings in her place.