Should you be using a retinol oil instead of a retinol serum?
This is why you might want to swap out your retinol serum for a retinol oil instead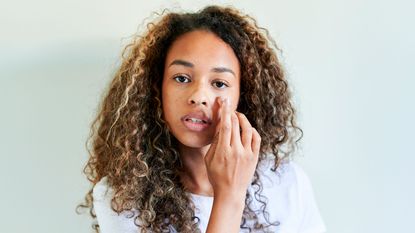 (Image credit: Getty Images)
Ask any dermatologist which one ingredient you should diligently apply in your skincare regime and they'll almost unanimously wax lyrical about retinol and the best retinol serums. Now, this much-lauded ingredient is delivered in a new format: retinol oil.
So what kind of retinol formulation should you opt for? And what's the difference between retinol oil, serum, and cream?
What is retinol oil?
Part of what makes retinol so great is that in addition to helping prevent wrinkles, it also helps speed cell turnover, increases collagen, and brightens skin tone. On the flip side, retinol lives under a blanket of suspicion because it can also irritate the skin, leaving it red, flaky, and sore—otherwise known as retinol peeling.
But now this anti-wrinkle ingredient has found its way into a slew of face oils that claim to coddle the skin without irritation for those of us with sensitive or dry skin types.
Dermatologist Josh Zeichner MD explains their appeal: "Oils are becoming increasingly popular in skincare. They contain natural emollient ingredients to help hydrate the skin. Oils are a great vehicle to deliver retinol because they may help minimize associated skin irritation. Oils also tend to be advantageous for people with drier skin."
It sounds pretty simple—but one important thing to note is that switching from a retinol cream to an oil might mean you'll also need to change up the order in which you use your skincare products.
"A retinol oil can be easily integrated into your routine; however, since they're oils, applying one would be a later step in the routine since retinol oils aren't water-soluble and therefore don't penetrate as rapidly," says Zeichner, who suggests using them on top of non-oiled based products, like hydrating serums.
What is the difference between retinol oil, retinol serum, and retinol cream?
Retinol has traditionally always been delivered via a serum or a cream. And while the hydrating properties of oil can help prevent irritation, it has no impact on the hero-worthy powers of retinol—meaning it's just as potent as it would be in a serum or cream.
"The active ingredients of all retinol products are similar, it's just the base that's different," explains Zeichner. "Your skin type should dictate what type of formulation is used to deliver the retinol."
Which retinol product is right for my skin?
Regardless of the formula you choose, the action of the ingredient is the same, as are the results. "It makes no difference in the performance of vitamin A [retinol is a vitamin in the vitamin A family] if the product is oil-soluble or water-soluble," says Simeroth. "In either form, what's important is the concentration of retinol in the product and how well the supporting ingredients provide delivery of the vitamin."
Best retinol oils: our top picks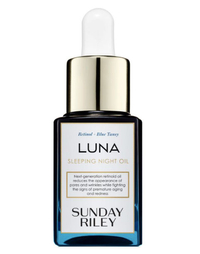 Sunday Riley Luna Sleeping Night Oil |$105| £85, Cult Beauty
This cult-favorite retinol oil gets its brilliant blue color from a host of beloved calming ingredients such as blue tansy and chamomile—strategically added to help tame any sensitivity retinol may cause. Like other products on the list, this one also uses trusty hydroxypinacolone retinoate, a member of the retinoid family that fights wrinkles and fine lines, promotes elasticity, and leaves skin feeling smooth and clear.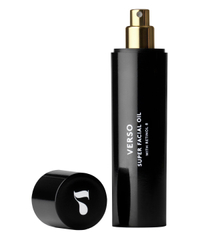 Verso Super Facial Oil | $125 |£100, Cult Beauty
Frequent world-traveler? Pop one of three vials of this oil into its almost oddly chic case and get your treatment on a plane, or anywhere else you need it. Verso's signature Retinol 8 is the star in this formula, a stabilized vitamin A complex that the brand claims is eight times more powerful (and less irritating) than standard retinol.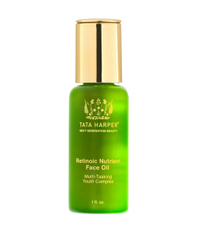 Tata Harper Retinoic Nutrient Face Oil | $132 | £115, Cult Beauty
Retinoic acid is naturally sourced from rosehip in this clean, floral, oil from Tata Harper. The hero ingredient is complemented with botanical ingredients like sweet-brier rose seed oil, calendula flower extract, and jojoba seed oil. The formula works to reduce the appearance of wrinkles while using natural ingredients to nourish skin.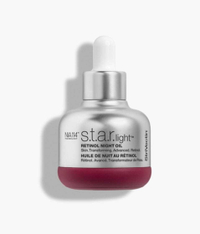 Strivectin S.T.A.R. Light Retinol Oil | $99| £79
This is an oil for oil-phobes because it's so lightweight, you'll barely feel it—but that doesn't mean you won't reap the benefits of retinol, which in this formula is blended with squalane and chia seed oil. Together, they encourage cell turnover and moisturize and replenish skin with essential fatty acids.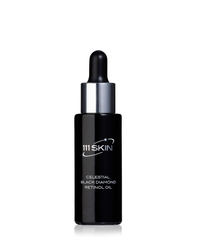 111Skin Celestial Black Diamond Retinol Oil | $230| £150, Space NK
The splurgiest item on the list, 111 Skin combines 1% pure retinol with—you better believe it—actual diamond powder, which helps increase the retinol's efficacy, and a blend of other natural oils, all of which work together to improve and resurface skin texture and diminish the look of fine lines and wrinkles.
Fiona Embleton is a multi-award-winning beauty editor who has tested over 10,000 products in her 10 years + of writing and shooting beauty stories. For the past four years, she was the Senior Beauty Editor at Marie Claire, having previously worked in the role of Beauty Editor at both Stylist and Cosmopolitan. She has recently gone freelance and alongside My Imperfect Life, she has written for titles including ELLE UK, ELLE Canada, Buro 247, Harper's Bazaar Arabia, Vogue Scandinavia, and ES Magazine. Beauty journalism allowed her to marry up her first-class degree in English Literature and Language (she's a stickler for grammar and a self-confessed ingredients geek) with a passion for make-up and skincare, photography, and catwalk trends. She loves jumping on the latest internet-breaking beauty news, dissecting the best red carpet looks, and having the crème de la crème of dermatologists, make-up artists, and hairstylists on speed dial so she can tap them for the best advice. She's a discerning beauty shopper and knows it can be confusing trying to navigate what's hype and what really works. So if she really likes something, you can trust that she has reached that opinion by vetting it against everything else she's ever tried. Her career highs? Interviewing Cate Blanchett and winning a Jasmine Award for the deeply personal feature Cancer Stole My Mother's Scent.