Retinol peeling: here's what you need to prevent and treat the dreaded retinol uglies
Retinol peeling aka retinol uglies can actually be prevented with the right techniques—here's what you need to know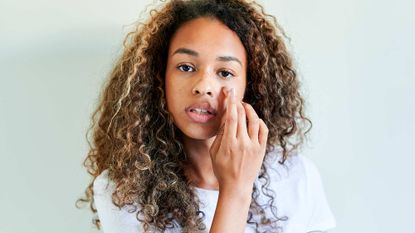 (Image credit: Getty Images / Westend61)
Retinol peeling, aka the retinol uglies, is just one of the things that may stand in the way of a flawless complexion when incorporating the essential ingredient into your skincare routine.
Retinol is arguably one of the best ingredients out there—there's not much that it can't do. This hero ingredient has been known to smooth lines and wrinkles, reduce pigmentation, tighten pores, and impart a covetable glow—which can all be achieved with the best retinol serums.
But, with retinol use comes the potential retinol uglies. The path to beautiful skin very rarely runs smoothly unless you're wise to some side effect prevention strategies—namely how to deal with retinol peeling (also referred to as the retinol uglies) in the first few weeks of use.
Why does retinol peeling happen?
When the dreaded retinol peeling comes around, you might be left regretting using it in the first place—unless you understand it and know how to prevent and treat the retinol uglies.
The retinol uglies occur as the vitamin A derivative sets to work speeding up your cell turnover "allowing for the faster progression of the cells through the skin, and the natural sloughing away of the dead top layer," explains Dr Ifeoma Ejikeme (opens in new tab), medical director at Adonia Medical Clinic (opens in new tab).
How long does retinol peeling last?
In general, retinol is one of the more gentle varieties of retinoids, however, "if you're going to experience shedding it will begin on day three to five of daily night time use, and this usually continues for about five to 10 days depending on your skin type and the percentage of retinol you've used," adds Ejikeme.
Known as 'retinization' this adjustment period may mean that your skin is prone to skin peeling, sensitivity and redness too. And while they should all subside by week four it's understandable that you'd want to reap all the rewards of retinol and bypass the awkward snake-like shedding phase as quickly as humanly possible. As luck would have it, we've discovered how...
---
---
Here are four steps to treating retinol peeling
1. It's important to start the retinol process gradually
When it comes to retinol, slow and steady is best. Rather than slathering on the highest concentration of retinol available, you need to work your way up. Oh, and word to the wise, you should always avoid delicate areas on the face like your eye contour area—trust us, peeling eyelids are NOT it, especially during those pesky Zoom calls.
So, therefore, it's important to start with the correct product strength. If you have dry, dehydrated, or sensitive skin, then it's advisable to start with a 0.3% concentration. This can gradually be increased as tolerated—on average around every 3 months till you reach the optimum dose—which will likely be about 1%.
Normal skin types can start with 0.5 % and work up to around 1.5%. While those with an oilier more resilient skin type can usually start with a 1% concentration and settle on 1.5% or 2%. "Initially apply your chosen retinol twice a week for two weeks then increase to three times a week for another two weeks and follow with every night from week five. Done in this manner, you'll find that you'll experience very little shedding," shares Ejikeme. For a more natural alternative, you can also give bakuchiol a try.
2. Add hydration and moisture into the equation
Turbocharging the skin's functions in this way has a temporary effect on the barrier function of the skin. "If the barrier function is impaired there will be more water loss leading to dryness, which can exacerbate the flakiness of shedding skin," explains Ejikeme. The cure? Drip feed your face with a hydrating hyaluronic acid serum 20 minutes post retinol application and then in the morning slather on a ceramide-packed moisturizer. "The ceramides help maintain the structural integrity of your skin barrier and the moisturizer will act as a barrier in and of itself, locking moisture in and alleviating dryness," adds Ejikeme.
3. Make sure to avoid exfoliation
However unsightly you deem the dead and peeling skin, you must avoid reaching for an exfoliant to buff it away. "Your skin will become sensitive when you first start using retinol, and while my patients often complain about flaking and the urge to scrub it away, I advise them to use a gentle moisturizing cleanser that won't strip the skin and that doesn't contain any exfoliating acids or beads," says Ejikeme.
However, if you're desperate, "you can gently swipe a muslin cloth over your face while rinsing off your cleanser once a week, as this will gently slough off peeling skin," adds Ejikeme.
So there you have it, consider yourself armed with the knowledge and know-how to add it to your skincare routine get into using retinol effectively.
Amerley is an award-winning beauty & lifestyle journalist who has been writing for the UK's most well-known glossies, websites and newspapers for over a decade. Known for her ability to predict the next big trend, there is really very little she won't try for a story. From microblading and injectables, to10 step skincare plans and breathing her way to better skin, Amerley loves to share her experiences and write relatable, informative and trend-led copy for beauty novices and junkies alike.