Who is Jessel Taank's husband? 'RHONY' star reveals they haven't had sex in years
The sex life between Jessel Tank and her husband was *the* topic of conversation on a recent 'RHONY' episode—here's what we know about their marriage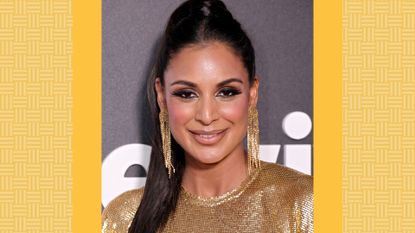 (Image credit: Michael Loccisano/Getty)
Who is Jessel Taank's husband? We've gotten to know Jenna Lyons' girlfriend and Sai De Silva's husband from The Real Housewives of New York City and on the July 23 episode of RHONY season 14, viewers got some surprising insight into Jessel's relationship with her husband.
During a girls' trip out to Sag Harbor, New York with the rest of the RHONY season 14 cast, Jessel revealed that she and her husband hadn't had sex since their one-year-old twins were born. When Ubah Hassan suggested they go horseback riding during their Hamptons weekend, Jessel joked: "I haven't ridden anything in a really long time." It's an admission that shocked the rest of the ladies, who tried to help spice up Jessel's marriage by gifting her sexy lingerie.
But what do we know about Jessel's hubby? Let's get to know him.
Jessel Taank husband: what is the RHONY star married to?
RHONY star and British-Indian fashion publicist Jessel Taank has been married to Pavit Randhawa, a financier and businessman, since 2016.
Their wedding in Riviera, Mexico, was featured in Vogue. "Pavit and I had always spoken about getting married on the beach," Jessel told the outlet about their nuptials. "Growing up, it seemed like such a romantic thing to do." Why Mexico? "It has the perfect balance of culture, spirit, beauty, history, delicious food—and, of course, tequila!" And travel seems to be important to Pavit, who lists "explore," "first class" and "luxury" as hobbies on his Instagram page.
But though their wedding day was romantic, the beginning of their relationship wasn't. "We didn't even have a romantic relationship at all, we were best friends for two, three years," Jessel revealed to the RHONY gals during the July 24 episode. "I never looked at him like that...he was just such a dork when it comes to women so I had to whip him into shape."
The duo was even roommates before they started dating, with Jessel revealing on the show that they moved in together after he got kicked out of his apartment for throwing parties and she was looking to move out of her family's house.
"In true New York fashion, we decided it would be easier to be roommates, as we already knew each other's vices and it'd definitely be better than living with strangers," Jessel told Vogue. "When my mother came to visit me, she was introduced to Pavit for the first time, and of course made a comment that she was certain that we would end up together. I started paying closer attention and ended up asking him out to dinner. The rest is history!"
Pavit and the newbie RHONY cast member maintained a long-distance relationship while Jessel worked at Michael Kors in New York and Pavit attended the University of Michigan's Ross School of Business. "The distance was brutal, but we managed to see each other every other week, either in New York or for fun little weekend getaways," she said in the Vogue feature.
After three years of dating, Pavit proposed while the pair were vacationing in Puerto Rico. "Pavit had successfully tricked me into thinking he was going to propose more than once," Jessel said in Vogue. "When he took me to the beautiful Greek island of Santorini and arranged a romantic dinner for two on top of a cliff overlooking the ocean, I remember thinking, This has to be it!" she says. "But it didn't happen. Later, he planned a trip to Bermuda and invited my parents. I thought surely if he's inviting my parents on vacation, he has to be proposing—but no, it never happened. It was simply to divert my attention while he shopped for the perfect ring."
What happens between Jessel and Pavit in 'RHONY' season 14?
In a First Look preview clip of this season's RHONY, it looks like stormy weather is coming for the long-time couple, with Pavit informing Jessel that he would be jetting off to Vietnam. "I need some time to myself," he tells her. Trouble in paradise?
Jessel Taank twins: does she have children?
Jessel Taank and husband Pavit Randhawa have twin toddler boys, Kai and Rio (who, yes, have an Instagram page devoted to them).
"We were married seven years before I got pregnant," Jessel told the RHONY women during season 14. "We were trying to conceive. I had something called 'unidentified fertility object' so I ended up going through five cycles of IVF. It was brutal."
"In Indian culture, if you can't have children, it can be so tough," the reality star added. (Jessel is the first Indian woman featured in The Real Housewives of New York City franchise.) "It becomes, like, gossip, and I didn't want to be the subject of any negativity."
"We are a very reserved culture, and everything circulates around family," said Jessel. "I didn't want to be seen as weak, I didn't want to be seen as unable, and so I chose to continue this narrative that everything's fine."

Catch Jessel Taank and her family on The Real Housewives of New York City on Bravo at 9pm Eastern on Sundays, or next day on Peacock.
Christina Izzo is the Deputy Editor of My Imperfect Life.
More generally, she is a writer-editor covering food and drink, travel, lifestyle and culture in New York City. She was previously the Features Editor at Rachael Ray In Season and Reveal, as well as the Food & Drink Editor and chief restaurant critic at Time Out New York.
When she's not doing all that, she can probably be found eating cheese somewhere.