Selling Sunset's Romain Bonnet: things you didn't know about him
Did you know Selling Sunset's Romain was a former pastry chef?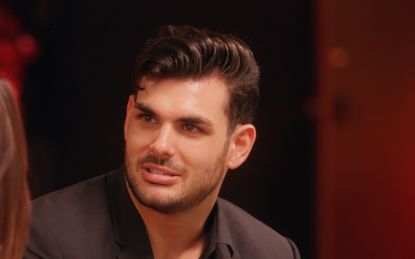 (Image credit: Netflix)
Selling Sunset's Romain Bonnet has been on the show since the very beginning. He was first introduced to us as Mary Fitzgerald's hot, younger boyfriend in the very first episode of the Netflix reality TV favorite. But that all feels like a lifetime ago now that the couple are married!
As fans will know, Romain has been quite the hot topic on Selling Sunset, throughout all three seasons of the show. From gossip surrounding his relationship with Mary to having drama with Davina Potratz, there's never a dull moment when he's on-screen.
Alas, Bonnet remains a bit of a mystery as we aren't told too much about him on the show. Of course, that only means we had to take matters into our own hands and do a bit of digging so we could really get to know him.
Without further ado, here are some facts about Romain Bonnet...
What to know about Selling Sunset's Romain
Is Romain Bonnet French?
As Romain's accent on the show gives away, he is indeed French. He moved from France to Los Angeles to pursue a modeling career years ago. His family are all still in France but flew to LA for his and Mary's wedding, which we all watched at the end of season two of Selling Sunset.
Romain Bonnet age: he's 12 years younger than Mary
Romain's age was a big topic on the show and among viewers, especially when Mary revealed that he is pretty close in age to her son. "So, babe, you're 25, you're not really that much older than my son,' she said on the first season. Romain, who was born on June 18, 1993, is currently 27 years old, while Mary is 39.
Romain Bonnet job: What does he do?
On the show, there was a lot of speculation around Romain and Mary's relationship, with some of the girls and viewers suggesting that he was only with Mary for her money, or that she was the main breadwinner in the relationship. But that isn't quite the case.
As well as being signed to popular modeling agency Wilhelmina, Romain now also works as a project manager for The Oppenheim Group, according to Mary. "He does construction now," she told Women's Health.
"He's a project manager for a bunch of our listings—a lot of people don't know that. So he's been working on all of our projects."
She also called her husband a "great leader" and an "incredibly hard worker" and said that they've both been able to work during the pandemic, telling the publication: "Since the market has been crazy, he has been slammed with jobs as a project manager."
She continued: "Romain and I have both been very lucky that we've been able to work through this whole quarantine. Both of us in our careers and industries are essential workers."
Romain worked as a pastry chef when he first moved to Los Angeles, according to reports. Mary confirmed the news, saying: "He hasn't worked as a chef for a few years now."
How did Romain Bonnet and Mary Fitzgerald meet?
Speaking to Women's Health about her meet-cute with Romain, Mary said: "Romain flew out to look at some homes in the area and I was his agent! We hit it off from there. His modeling agency encouraged him to relocate because of all the bookings in the LA area."
She added: "He models as much as he can, but because of the pandemic, most of his gigs have been put on hold until further notice."
Sagal is a journalist, specialising in lifestyle, pop culture, fashion and beauty. She has written for a number of publications including Vogue, Glamour, Stylist, Evening Standard, Bustle, You Magazine, Dazed and Wonderland to name a few.